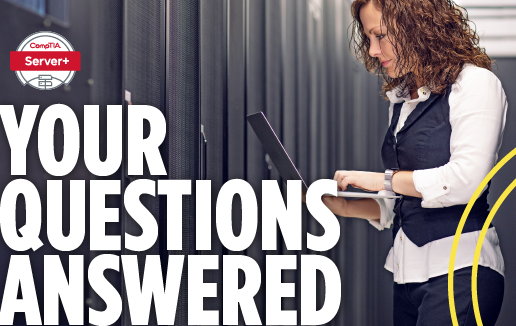 Typical IT careers in the server world involve managing physical servers at an organization and troubleshooting any problems that could impact organizational efficiency. Today's workforce reality is now focused more on virtual connection than ever before. To maintain critical hardware and software technologies in both physical and virtual server environments, IT pros need to prove they have the knowledge and skills to do the job. The new CompTIA Server+ (SK0-005) ensures just that. Read on as we answer the most common questions we get about the new Server+.
Why Is There a New Version of CompTIA Server+?
CompTIA is committed to updating certification exams every few years to stay up to date with the ever-changing technology industry. CompTIA Continuing Education (CE) certifications are renewed every three years, and CompTIA Good-for-Life Certifications (GFL) are renewed as needed. CompTIA Server+ is GFL.
Read more about CompTIA's exam development process.
The new version of CompTIA Server+ (SK0-005) continues to validate the skills needed to remotely manage physical and virtualized servers, while reflecting industry adoption of cloud-based solutions.
IT pros can expect the following updates to the new CompTIA Server+ exam:
Coverage of essential hardware and software technologies of on-premise and hybrid server environments, including high availability, cloud computing and scripting.
Performance-based questions that require the test taker to demonstrate multi-step knowledge to securely deploy, administer and troubleshoot servers.
Learn more about the difference between CompTIA Server+ 004 vs 005.
What's on the Latest Version of CompTIA Server+?
The latest version of CompTIA Server+ (SK0-005) includes both performance-based and multiple-choice exam questions across four domains:
Server Hardware Installation and Management (18%)
Server Administration (30%)
Security and Disaster Recovery (24%)
Troubleshooting (28%)
Here are some of the new additions to this version of the exam as they relate to the exam domains:
Server Hardware Installation and Management
Physical components of server administration at a foundational level
Server Administration
Installation, configuration and maintenance of operating systems
Virtualization, scripting basics, asset management and licensing
Security and Disaster Recovery
Identity and access management, hardening methods, disaster recovery and other essential topics
More data security topics, including risk and mitigation strategies
Cloud was specifically added to the topic of disaster recovery
Why Should I Get the New CompTIA Server+?
The new CompTIA Server+ demonstrates to potential employers that IT professionals at the administrator level are able to do the job at hand. Need convincing?
Check out these impressive reasons why you should get the new CompTIA Server+:
IT pros who have CompTIA Server+ can do their job role in any environment because it is the only certification not restricted to a single platform.
CompTIA Server+ now features flexible training options including self-paced learning, live online training, custom training and labs to advance the career development of IT professionals in server administration.
With nearly 60,000 CompTIA Server+ IT pros worldwide, this certification is trusted by both IT pros and employers.
What Jobs Can I Get with CompTIA Server+?

Primary Job Roles for CompTIA Server+ (SK0-005)
The following job roles are directly connected to the information you learn from the new CompTIA Server+ exam:
Systems administrator: Systems administrators keep a company's IT systems running. Their critical role ensures that employees can access what they need when they need it.
Data center technician: The IT pros help ensure that the servers are consistently running smoothly, but when they're not running smoothly, data center technicians help problem solve and determine resolutions to avoid major downtime.
Server administrator: A great job for methodical thinkers that are good at monitoring processes and making sure everything runs smoothly.
Secondary Job Roles for CompTIA Server+ (SK0-005)

These job roles also cover some of the skills you learn on the new CompTIA Server+ exam:
IT technician
Data center engineer
How Can I Prepare for the CompTIA Server+ Exam?
For the first time, CompTIA Server+ will have a full suite of CompTIA training products for aspiring server professionals to choose from. No matter how you prefer to learn, you can find a training product that is right for you!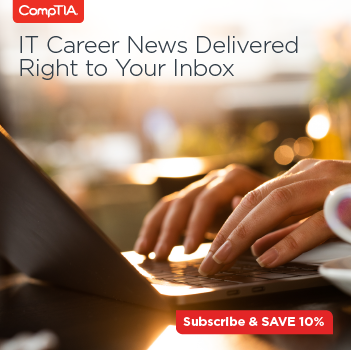 eLearning with CertMaster Learn
CertMaster Learn includes a customizable learning plan and performance-based questions that take you on a path of consistent learning toward your certification exam.
Interactive Labs with CompTIA Labs
Acquire the necessary hands-on skills for your certification exam with CompTIA Labs. You will develop a deeper understanding of the subject matter and reinforce the practical aspects of certification exam objectives.
Exam Prep with CertMaster Practice
CertMaster Practice is an adaptive online companion tool that assesses your knowledge and exam readiness. CertMaster Practice confirms strong areas and fills knowledge gaps in weak areas, helping you feel more prepared and confident when you go into your certification exam.
The Official CompTIA Server+ Study Guide
If you prefer traditional textbook style learning, The Official CompTIA Server+ Study Guide, in print or electronic format, is packed with informative and accessible content that covers all exam objectives.
Instructor-led Training
Whether you're looking for in-classroom or live online training, CompTIA's vast network of Authorized Training Partners offers best-in-class instructor-led training for both individuals and teams.
How Long Will It Take Me to Get CompTIA Server+?
The amount of time you'll need to dedicate to studying and training for the new CompTIA Server+ exam is different for everyone. We recommend that candidates are already CompTIA A+ certified and have at least 18 months of IT experience.
How Much Does the CompTIA Server+ Exam Cost?
The retail price for CompTIA Server+ (SK0-005) is $338. CompTIA offers numerous ways to reduce this cost. Check out our article on how to save on exam vouchers as well as information about financing options.
I've Been Studying For CompTIA Server+ (SK0-004). Should I Switch Gears and Study For CompTIA Server+ (SK0-005) Instead?
If you've been studying for the CompTIA Server+ (SK0-004), we recommend reviewing the exam objectives for SK0-005 to see how much of what you've already studied is on the new exam. If it makes sense for your time and level of knowledge, you may want to switch gears and prepare for the new exam (SK0-005). If you've already purchased a CompTIA Server+ voucher, you can apply it to any version of the exam.
If you choose to take the CompTIA Server+ (SK0-004) exam, make sure to do so before it expires in December 2021.
What Is the Expiration Date For CompTIA Server+ (SK0-004)?
The English version of the CompTIA Server+ (SK0-004) exam will retire at the end of December 2021. At that point it will be completely replaced by SK0-005.
How Long Is CompTIA Server+ Good For, and How Can It Be Renewed?
CompTIA Server+ is considered good for life (GFL) and does not need to be renewed. Once you earn it, your certification is active forever.
Ready to start studying? Writing out your plan will set you up for success. Download our free training plan worksheet to help get organized and make your dream a reality.