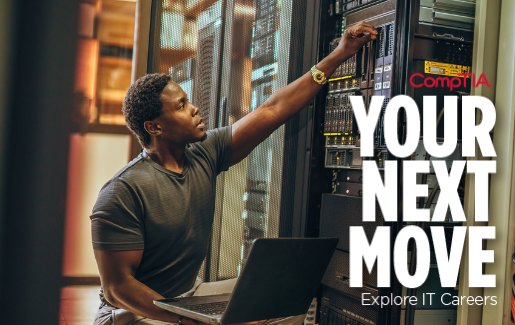 This article is part of an IT Career News series called Your Next Move. These articles take an inside look at the roles related to CompTIA certifications. Each article will include the responsibilities, qualifications, related job titles and salary range for the role. As you consider the next move in your IT career, check back with CompTIA to learn more about your job prospects and how to get there.
Data centers provide compute, storage and networking infrastructure to an organization. They house an organization's critical applications, data and digital assets and may be an on-premises or hybrid server environment.
Data center technicians provide an array of technical support to an organization's data center. They help ensure that the servers are consistently running smoothly, but when they're not running smoothly, data center technicians help problem solve and determine resolutions to avoid major downtime. With the virtual nature of data centers, security, reliability and availability are of utmost importance.
If you enjoy configuring server hardware, implementing security controls and troubleshooting, a data center technician job may be for you.
What is a Data Center Technician?
A data center technician's job responsibilities could include the following:
Monitoring the health and performance of servers by performing routine assessments
Installing and updating server components based on diagnostic reports
Reacting and responding to potential network and server issues in a timely fashion to keep business data flowing
Documenting processes and managing activity logs
Data center technicians will work closely with other IT pros. For example, a data center technician might work with a network engineer to ensure network efficiency or a cybersecurity analyst to improve data security.
How to Become a Data Center Technician
Most employers are looking for IT pros with a bachelor's degree in computer science, information technology or a related field. As a data center technician, you need to have hardware troubleshooting and repair skills to keep networks intact. Additionally, data center technicians are expected to have knowledge of servers, routers and other specific tech equipment.
Employers usually require about two years of hands-on experience working with servers or in a server environment. Job roles like help desk technician or technical support specialist can help IT pros gain the experience needed to work in a data center.
IT certifications such as CompTIA A+ and CompTIA Server+ will show employers that you have the expected knowledge and skills to succeed as a data center technician.

In addition to certifications, CompTIA offers a full suite of training products to help you learn the technical and professional skills needed to become a data center technician.
CertMaster Learn: Learn at your pace with interactive lessons and videos
CertMaster Labs: Get hands-on practice using real software applications
CertMaster Practice: Test your knowledge and find out if you're ready for the exam
The Official CompTIA Study Guide: Learn and review exam objectives with our comprehensive textbook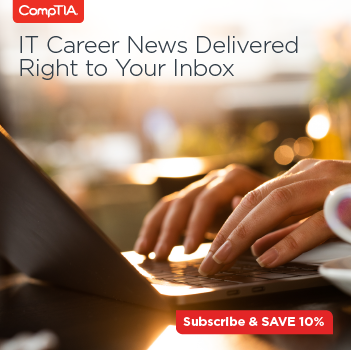 The Details
Data Center Technician Salary Range
The median annual wage for a data center technician is $70,500 (U.S. Bureau of Labor Statistics (BLS)).
Data Center Technician Job Outlook
Burning Glass reported a total of 7,393 U.S. employer job postings for data center technicians over the past 12 months.
Job Titles Related to Data Center Technician
Network support administrator
Data center engineer
+ Means More
At CompTIA, + means IT careers. That means you can consider us your partner on your journey to becoming certified, finding, interviewing for and winning that new job role.
We help you save money. Getting a CompTIA certification is an investment in your career but getting a discount can help. There are several ways you can save money on your CompTIA purchases.
We help you decide how to take your exam. Scheduling your exam is the easy part. CompTIA exams are offered at testing centers around the world as well as through online testing, which is available 24/7, so you can test in person or at home. Learn more about your testing options.
We help you land your next job. We've teamed up with ZipRecruiter so you can get access to job alerts, digital badging and more. Be sure to sync your credentials on ZipRecruiter as you continue to grow within the tech industry.
Need more job inspiration? Check out CompTIA's Tech Job Report video series now premiering on CompTIA Connect. Learn more about the latest data and trends in tech hiring and the implications for employers and the U.S. workforce with new episodes each month.
Read about more IT jobs featured in Your Next Move.
Will your next move be data center technician? If so, CompTIA Server+ can help you take the next step.