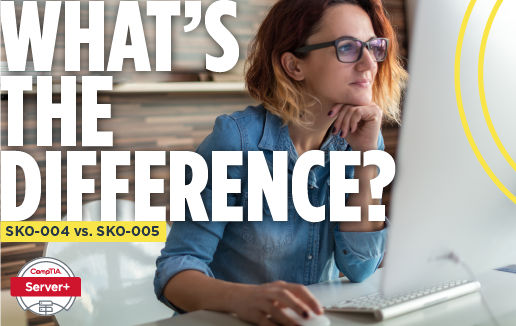 Holding an IT certification not only validates your knowledge and skills in certain tech topics, but it also shows employers that you are hardworking, determined and fit for certain job roles. If you want an IT job where you install, manage and troubleshoot servers in data centers, CompTIA Server+ can help you get there.
With nearly 60,000 CompTIA Server+ certified IT pros worldwide, this certification proves that IT professionals at the administrator level are able to manage essential hardware and software technologies in on-premises and hybrid server environments, including high availability, cloud computing and scripting. The brand-new CompTIA Server+ (SK0-005) launches on May, 18 2021.
IT Jobs Related to CompTIA Server+
With the increase in remote working, the need for IT pros to securely administer physical and virtual servers is at an all-time high. CompTIA Server+ validates the hands-on skills of IT professionals who install, manage and troubleshoot servers in data centers, including on-premises and hybrid environments. Updates to the exam reflect those skills and prepare you to remotely manage physical and virtualized servers, while mirroring industry adoption of cloud-based solutions.
CompTIA routinely updates certification exams to ensure that the content accurately reflects updates in technology and industry standards. Although CompTIA Server+ does not get updated every three years, it is updated periodically to meet the needs of today's IT pros.
Primary job roles that directly utilize the content you will learn from the new CompTIA Server+ exam include: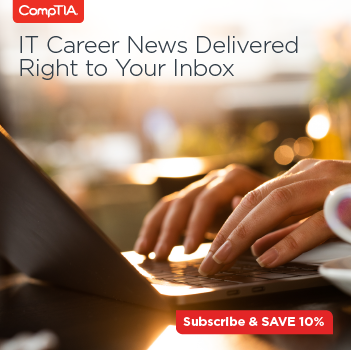 CompTIA Server+ 004 vs. 005
The updated CompTIA Server+ (SK0-005) certification validates the skills necessary for server administrators and data center technicians to deploy, maintain and troubleshoot servers. It is also the only certification that ensures IT professionals at the administrator level are able to maintain, configure and troubleshoot servers in any environment because it is the only certification not restricted to a single platform. Here are a few highlights of the new exam and how it compares to the old version.
CompTIA Server+ 004 vs. 005 Exam Domains and Objectives
The content in the new CompTIA Server+ (SK0-005) has been refined into four broader domains, as opposed to seven in SK0-004.
CompTIA Server+ 004 Exam Domains

CompTIA Server+ 005 Exam Domains

Server Architecture (12%)
Server Administration (24%)
Storage (12%)
Security (13%)
Networking (10%)
Disaster Recovery (9%)
Troubleshooting (20%)

Server Hardware Installation and Management (18%)
Server Administration (30%)
Security and Disaster Recovery (24%)
Troubleshooting (28%)

The major changes from the prior version include:
Automation, scripting and virtualization to optimize server management
On-premises and hybrid server environments to accommodate both enterprise and small business needs
Performance-based questions that assess a candidate's hands-on technical ability
Server administration and troubleshooting of both on-premises and remote servers
Cloud computing concepts as they apply to server administration and maintenance
Compared to SK0-004, SK0-005 contains five fewer exam objectives, which represents the changing nature of the job role into a more highly-focused and dedicated server administrator. Much of the topics are still covered in the new exam, but are consolidated into the four domains.
The refreshed objectives streamline outdated content, while ensuring a continued emphasis on the technical implementation of the job role. New content areas emerging from data security, virtualization and the impact of cloud solutions have been added.
How CompTIA Server+ Evolves with the Industry
Technology is ever-changing, and CompTIA certifications are routinely updated for that reason. The table below describes the specific updates in the CompTIA Server+ SK0-005 exam domains as they evolve with the industry, and how they impact IT pros in their jobs.
| | | |
| --- | --- | --- |
| Exam Domain | Description | How It Applies to IT Jobs |
| Server Hardware Installation and Management | Covers the physical components of server administration at a foundational level | SysAdmins need to be able to work on physical servers in data centers and hybrid environments |
| Server Administration | The installation, configuration and maintenance of operating systems | Installing operating systems is one of the most important elements of creating successful server infrastructure |
| Server Administration | Virtualization is covered, as well as scripting basics, asset management and licensing | Modern server administration requires not only hands-on techniques, but also the knowledge to virtualize and automate processes and operations |
| Security and Disaster Recovery | Identity and access management, hardening methods, disaster recovery and other essential topics | Servers are critical infrastructure, and being able to secure, harden and recover servers is a highly in-demand skill for system administrators |
| Security and Disaster Recovery | Data security topics, including risk and mitigation strategies, have been increased in the new version | With the advent of ever-increasing threats and vulnerabilities, it is incumbent on server administrators to keep data secure and practice proper risk prevention |
| Security and Disaster Recovery | Cloud was specifically added to the topic of disaster recovery in the new version | Hybrid environments are proliferating in enterprise and SMB settings, understanding how cloud solutions can supplement server administration allows employees to work in a variety of settings |
How to Train for CompTIA Server+
For the first time, CompTIA Server+ will have a full suite of CompTIA training products for aspiring server professionals to choose from. Whether you prefer to self-study or thrive in a classroom style environment, there is an option for you.
eLearning with CertMaster Learn
CertMaster Learn includes a customizable learning plan and performance-based questions that take you on a path of consistent learning toward your certification exam.
Interactive Labs with CompTIA Labs
Acquire the necessary hands-on skills for your certification exam with CompTIA Labs. You will develop a deeper understanding of the subject matter and reinforce the practical aspects of certification exam objectives.
Exam Prep with CertMaster Practice
CertMaster Practice is an adaptive online companion tool that assesses your knowledge and exam readiness. CertMaster Practice confirms strong areas and fills knowledge gaps in weak areas, helping you feel more prepared and confident when you go into your certification exam.
The Official CompTIA Server+ Study Guide
If you prefer traditional textbook style learning, The Official CompTIA Server+ Study Guide, in print or electronic format, is packed with informative and accessible content that covers all exam objectives.
Instructor-Led Training
Whether you're looking for in-classroom or live online training, CompTIA's vast network of Authorized Training Partners offers best-in-class instructor-led training for both individuals and teams.
Ready to get started? Download the exam objectives for CompTIA Server+ 005 to begin studying.