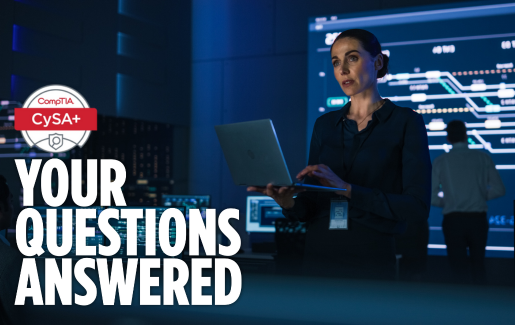 We've been getting a lot of questions about the new CompTIA Cybersecurity Analyst (CySA+) exam (CS0-003), and we want to make sure you have the answers you need to decide whether or not it's right for you. In this post, we're answering some of your biggest questions.

What Is CompTIA CySA+?
CompTIA CySA+ is for cyber professionals tasked with incident detection, prevention and response through continuous security monitoring.
With the end goal of proactively defending and continuously improving the security of an organization, people who have CompTIA CySA+ have the hands-on knowledge and skills required to do the following:
Detect and analyze indicators of malicious activity
Understand threat hunting and threat intelligence concepts
Use appropriate tools and methods to manage, prioritize and respond to attacks and vulnerabilities
Perform incident response processes
Understand reporting and communication concepts related to vulnerability management and incident response activities
CompTIA CySA+ prepares you for cybersecurity roles such as:
Incident response analyst
What's on the New CompTIA CySA+ Exam?
The new CompTIA CySA+ exam applies behavioral analytics to networks and devices to prevent, detect and combat cybersecurity threats through continuous security monitoring.

Like its predecessor, CompTIA CySA+ (CS0-003) still covers core cybersecurity analyst skills while emphasizing software and application security, automation, threat hunting and IT regulatory compliance. These skills include:
Leveraging intelligence and threat detection techniques
Analyzing and interpreting data
Identifying and addressing vulnerabilities
Suggesting preventative measures
Effectively responding to and recovering from incidents
Twenty percent of exam objectives were updated to include:
Current trends: Security analyst tools, such as enterprise Security Information and Event Management (SIEM) systems, have matured to include more automated features, such as Security Orchestration and Automated Response (SOAR), to help get the job done. Other security analyst tools, such as endpoint detection and response (EDR) and extended detection and response (XDR), provide monitoring and response that easily integrate across SIEMs.
Cloud and mobile: Expanded coverage of cloud, mobile and zero trust indicators of compromise.
Threat intelligence: More emphasis on threat intel vs. threat hunting, threat feeds vs. threat reports, automation of intel (e.g., automated threat feed) and how to prioritize alerts for better incident response.
What Can I Expect From the CompTIA CySA+ Exam?
You can expect performance-based and multiple-choice questions across four domains:
| | |
| --- | --- |
| Domain | Exam Weights |
| Security Operations | 33% |
| Vulnerability Management | 30% |
| Incident Response Management | 20% |
| Reporting and Communication | 17% |

These domains relate back to the primary job of a cybersecurity analyst, which is to monitor and identify vulnerabilities introduced on the network as a result of nonsecure systems and software—regardless of the language—and respond to the threats.
For example, a cybersecurity analyst would need to plan, install, configure, monitor and analyze an intrusion detection system (IDS) or SIEM. Analyzing the output from the tool to determine threats would be an example of a performance-based question you might find on the exam. Or you may find a question on continuous monitoring activities such as log reviews, impact analysis and response.
Download the exam objectives for free to find out everything that's covered.
How Much Does CompTIA CySA+ Cost?
The retail price for CompTIA CySA+ (CS0-003) is $392. CompTIA offers numerous ways to reduce this cost. Check out our article on how to save on exam vouchers as well as information about financing options.
How Can I Train and Prepare for CompTIA CySA+?
Start by downloading the exam objectives and practice test questions to understand what topics are covered and get examples of questions that you might see.
CompTIA also offers a full suite of training solutions:
All CompTIA training solutions are available for purchase at the CompTIA Store.
How Much Time Will I Need To Prepare for CompTIA CySA+?
The amount of time you'll need to prepare for CompTIA CySA+ depends on your existing knowledge of the topics and your hands-on cybersecurity experience. We recommend that you have CompTIA Network+, CompTIA Security+ or the equivalent knowledge plus a minimum of four years of hands-on experience as an incident response analyst or security operations center (SOC) analyst, or equivalent experience. We also suggest that you dedicate between 30 and 40 hours of studying before sitting for the exam.
Why Would I Choose CompTIA CySA+ Over Other Cybersecurity Certifications?
CompTIA CySA+ is the only intermediate high-stakes cybersecurity analyst certification with hands-on, performance-based questions and multiple-choice questions that cover the most up-to-date core cybersecurity analyst skills and upcoming job skills used by threat intelligence analysts, application security analysts, compliance analysts, incident responders/handlers and threat hunters, bringing new techniques for combating threats inside and outside of the Security Operations Center (SOC).
CompTIA exams are developed through an intensive process that includes workshops where IT pros come together and discuss what knowledge, skills and abilities are required to do certain job roles. So, the topics covered by CompTIA CySA+ match the knowledge, skills and abilities cybersecurity analysts need today.
Additionally, CompTIA CySA+ is a vendor-neutral certification, which means that the knowledge and skills you learn can be used to perform various job roles regardless of the specific programs and tools being used. Vendor-specific certifications, on the other hand, only prepare you to work with just one platform.
What's the Difference Between CySA+ and CompTIA Security+?
CompTIA CySA+ includes more analytics with a different focus to address the growing specialization in cybersecurity. CompTIA Security+ provides candidates with a baseline of general cybersecurity knowledge and skills.
CompTIA Security+ will validate a candidate's knowledge and skills required to:
Assess the security posture of an enterprise environment and recommend and implement appropriate security solutions
Monitor and secure hybrid environments, including cloud, mobile and IoT
Operate with an awareness of applicable laws and policies, including principles of governance, risk and compliance
Identify, analyze and respond to security events and incidents
I've Been Studying for CompTIA CySA+ (CS0-002). Should I Switch Gears and Study for CompTIA CySA+ (CS0-003) Instead?
If you've been studying for the CompTIA CySA+ (CS0-002), we would recommend reviewing the exam objectives to see how much of what you've already studied is on the new exam. If it makes sense for your time and level of knowledge, you may want to switch gears and prepare for the new exam (CS0-003).
Some of the benefits of taking the new CompTIA CySA+ is that it has been updated to reflect the latest in security analyst techniques, such as automated incident response, threat intelligence, cloud-based tools and communication processes.
Can I Still Take the CompTIA CySA (CS0-002)?
Yes. If you choose to pursue CS0-002, you must take it before it retires on December 5, 2023 to get your CompTIA CySA+ certification.
I Bought a Voucher for CompTIA CySA+ (CS0-002) But Have Not Used It Yet: Can I Use It for the New Version?
Yes, you can use your voucher for any CompTIA CySA+ exam.
Can I Go Straight to CompTIA CySA+ Instead of Getting CompTIA Security+?
You can, but it's not recommended because you need to know how a network works (CompTIA Network+) and how to secure it (CompTIA Security+) before you can analyze it (CompTIA CySA+). The CompTIA Cybersecurity Career Pathway shows how each certification builds on the previous one and skipping CompTIA Security+ could leave a gap in your baseline cybersecurity skills.
How Long Is CompTIA CySA+ Good for, and How Can It Be Renewed?
As with many CompTIA certifications, CySA+ is good for three years from the date you earned it and must be renewed before that expiration date. CompTIA offers a number of ways for you to renew your certifications.
You can renew your CompTIA certification by completing a single activity:
Alternatively, you can complete a combination of activities to earn the number of CEUs you need to renew your CompTIA certification, such as:
CompTIA's CE program proves that your IT knowledge has evolved with technology and ensures that you stay current with your skills.
Learn more about what you need to know to renew your CompTIA certification.
I Need to Renew My CompTIA Security+ Certification. If I Pass CompTIA CySA+ Will That Renew It?
Yes, CompTIA CySA+ will renew CompTIA Security+ since it's considered a higher-level certification.
Is CompTIA CySA+ Approved by the DoD for 8570 Requirements?
Yes! CompTIA CySA+ is U.S. Department of Defense (DoD) 8570 approved. It complies with government regulations under the Federal Information Security Management Act (FISMA).
DoD 8570, DoD 8570.01-m and DoD 8140 identify the skills needed for a cyber-ready workforce and align those skills with certain IT certifications. Learn more about DoD regulations and how you can apply them in the private sector.
Looking for more about CompTIA CySA+? Check out these articles:
Get the in-demand skills you need with CompTIA certifications and training solutions. Download the exam objectives to get started.