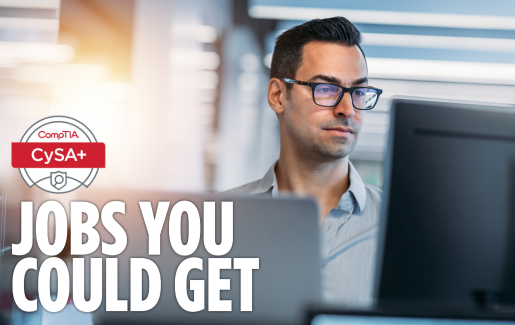 The growth of cloud-based software development and software production has led to an overall increase in threats, attacks and vulnerabilities. Add to that the 31,000 job openings and 35% expected growth between 2021 and 2031 for cybersecurity analysts and it's no surprise that it's one of the fastest growing careers in the United States.
If you're currently working in cybersecurity and looking to get ahead, you may already know about CompTIA Cybersecurity Analyst (CySA+). CompTIA CySA+ is the only intermediate, high-stakes cybersecurity analyst certification that applies behavioral analytics to networks and devices to prevent, detect and combat cybersecurity threats through continuous security monitoring.
What Skills Does CompTIA CySA+ Cover?
Before we dig deep into job roles, let's take a high-level view of how CompTIA CySA+ prepares IT pros for cybersecurity positions. Right off the bat, it's important to note that CompTIA exams are developed through an intensive process that includes workshops where IT pros come together and discuss what knowledge, skills and abilities are required to perform certain job roles.
After becoming certified, CompTIA CySA+ candidates have the knowledge and skills needed to do the following:
Detect and analyze indicators of malicious activity
Understand threat hunting and threat intelligence concepts
Use appropriate tools and methods to manage, prioritize and respond to attacks and vulnerabilities
Perform incident response processes
Understand reporting and communication concepts related to vulnerability management and incident response activities
In addition, CompTIA CySA+ trains you to:
| | |
| --- | --- |
| Think like an engineer and build an emergency plan to get things up and running quickly following a disaster. | Think and act like a hunter to identify and understand emerging threats. |
| Defend organizations by applying new techniques to find threats before they find you. | Implement cybersecurity solutions for both cloud and on-premises systems. |
| Understand asset and risk management. | Analyze and build cybersecurity operations within an enterprise network. |
Companies are looking to hire qualified IT pros that can confidently handle these tasks to bring new techniques for combating threats inside and outside of the security operations center (SOC) – and the median salaries for these positions back that up.
Download the exam objectives for free to find out everything that's covered.
5 Jobs You Could Get With CompTIA Cybersecurity Analyst (CySA+)
Becoming certified in CompTIA CySA+ opens doors to a variety of cybersecurity jobs, but you may come across a wide array of job titles and postings that all sound slightly different. Let's take a look.
Cybersecurity Analyst
If you like to identify threats, attacks and vulnerabilities in your network and stop cybercriminals in their tracks, then cybersecurity analyst may be the job for you.
A cybersecurity analyst detects cyber threats and performs incident response to protect an organization in the following ways:
Manage and configure tools to monitor activity on the network
Analyze reports from those tools to identify unusual behavior on the network
Proactively identify network vulnerabilities through penetration testing, vulnerability scans and vulnerability assessment reports
Plan and recommend changes to increase the security of the network
Apply security patches to protect the network
Security analysts must also be aware and knowledgeable in a slew of software vulnerabilities, such as the following:
Improper error handling
Dereferencing
Insecure object reference
Race condition
There are a few options for cybersecurity analysts depending on where you land. Smaller businesses may ask you to manage information security analysis tasks and intrusion detection, while larger companies may deploy a security operations center (SOC) and divide those responsibilities amongst a team. A global organization may ask you to specialize in a SOC on a team that centralizes cybersecurity efforts.
The demand for cybersecurity analysts is huge. In the next eight years, CompTIA projects an increased demand of 32% for cybersecurity analysts. Plus, you'll be rewarded for your knowledge. According to CyberSeek, cybersecurity analysts earn an average salary of $96,000.
Read more about becoming a cybersecurity analyst.
Cybersecurity analyst is the main job role that CompTIA CySA+ prepares candidates for. However, depending on the size of an organization and its cybersecurity priorities, there are a few varieties of this role that you may come across during your job search.
Cybersecurity Engineer
Cybersecurity engineers work to build and maintain a system that's safe against cyberattacks. They focus on fixing and protecting these systems and stay up to date on new technology so they can keep their system secure by doing the following things:
Create new solutions to solve existing security issues
Enhance security capabilities by evaluating new technologies and processes
Define, implement and maintain corporate security policies
Configure and install firewalls and intrusion detection systems
Respond to information security issues
Supervise changes in software, hardware, facilities, telecommunications and user needs
Recommend modifications in legal, technical and regulatory areas that affect IT security
The huge responsibility that cybersecurity engineers carry often puts them at the top of the food chain in cybersecurity teams – making a graduate degree an almost standard prerequisite.
Read more about becoming a cybersecurity engineer.
Security Operations Center (SOC) Analyst
SOC analysts are the first responders to cyber incidents. They report cyber threats and then implement changes to protect an organization.
An SOC analyst supports their organization in the following ways:
Provide threat and vulnerability analysis
Investigate, document and report on information security issues and emerging trends
Analyze and respond to previously undisclosed software and hardware vulnerabilities
Prepare organizational disaster recovery plans
As cyber threats become more complex and their potential for damage increases, the demand for this type of position has grown.
Read more about becoming an SOC analyst.
Threat Hunter
A threat hunter is exactly what it sounds like. These IT pros proactively find cybersecurity threats outside of the SOC and help mitigate them before they compromise an organization – and it's not an easy task. Predicting the next cyberattack is difficult because advanced threats have no defined indicators.
That's why threat hunters have the following responsibilities:
Search for cyber threats and risks hiding inside the data before attacks occur
Gather as much information on threat behavior, goals and methods as possible
Organize and analyze the collected data to determine trends in the security environment of the organization
Make predictions for the future and eliminate the current vulnerabilities
To some degree, the threat hunter position is pretty new. Many think of this role as an extension of the cybersecurity analyst job role, but the difference is that a threat hunter is tasked specifically with advanced threats that might evade the SOC.
Read more about a becoming a threat hunter.
Vulnerability Analyst
A vulnerability analyst detects weaknesses in networks and software and then takes measures to correct and strengthen security within the system.
A vulnerability analyst supports their organization in the following ways:
Develop risk-based mitigation strategies for networks, operating systems and applications
Compile and track vulnerabilities and mitigation results to quantify program effectiveness
Create and maintain vulnerability management policies, procedures and training
Review and define requirements for information security solutions
Organize network-based scans to identify possible network security attacks and host-based scans to identify vulnerabilities in workstations, servers and other network hosts.
Read more about becoming a vulnerability analyst.
As attackers have learned to evade traditional signature-based solutions, such as firewalls and antivirus software, an analytics-based approach within the IT security industry is increasingly important for organizations. CompTIA CySA+ addresses this need and validates an IT pro's ability to proactively defend and continuously improve the security posture of an organization.
Looking for more about CompTIA CySA+? Check out these articles:
Get the in-demand skills you need with CompTIA certifications and training solutions. Download the exam objectives to get started.