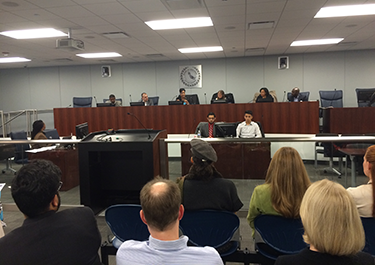 Last week, on March 10, 2016, the Creating IT Futures Foundation, Chicago Public Schools (CPS) and Lumity hosted a panel discussion, "STEMployment: Addressing Chicago's Talent Pipeline," in downtown Chicago. The panel was moderated by Brenda Wilkerson, cluster manager, IT programs at CPS and made up of Fabian Elliott, CEO of Black Tech Mecca; Simon Ibbitt, education account manager with Microsoft; Manika Turnbull, CDO of BlueCross BlueShield of Illinois; Charlotte Johnson, manager at IBM Corporate Citizenship; Florence Hardy, director of the Small Business Development Center at the Chicagoland Chamber of Commerce; and Akari Muhisani, collaboration specialist at Cisco.
Wilkerson kicked things off by noting only nine percent of heads of companies report that their employees have the IT skills their companies need, which lead her to conclude, "Something is broken." She also noted that the demographics of IT professionals skew toward white men over the age of 25. Toward that end, CITF created the Early College STEM School Internship, powered by the IL Tech Learning Exchange, working with CPS' Early College STEM Schools to allow high school students to simultaneously secure their diplomas, associate's degrees and IT industry certifications while gaining industry mentorship and experience. Wilkerson noted last year this program moved 100 high school seniors through summer internships. Two of these interns, Hugo Zamarripa and Damien Medina, joined us that night.
Wilkerson posed her first question to the panel; "Why is the T in STEM so important to business?" Muhisani answered that technology is so essential today because it's become engrained even further in the generation younger than millennials, so we all need to become not only technology users but "technology creators as well." He said Cisco prides itself on being a tech-focused company. Turnbull admitted that the health care industry "has been able to remain pretty much status quo," though it's looking into new tech trends like telemedicine.
Wilkerson then asked the panel, "Why should businesses invest in high school youth?" Johnson admitted that while it "requires a big mindset shift to say high school students can do the same work that older people can," the interns present (Zamarripa and Medina) proved they can. Wilkerson agreed, adding that "getting students into college-level courses early on depends on building maturity in students."
She asked the panel, "What are the challenges of building a diverse tech ecosystem?" Elliott said that you can look at the ecosystem as something like a public transportation system that has gaps, citing Chicago's CTA as an example, adding that the gaps in the ecosystem are things like a lack of funding and mentorship and a need to survey entrepreneurs on their needs.
Wilkerson asked, "Why are internships the answer?" Hardy said, "They're an opportunity for students to get a peek or a taste of what it's like to work in a company without the company taking the tremendous risk of actually hiring them." Ibbitt pointed out that internships are treated differently in the UK. He said at Microsoft he's seen interns pulled from all over the country and given the same accountability as any other employee.
Finally, Wilkerson turned the floor over to the students present, asking them to describe their internships. Zamarripa described working on a website for a local company, Rico Enterprises. He said it was an interesting experience to draw out what was needed for the site from the client, and that he enjoyed working for a Hispanic company, since he himself is Hispanic. He added that it was nice to work from home. He had the website done in three weeks. At the same time, he did tech support on solar-powered trash cans. Read Hugo's story here.
Medina also produced a website for a client over the summer, which helped him better learn CSS coding. He took the CTA Brown train line to work every morning and joked that being surrounded by other commuters in suits made him feel like an adult, drawing a laugh from attendees. He also stated he's won three hackathons. Read more about that here and read about Medina meeting Chicago Mayor Rahm Emanuel here.