Since the inception of the CompTIA Tech Town Index back in 2018, seven metro areas in the Southern states have emerged as major tech hubs: Austin, Dallas, Raleigh, Charlotte, Atlanta, Huntsville and Durham-Chapel Hill. In 2018, 2019 and now in the CompTIA Tech Town 2020 Index, these metro areas have consistently ranked in the top 20 – and six of them have ranked in the top 10.
With more obvious counterparts on the West Coast and East Coast, these Southern cities are not only drawing tech talent, but also attracting big tech and startups as well.
Why is this? What do these cities have that others don't? And what do locals say about living and working in the deep south? Let's find out.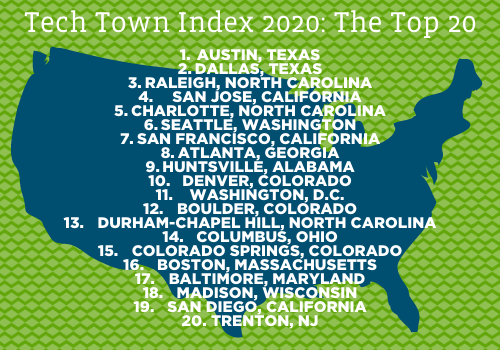 Austin (No. 1)

Austin has done it again. The Austin-Round Rock metro area is holding steady at No. 1 on the Tech Town Index – its second year in a row in the top spot, rising from No. 3 in 2018. In 2018, we reported 46 tech company relocations to Austin. In 2019, that number increased to 58, according to the Austin Chamber of Commerce, which translated to 4,648 new jobs.
Those numbers align with CompTIA's findings, which show 68,323 IT jobs posted between August 2019 and July 2020 – an increase of more than 19,000 over the previous year. But it's not just opportunity that's growing here. As more tech companies and IT pros relocate to Austin, population, real estate and the overall cost of living are also growing.
What Do Locals Say About Living in Austin?

| | |
| --- | --- |
| Pros | Cons |
| Warm weather | Need for air conditioning in the summer |
| Laid back vibe | Limited public transportation options |
| Access to nature and lots of lakes | Heavy traffic |
| Lively music and festival scene | Limited sports and museum entertainment |
| No state or local personal income taxes | Complex housing market |
Did you know? Austin is well-known as the Live Music Capital of the World, but it's also known as the Violet Crown City, a reference to the purplish light cast over the hills on winter evenings.
How Much Money Could You Make in IT?
Use CompTIA's IT salary calculator to see how much different IT jobs earn in different metropolitan areas across the United States.
Dallas (No. 2)
Jumping from No. 7 in 2019 (and No. 6 in 2018), the sheer number of IT jobs available in Dallas is one of the key reasons for the city's rise to No. 2 in 2020. In a 12-month period, 178,579 IT jobs were posted in the Dallas metro area, including Fort Worth and Arlington.
Compared to 146,388 IT jobs posted last year (133,778 at the time of publish), the nearly 32,000 new jobs posted are proof of the rapid growth potential here. Web, mobile application and software development have formed the core of the IT enterprise ecosystem of the city – and taking it to the next level.
Despite its high ranking, Dallas is not without flaws, including traffic congestion and a poorly rated public transportation system.
What Do Locals Say About Living in Dallas?
| | |
| --- | --- |
| Pros | Cons |
| Home to many Fortune 500 companies | Limited public transportation options |
| Excellent schools | Cost of housing is rising |
| NFL and NBA sports teams | Not a lot of green space |
| No snow and lots of sunshine | Heavy traffic |
| No state or local personal income taxes | Urban sprawl |
Did you know? German chocolate cake didn't originate in Germany, but in Dallas? The cake is actually named after Dallas chocolate maker Samuel German.

Raleigh (No. 3)
Located in the North Carolina Research Triangle, Raleigh is a major tech hub, which explains why it has consistently placed in the top 3 on the index every year. In 2020, slightly falling from No. 2 to No. 3, Raleigh remains tough to beat. The fact is that talent in this area flock to the startups, and the startups need the talent.
With multiple universities and plenty of community colleges within throwing distance, a qualified workforce is at the ready. IT pros are paid a median salary of $93,781 here, and the cost of living per month for one person is $2,743 – far lower than many cities on the index.
What Do Locals Say About Living in Raleigh?
| | |
| --- | --- |
| Pros | Cons |
| Beautiful oak tree–lined streets | Hot and humid summers |
| Lower cost of living | Limited nightlife options |
| Access to a variety of educational opportunities | College town ambience |
| Plenty of outdoor activities | Long pollen cycle |
| Access to high-quality health care | Urban sprawl |
Did you know? The Raleigh Beer Garden has the World Record Academy's title for Most Beers on Tap since 2015. How many? 366 since the restaurant's opening.
Charlotte (No. 5)
The Charlotte Regional Business Alliance reports that more than 52,000 core high-tech talent workers live and work in Charlotte with nearly 35% working for corporate headquarters, finance and insurance or consulting services. Another 35% of IT pros work for core tech industries like software publishers and computer system design services – a growing market.
The Tech Town data supports this growth. In a 12-month period, the Charlotte metro area has advertised for 81,081 technology jobs – as compared to 57,358 in the previous year.
What Do Locals Say About Living in Charlotte?
| | |
| --- | --- |
| Pros | Cons |
| Plenty of public transportation | Construction in a developing city |
| Experience all four seasons | Mosquitoes thrive in the temperate climate |
| Thriving nightlife scene | Potential for hurricanes |
| Easy access to the beach and the mountains | Heavy traffic |
| Small town feel | Clay soil – if you like to garden |

Did you know? While Charlotte's downtown area is referred to as Uptown, not many know that Uptown actually sits at a higher elevation than the rest of the city.
Atlanta (No. 8)
Newly nicknamed The Silicon Valley of the South, Atlanta has been quietly building a tech startup community that is poised to take the tech world by storm. And holding its position at No. 8 on the Tech Town Index illustrates how well that strategy is working.
One of the goals of the Atlanta Tech Center is to transform Atlanta into a top 5 tech city – and they are hard at work. Atlanta Tech Village says it has launched more than 300 startups, created more than 6,500 jobs and its companies have raised more than $826 million in capital.
Due to its landlocked position, urban sprawl is becoming a problem in Atlanta. And while tech is thriving, other industries, like retail, are struggling.
What Do Locals Say About Living in Atlanta?
| | |
| --- | --- |
| Pros | Cons |
| Mild winters | Year-round humidity |
| The Atlanta BeltLine | Complex city layout |
| Diverse demographic | City is primarily business focused |
| MLB, NFL, NBA, WNBA and MLS sports teams | Cost of living is rising |
| Access to one of the largest airports in the world | Heavy traffic, not walkable in the city |

Did you know? There are more than 55 streets with the name Peachtree in Atlanta. Keep this in mind as you navigate the city!
Huntsville (No. 9)
Once a best-kept secret, Huntsville, Alabama, is no stranger to the tech scene. In fact, the city is growing by leaps and bounds due to its strong technology roots, affordability and engaging lifestyle. Climbing one spot to No. 9 on our list this year, Huntsville proves you don't have to live in a large city to enjoy the perks of a tech job.
Opportunity continues to flourish in this Southern town with more than 15,000 technology jobs advertised in Huntsville in the past year. IT jobs are expected to increase by 2% in the next year and by 8% over the next five years.
Of course, the thick Alabama heat is known to last for a full 7 months, and Huntsville seems to be a target for severe weather, including thunderstorms and tornadoes.
What Do Locals Say About Living in Huntsville?
| | |
| --- | --- |
| Pros | Cons |
| Mild winters | Humid, sticky and hot summers |
| Affordable | Infrastructure needs updating |
| Diverse population | High pollen year-round |
| Excellent schools | Threats of severe weather |
| Thriving outdoor culture and arts scene | Need to travel for larger venue entertainment |
Did you know? Living in Huntsville means frequent rocket test launches? Yes, it's true. It may feel like an earthquake, but it's a normal occurrence in the Rocket City.
Durham-Chapel Hill (No. 13)

Durham-Chapel Hill excels in the areas of interactive software and games, defense technologies, open-source software development and nanotechnology. The tech industry here currently accounts for nearly 50,000 jobs, according to WorkInTheTriangle.com. In fact, the area posted 22,124 IT jobs in the past 12-months – an increase of nearly 3,500 over the previous year.
Like neighboring Tech Town Raleigh, a big draw for tech companies in Durham-Chapel Hill is prime access to educated, qualified talent due to its sheer proximity to major universities.
What Do Locals Say About Living in Durham-Chapel Hill?
| | |
| --- | --- |
| Pros | Cons |
| Rich history | College town vibe |
| Great public transportation and walkability | Slightly higher crime rate |
| Diverse population | High pollen rates |
| Strong urban scene | Gentrification |
| Excellent schools | Infrastructure needs updating |
Did you know? The barcode was pioneered in Durham's Research Triangle Park by George Laurer. The fist item to be scanned? That would be a 10-pack of Wrigley's Juicy Fruit chewing gum!
These days technology can thrive anywhere – and it does! These Southern cities are prime examples of how the IT industry is growing and expanding beyond the traditional tech hubs of the past and how IT pros have their pick when it comes to choosing where to live and work.
Get articles like this sent right to your inbox. Subscribe to CompTIA's IT Career Newsletter today. As a bonus, you'll get 10% off your next CompTIA purchase.