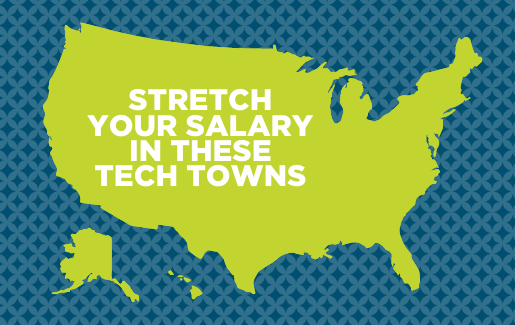 Once upon a time technology jobs were found in clusters around traditional tech hot spots. If you dreamed of working in tech, moving out west was the only place to be. But in recent years, the definition of a technology hub has changed – and the locales have greatly expanded. For instance, cities like Austin, Dallas, Raleigh and Charlotte all rank in the top 5 best cities for tech jobs on CompTIA's recently released 2020 Tech Town Index. But there's more to the story this year.
Say what you want about 2020. This year has changed all of us – and the technology industry is no exception. One of the most notable changes for IT pros is the remote workforce factor. While remote work has been on the tech sector's radar for at least a decade, during COVID-19 the demand for remote IT workers increased with the number of job postings nearly doubling.
Of course, that begs the question: if you could work from anywhere, where would you live? And where would you make the most money? Let's dive into the CompTIA Tech Town Index using CompTIA's new IT Salary Calculator to identify in-demand IT careers and salaries and how location plays into the equation.
What Is the CompTIA Tech Town Index?
The data found in the CompTIA Tech Town Index can be extrapolated in a variety of ways. The idea behind the report is to provide IT workers, as well as professionals working in the business of technology, some guidance on where opportunity intersects with affordability and quality of life.
We do this by examining job posting data over a 12-month period (August 2019 to July 2020) in 20 metropolitan areas with populations over 250,000, where demand for tech workers is greatest. Then, the cities are ranked based on cost of living, number of postings for open IT positions and projected job growth over the next year as well as the next five years.
When you combine that cost of living and most in-demand IT job data with the CompTIA IT Salary Calculator, you have a recipe that delivers the best states and cities for tech jobs in 2021 and beyond.
5 Cities Where Your Money Goes Further
Naturally, cost of living and general affordability is a good place to start.
For example, Columbus, Ohio, gets top billing as the most affordable Tech Town on the index this year. The cost of living here is 6% lower than the national average. IT pros earn a median salary of $88,099. But, adjusted for the lower cost of living, that number feels more like $93,226 – comparable to actual earnings for IT pros in Raleigh, North Carolina; Durham-Chapel Hill, North Carolina; Dallas, Texas; and Trenton, New Jersey.
The table below shows how the top 5 most affordable cities shake out.
2020
Tech Town

Overall Rank

Median Salary

Adjusted for
Cost of Living

Columbus, OH

14

$88,099

$93,226

Atlanta, GA

8

$92,725

$97,708

Huntsville, AL

9

$97,316

$101,795

Austin, TX

1

$87,880

$91,829

Raleigh, NC

3

$93,781

$97,791
Of course, cost of living isn't the only factor. There is a range of factors that influence what your IT salary could be, like years of experience and regional market value.
As you explore IT career path options, use the CompTIA IT Salary Calculator to estimate your salary and know your worth during your job search. The calculator includes salary data from 400 different metro areas, covering 85% of the U.S. population.
3 In-Demand IT Careers
CompTIA Tech Town data also illustrates how U.S. technology jobs are projected to grow over the next year and next 5 years. For example, demand for information security analysts is expected to grow by 4% within the next year and by 16% by 2025. In theory, working toward a core occupation that is expected to grow means that qualified IT pros will be in demand. When you're in demand, you typically make more money.
The table below shows the core occupations that have the most opportunity in terms of growth.
| | | |
| --- | --- | --- |
| Core Occupation | 1-Year Growth Potential | 5-Year Growth Potential |
| Information Security Analysts | 4% | 16% |
| Software Developers and Software Quality Assurance Analysts and Testers | 3% | 12% |
| Computer Information Research Scientists | 3% | 10% |

Let's take this a step further with the CompTIA IT Salary Calculator. For example, if you search "cybersecurity analysts and engineers" without a specified location, you can see that salary numbers range from $57,000 to $158,000. While that's quite a swing, it does represent the potential earning growth throughout the lifecycle of a career because typically someone would start their career on the low end of the range and move up as they gain experience and knowledge.
But let's drill down a bit. For comparison's sake, we'll look at an experience level of mid-career. Let's also take a look at Columbus, Ohio – since it ranks no. 1 on the Tech Town cost of living list. Now we can see that the overall median salary for a mid-level cybersecurity analyst or engineer is $94,720.
If you're following along in the calculator, you can see that these numbers track. In the section above, the median salary for IT pros (in general) in Columbus is just about $88,000. But if you dig deeper and research a more in-demand IT occupation, like IT security careers, you'll see your earning potential increases.
How Do Remote IT Salaries Stack Up?
In theory, could you score a job out of San Jose, California, where the median annual salary sits at about $137,000, but work remotely from Columbus, Ohio? Or are you taking a pay cut to work from home?
Based on the Tech Town Index job posting data, median pay is still high for remote job ads – $83,000 among the postings that included salary information, but less compared to overall median pay advertised for all IT job postings, which stands at $91,000.
The key here is to do your homework. If you want to work remote, make sure you know what you're worth, what your job pays in your company's home state and what the going salary is where you live. There's always room for negotiation.
Putting the Pieces Together
Mapping out where you can make the most money is kind of like putting together a puzzle – there's quite a bit to consider. If you can create a scenario where you score an in-demand IT job (with the opportunity to grow and advance) while working from a more affordable home base, you win.
Do your homework! Play around with the CompTIA IT Salary Calculator to see what you're worth and where you can make the most money.