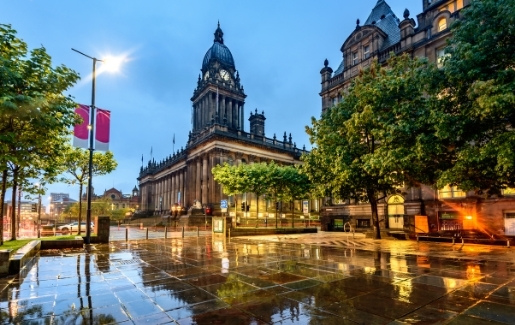 Technology is a global business that impacts people in even the most remote corners of the world. While the United States is the largest tech market worldwide, representing 33% of the global total, or approximately $1.6 trillion for 2021 – tech towns don't only exist in the USA. Booming employment opportunities exist in the information technology (IT) field all over the globe, including the United Kingdom (UK). The CompTIA UK Tech Town Index 2020 highlights the industry's breadth, resilience and overall importance to our modern way of life.
Amid the unprecedented circumstances of 2020, the second annual UK Tech Town Index looked at the landscape of employment opportunities, livability factors and opportunity costs to rank the top 10 cities for IT pros and live and work in 2020. Factors like the number of locally posted IT jobs, projected job growth and reported cost of living in travel-to-work areas (work areas) across the UK were evaluated.
Whether you prefer a bustling global center like London, an environmentally conscious city like Edinburgh or a rising tech hub like Belfast, we hope this list will help you select the place that is best for you!
Best UK Cities for IT Pros to Live and Work
Without further ado, here are the top 10 UK Tech Towns:
Leeds
Birmingham
Belfast
Manchester
Cambridge
Edinburgh
London
Bristol
Reading
Bath
#1 Leeds

A healthy increase in tech employment opportunities and projections for continued job growth helped Leeds move up from the third spot in 2019 to the top of the index in 2020. More than 11,300 IT jobs were posted in the Leeds work area between September 2019 and August 2020.

Moreover, the cost of living is admirably low. The average home cost in Leeds is £197,026, compared to the UK average of £239,196. IT pros working in Leeds earn a median wage of £41,360 – which isn't too far from the median wage in London where house prices are nearly 2.5 times more.

#2 Birmingham
Rising from number 4 in the 2019 index to number 2 in 2020, Birmingham's strong and growing presence in the mobile gaming and eGaming sector has elevated this West Midlands hub in terms of employment opportunity. In fact, employers advertised nearly 20,000 IT jobs postings over a 12-month period here.
But it's not just the opportunity that is attracting IT pros. IT salaries are 39% higher in Birmingham than the UK average for all occupations, and the average home costs just £189,988 – far below the UK average.

#3 Belfast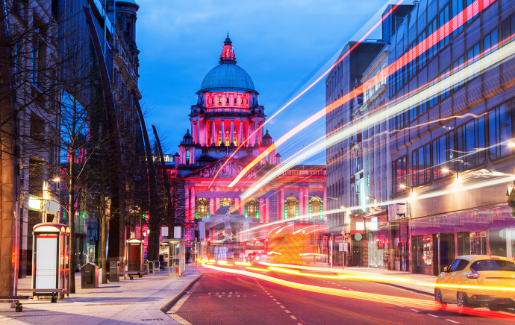 The Northern Irish city of Belfast is a newcomer to the Tech Town Index, reflecting its rising status as a tech hub. Across the Belfast work area, more than 11,000 IT jobs were posted by employers for a mix of programmers, software development professionals, IT business analysts and architects, IT support technicians and other occupations.

Belfast boasts an enviable cost of living for a capital city, with the average property price standing at just £135,523 (compared to the London average of £489,159 or the Edinburgh average of £284,654). This places Belfast at the top of our list for affordability alone.

#4 Manchester

Manchester remains a highly sought-after IT destination even though it slipped from the top spot in 2019 to number 4 in 2020. A rise in the average cost of a home was a big factor due to a large influx of new residents moving to the area as the city continues to be the fastest growing in Europe. But strong competition from other markets also contributed.
Even still, Manchester's tech community is a growing force in artificial intelligence (AI) and machine learning and is making a name for itself in the startup category as home to Toottoot (psychological well-being software) and Arctic Shores (next-gen psychometric testing).

#5 Cambridge

Cambridge moved up one notch in 2020, solidifying its standing as a top location for IT. Its Silicon Fen has been named Europe's largest technology cluster, which should continue given the area's strong pharma and AI footprint.
While the city is home to its fair share of global brands, it's also known for its spirit of innovation. In fact, Europe's Hottest Startup of 2020 FocalPoint, a GPS-tracking company, is headquartered in Cambridge. Other local startups have been named worth watching here as well, including investment platform SyndicateRoom and AI-powered rare disease treatment company Healx.

#6 Edinburgh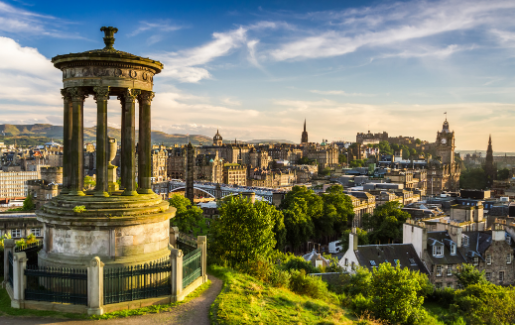 Moving up one spot from the 2019 index is Edinburgh. The greenest city in the UK, Edinburgh is a financial hub. Most employers hiring IT pros here are banks – like Royal Bank of Scotland, Lloyds Banking Group, HSBC Holdings and countless others.
With 11,000 IT jobs up for grabs in a 12-month period and that number expected to grow by another 2% over the next year, Edinburgh has become even more attractive. Second to only Leeds in job growth projections, the only downfall here is the high cost of living. But with so many perks of living here, it's safe to say many people think it's a fair tradeoff.

#7 London

Of course, London was to appear somewhere on this list. Although some may be surprised to see it land at number 7 – a decline by 2 from 2019. The drop in rank could easily be attributed to the effects of the pandemic. It seems London was hit the hardest relative to the rest of the UK.
In spite of the difficult year, there were still more than 150,000 IT job vacancies advertised in the London work area. That equates to 35 job postings per 1,000 people employed in the past 12 months. And the incredible diversity of companies paired with a healthy investment scene mean that entrepreneurial dreams can come true here.

#8 Bristol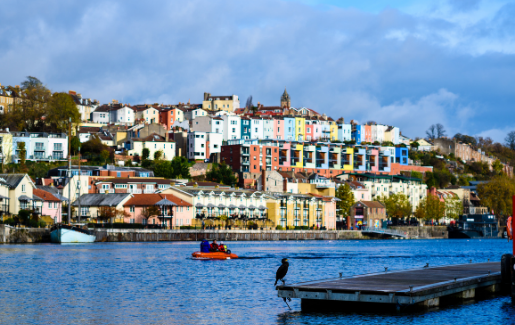 Bristol is not to small and not too big. It has a thriving theatre scene, an abundance of shopping and plenty of walkability and green space. It's near popular holiday destinations like Devon and Cornwall – and the perks don't end there.
Relatively speaking, the job scene in Bristol is quite robust. In the last year, nearly 13,500 IT jobs were posted in the Bristol work area, with a growth rate that's comparable to larger cities like Belfast or Birmingham. And IT pays well here. IT pros in Bristol earn a median annual salary of £41,600, which is 37% higher than the UK average across all occupations.

#9 Reading

This Berkshire market town moves up one rank to number 9 in 2020. Given its prime location within the M4 corridor, it's no surprise that companies like Virgin Media, Oracle, Prudential, Ericsson, Sage and Microsoft have a presence here.
The population of Reading is around 342,000, yet nearly 10,000 IT jobs were posted in this area in the last year. IT pros working here earn an annual median salary of £46,385, which is a whopping 53% higher than the national average across all occupations, and lower than only London and Cambridge on our list. But with a significantly lower cost of living than London, your money goes further in Reading.

#10 Bath
Bath's thriving startup culture, proximity to several world-class universities and overall desirability have done much to make it a strong contender for anyone hoping to work in IT. If all of this sounds too good to be true, that's because, for some, it might be.
Bath may be on the list, but it's barely there, thanks to a high cost of living, slower jobs growth and fairly average wages for IT workers. The average home in Bath will set you back £349,266 (second only to London's average), and the median annual wages are £41,878 — less than one might earn in Birmingham, London, Cambridge, Reading or Manchester.

Which UK Tech Town is Right for You?
2020 was an unprecedented year. Heading into 2021, there is no well-defined blueprint for ongoing rebuilding efforts. But one thing is certain: technology will continue to play a pivotal role – in the UK and all over the world.
Get articles like this sent right to your inbox. Subscribe to CompTIA's IT Career Newsletter today. As a bonus, you'll get 10% off your next CompTIA purchase.