The cities on the UK Tech Town Index 2020 offer loads of opportunity. In fact, the top 10 areas advertised for a grand total of 270,132 technology jobs between August 2019 and July 2020. And while opportunity is a huge factor in considering where to live and work – it's not the only factor. Cost of living plays a pretty important part, especially in unpredictable times. Today, we focus on that piece of the puzzle. How far will your money go in the most expensive place to live (London) as well as the most affordable place to live (Belfast). Let's take a look.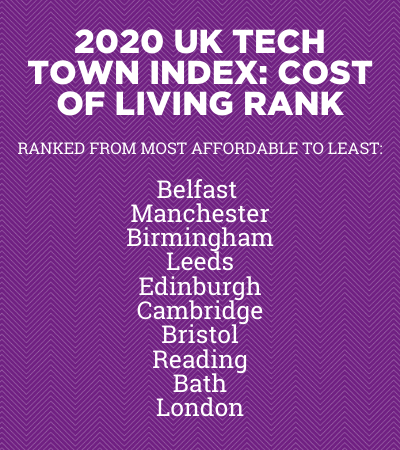 Belfast vs. London
We'll begin with a comparison of the most affordable city on the index compared to the least affordable area. The Northern Irish city of Belfast reigns supreme when it comes to affordability. With a cost of living 43% lower than the national average, Belfast tops the list for those who want to save. London, on the other hand, is not surprisingly the most expensive place to live in the United Kingdom, with the cost of living 105% higher than the national average. While both capital cities have rightfully earned places on the UK Tech Town Index 2020 – Belfast at no. 3 and London at no. 7 – the two areas could not be more different.
| | | |
| --- | --- | --- |
| | Belfast | London |
| Population in 2020 | 631,000 | 9,304,000 |
| Average home price | £135,523 | £489,159 |
| Median IT pro salary | £38,278 | £51,748 |
Of course, there are other factors to consider. What about ease of commute, education and crime rate?
The Commute
Those who live in Northern Ireland say the commute is not only easy, but also affordable.
"The commute within the North is extremely easy because it takes two trains to succeed in an area on a median within minutes," according to TheNextFind.com. "The commute here is affordable and allowances are given to those who cannot afford that too."

With a population more than 14 times that of Belfast, the congestion in London is a bit more problematic. In fact, two-thirds of Londoners found using public transport to be the most stressful part of living in this iconic city. Eight out of the ten of the busiest train routes in London are suburban commuter lines running in and out of the city limits.
The Education Scene
There are many places in London that are considered optimal to raise a family, which inevitably includes access to highly rated schools. Boroughs like Richmond upon Thames, Barnes, Twickenham and Teddington seem to attract families for the sheer number of primary schools with an "outstanding" rating. Lambeth and Wandsworth are popular on the south side of the city, and Hackney on the east side offers more than 50 well-rated options.
The education system in Northern Ireland gets good marks as well. Primary school students here rank among the best in the world in math, according to a recent report by The Irish Times, and many Belfast schools draw students from abroad. With over 180 primary, secondary and grammar schools in the area, there are plenty of top-notch choices.

The Crime Rate

Comparing instances of crime in a city the size of London to one the size of Belfast isn't exactly a fair shake. In 2019-20 there were 912,760 crimes recorded in London, with 222,045 of those categorized as violent. That boils down to approximately 101 crimes committed per thousand people, according to Statista.

Despite having a reputation of being unsafe, Northern Ireland has one of the lowest crime rates among industrialized countries. In fact, Statista reports that Northern Ireland's crime rate has fallen from 84 crimes per 1,000 people back in 2002-03 to 59 in 2019-20.

The Lifestyle

It really all boils down to living your best life and what that means to you. Loyal Londoners cite the city's bustling atmosphere, ample foodie finds and literally a lack of boredom – as there's always something to do – as top reasons for splurging here.
Living in Belfast means you are surrounded with natural beauty, nearby castles (Game of Thrones filmed here!) and a charming mix of Irish and British culture. Home to some of the greatest pubs around the world, people in Belfast are always finding a reason to raise a glass.

Save or Splurge?
What's more important to you? Check out the rest of the UK Tech Towns and see how they rate based on cost of living, IT opportunity and salary.
| | | | | | | | |
| --- | --- | --- | --- | --- | --- | --- | --- |
| Overall Rank | City | Cost of Living Rank | Average Home Price | Median IT Salary | Open IT Positions* | Save | Splurge |
| 1 | Leeds | 4 | £197,026 | £41,360 | 11,348 | X | |
| 2 | Birmingham | 3 | £189,988 | £42,226 | 19,358 | X | |
| 4 | Manchester | 2 | £182,230 | £42,096 | 27,888 | X | |
| 5 | Cambridge | 6 | £296,894 | £47,151 | 13,135 | | X |
| 6 | Edinburgh | 5 | £284,654 | £41,738 | 10,597 | | X |
| 8 | Bristol | 7 | £315,647 | £41,600 | 13,371 | | X |
| 9 | Reading | 8 | £321,165 | £46,385 | 9,444 | | X |
| 10 | Bath | 9 | £349,266 | £41,878 | 3,526 | | X |
*Number of IT job postings between August 2019 and July 2020
The thing about quality of life is that it's all subjective. Some people prefer the city and others prefer the countryside. Some thrive in a social scene and others value privacy. There simply isn't one right answer when it comes to deciding where to live and work. But, if you're in a position to choose, talk to people, do your research and discover what's most important to you. The UK Business Technology Community is a great place to start!
Get articles like this sent right to your inbox. Subscribe to CompTIA's IT Career Newsletter today. As a bonus, you'll get 10% off your next CompTIA purchase.