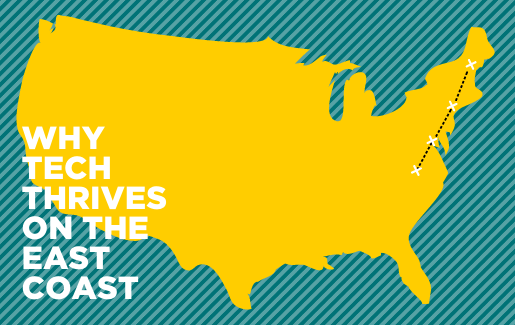 For decades the West Coast has been famously synonymous with big tech. Companies that have driven societal change like Google, Amazon, Facebook and Apple were born there – and those are just the tip of the iceberg. But nowadays, you don't need a California or Washington ZIP code to make it big in technology. And while the West Coast has certainly earned its prestigious tech reputation, the East Coast has made a name for itself as well, proving that a well-incubated idea can become a green machine on either side of the country.
We're taking a look at the East Coast tech hubs that earned a spot on the CompTIA Tech Town 2020 Index. Why do technology companies and IT pros thrive in these cities? Let's find out.
The East Coast Vibe
Stereotypically, the East Coast is often labeled as a fast-paced culture with a tough exterior and a "no excuses" approach to life in general. While this lifestyle isn't for everyone, it can be an exhilarating climate when you realize just how much is getting done around you every single day.
That spark in the air combined with a rich historical element, make the East Coast vibe one that simply can't be replicated anywhere else in the United States. Perhaps that history plays a part in why most verticals (financial, oil and gas, pharma, insurance, health and manufacturing) are based east of the Mississippi. For example, the financial industry is largely based in New York, the insurance sector originates in Connecticut and New Jersey, and Baltimore lays claim to health care. All these businesses need software engineers, analysts, developers and administrators.

How Much Money Could You Make in IT?
Use CompTIA's IT salary calculator to see how much different IT jobs earn in different metropolitan areas across the United States.
Washington, DC (#11)
The name of the game in Washington, D.C., is jobs – and there are lots of them. In 2019, the D.C. metro area topped our Tech Town list with the sheer number of available technology jobs – and 2020 was no different. This time, the number of IT jobs advertised surpassed the previous year by about 34,000, with more than 260,000 postings in 2020.

But believe it or not, IT pros are looking for more than just opportunity – and the D.C. metro area measures up. Technology companies thrive here for a variety of reasons including diversity of people, a central location and cultural appeal. Government contractors General Dynamics, Leidos and Booz Allen Hamilton top the list of employers hiring IT pros, and over the next five years jobs are expected to increase by 5%.
Boston, MA (#16)
Boston has a reputation – after all, it's the birthplace of freedom and subsequently why people of all races, nationalities, religions and backgrounds feel at home here. But the diversity of people isn't the only thing Bean Town has going.
Diversity of industry is one of the reasons why the Boston tech scene is outpacing itself. In a 12-month period, the area advertised for 116,227 open technology positions as compared to 103,890 the previous year. And the talent pipeline stays fresh due to the city's proximity to a cluster of local universities.
Once at the heart of the American Revolution, history buffs can revel in the area's many historical sites, and everyone can enjoy the beautiful Cape Cod beaches, historic Salem, hiking, swimming and more.
Baltimore, MD (#17)
The city where Francis Scott Key was inspired to write the country's national anthem is now well-known for its innovations in the tech and life sciences sectors. While history is paramount in Baltimore (the city was founded in 1729, before the United States was a country) it's the up-and-coming markets that are of interest to IT pros.
Medical devices, social enterprise, digital health, cybersecurity and manufacturing labs that support a new wave of consumer products and tech-enabled hardware are making a mark in the Baltimore area. In fact, software and application developers are the most sought-after tech talent here. Home to the world-famous John Hopkins Hospital, Baltimore proves to be rich in both history and innovation – even recognized by Forbes magazine as one of the top U.S. cities for tech startups.
Trenton, NJ (#20)
If location, location, location means anything – Trenton's accessibility is of utmost value. Located in central New Jersey on the Delaware River, Trenton is easily accessible to both New York and Philadelphia. That easy access means that Trenton residents may work outside the city and vice versa. And while the cost of living here is 23% higher than the national average, it's considerably lower than living in New York.
Bank of America, Deloitte and Anthem Blue Cross top the list of employers hiring IT pros in a 12-month period, with software and app developers and computer systems analysts ranking as the most in-demand positions. A newcomer to the Tech Town Index, Trenton's IT job outlook is predicted to grow by 5% over the next five years.
It would be a huge understatement to say the East Coast is no slouch when it comes to technology innovation, opportunity and success. In fact, the sheer number of higher learning institutions, the focus on government contracting and the deep-rooted history of major verticals make the East Coast a major tech hub in its own right. The difference, of course, is in the lifestyle and culture. What do you prefer? The West Coast or the East Coast?
Get articles like this sent right to your inbox. Subscribe to CompTIA's IT Career Newsletter today. As a bonus, you'll get 10% off your next CompTIA purchase.