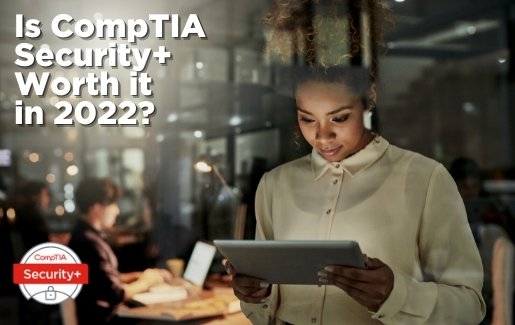 What do Cisco CCNA Security, Cisco CCNP Security, CEH, ISA, Infosec CISSP, Amazon AWS Certified Security and ISACA CRISC have in common? They are all part of the large grouping of cybersecurity certifications currently available.
Each of these certifications is valuable and serves a valid purpose. But what about the CompTIA Security+ certification? If you've got questions, we've got answers.
CompTIA Security+ is a popular cybersecurity certification. But is CompTIA Security+ worth it in 2022? That depends on your goals as an IT professional.
One of your IT career goals may be to get into the information security field without prior certification. Other goals may include getting a vendor-neutral cybersecurity certification or a DoD-approved cert.
Do any of these IT career goals resonate with you? Are you asking, "Is CompTIA Security+ worth it for me?" If so, keep reading.
What is the CompTIA Security+ Certification?
The CompTIA Security+ certification is a vendor-neutral certification widely recognized by the IT industry. It equips individuals with the skills they need to get one of the many job roles in cybersecurity. Before earning any other cybersecurity certifications, technicians should think about getting CompTIA Security+.
CompTIA Security+ offers critical foundational cybersecurity skills that IT professionals should have before pursuing higher-level certifications.
IT skills you will learn with CompTIA Security+ include:
Identifying attacks and vulnerabilities to mitigate before they infiltrate IS
Understanding secure virtualization, secure application deployment and automation concepts
Identifying and implementing the best protocols and encryption
Monitoring and securing hybrid environments, including cloud, mobile and IoT
Installing and configuring identity and access services and management controls
Installing, configuring and deploying network components while assessing and troubleshooting issues to support organizational security
Implementing and summarizing risk management best practices and the business impact they have
Installing and configuring wireless security settings and implementing public key infrastructure
Understanding penetration testing and vulnerability scanning concepts and detecting compromise
Understanding the importance of compliance
The CompTIA Security+ certification, which costs $392 USD, validates these baseline IT skills and core security functions. This proves to employers and recruiters that you are certified and ready to work in a variety of IT security roles.
Also, CompTIA Security+ is approved by the U.S. Department of Defense (DoD) to meet directive 8140/8570.01-M requirements. It is compliant with ISO 17024 standards.
Wondering what's on the CompTIA Security+ exam? Download the exam objectives for free to find out.
Is CompTIA Security+ Hard?
Unlike other cybersecurity certifications, CompTIA Security+ has no prerequisites. This is great news for IT professionals who want to jump right into information security without having to get multiple certifications.
Although CompTIA Security+ is entry-level for cybersecurity, the average person, and even entry-level IT pros, may not consider it easy. It covers cybersecurity concepts in depth and requires adequate preparation.
The amount of preparation you need depends on the type of learner that you are and how you absorb information. Some people grasp cybersecurity concepts fairly quickly. For others, these concepts are more of a challenge.
Whichever type of learner you are, you will experience some degree of difficulty with CompTIA Security+. This is a good thing. After all, an easy certification probably wouldn't provide you with sufficient knowledge to advance your IT career.
Although CompTIA Security+ can be challenging, CompTIA training tools put passing the certification exam well within your reach. Armed with the right attitude and training resources, even beginners can earn CompTIA Security+.
Ready to start studying? Don't forget to download your free CompTIA Security+ practice test.
Is CompTIA Security+ for Beginners?
Because CompTIA Security+ has no official prerequisites, it is appropriate for beginner cybersecurity professionals. However, this doesn't mean that it isn't helpful to earn other CompTIA certifications before pursuing CompTIA Security+. Specifically, CompTIA Network+ and CompTIA A+ certifications may be helpful to you prior to earning your CompTIA Security+ certification.
The CompTIA A+ certification offers foundational knowledge of all IT concepts. In a perfect world, every technician would start with this certification. CompTIA Network+ provides you with network security skills that will be helpful as you establish your cybersecurity specialization.
CompTIA Security+ candidates should ideally have at least two years of work experience in IT administration with a security focus. This isn't a hard-and-fast prerequisite, but a recommendation.
Whether you are a seasoned IT pro or a beginner, you can pass the CompTIA Security+ certification exam. How? By studying for it using official CompTIA training tools, such as:
Dave Kung, cybersecurity leader, IT operations leader and information security expert, said he used some of these tools to pass the certification exam.
"The study aids I used to prepare for the CompTIA Security+ exam included the Official CompTIA Security+ Study Guide, other exam preparation books and a self-paced online class," Kung said in an article describing his journey toward CompTIA Security+. He also suggested that IT pros use several learning sources to ensure exam success.
In addition to the right training tools, IT pros need the right attitude to earn the CompTIA Security+ certification. Kung cited a dedication to your craft, to learning and to preparation as key characteristics that successful test-takers possess.
Wondering how long CompTIA Security+ is good for? Three years, and renewal is simple. Learn more about how to keep your certification current.
Is CompTIA Security+ Respected?
IT certifications require a significant investment of time and energy, so it makes sense to only pursue those that are well respected.
CompTIA Security+ is widely recognized and respected in the IT community. Its approval by the U.S. Department of Defense (DoD) to meet directive 8140/8570.01-M requirements and compliance with ISO 17024 standards helps prove this.
And CompTIA Security+ is respected beyond the DoD. The 2022 Robert Half IT Salary Report lists Security+ (in addition to A+ and Network+) among the most valuable IT certifications this year. And the Global Knowledge 2022 IT Skills and Salary Report puts Security+ at #15 of the top-paying certifications. In addition, Dice's Tech Salary Trends lists Security+ (alongside CompTIA A+ and CompTIA Network+) as one of the most popular certifications.
Eshna Verma, author of Top 5 CompTIA Certification Courses to Pursue in 2022, said CompTIA Security+ can help IT pros establish an "outstanding career in the network security field."
ServerWatch's article Best CompTIA Certifications for 2022 called CompTIA Security+ "one of the best entry-level, vendor-neutral network security certifications." Also, Infosec called CompTIA Security+ a preferred credential for those seeking to advance their IT career.
There's no doubt that CompTIA Security+ is a respected IT certification that can take you where you want to go in your career.
Do I Need Work Experience to Pass CompTIA Security+?
Gaining some work experience prior to pursuing CompTIA Security+ is a good idea. It is recommended that IT pros have at least 2 years of IT administration experience with a security focus before going after this certification.
However, this doesn't mean it's impossible to pass the CompTIA Security+ exam without work experience and foundational CompTIA certifications. Tanvi Biyani, EO&T Analyst at Citi, earned CompTIA Security+ without the recommended prerequisites.
In an article published on LinkedIn, Biyani, who passed the exam on the first try, explained that she did not have other certifications or cybersecurity experience, but she studied hard and used a variety of training resources to get different perspectives.
So, with hard work and determination, you may be able to pass the CompTIA Security+ exam, but it is certainly the exception, not the rule.
Generally, having experience makes passing the exam easier. And in addition to CompTIA A+ and CompTIA Network+ covering fundamental knowledge that can be applied to CompTIA Security+, having experience taking other certification exams will help you prepare for exam day and stay cool under pressure.
Don't have the recommended work experience but still want to pursue CompTIA Security+? By taking stock of your knowledge gaps in the exam content, you can set yourself up for exam success. Increase your chances of passing the exam without work experience with classes like CompTIA Live Online Training.
CompTIA Live Online Training
CompTIA Live Online Training brings the classroom experience to you – wherever you may be. Log on every day to receive guided learning, hands-on training and real-time support from one of CompTIA's industry-leading instructors from the comfort of your home.
All CompTIA Live Online Training bundles include CompTIA CertMaster products so you can reinforce what you learn in the classroom on your own time and ensure that you have ALL the tools needed to prepare for your exam. Use training solutions designed by CompTIA for CompTIA certifications.
CompTIA CertMaster
Preparing for the CompTIA Security+ certification exam requires focus and dedication, but how long it takes depends entirely on where you're starting from. We recommend you start your CompTIA Security+ journey by downloading the exam objectives. This gives you an opportunity to take inventory of your competency on each topic and determine where to focus your energy.
CompTIA offers a full suite of training solutions for CompTIA A+, including: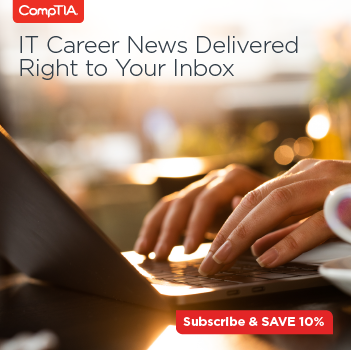 Can I Retake the CompTIA Security+ Exam if I Don't Pass?
The number of times a candidate can retake the exam plays into the "is CompTIA Security+ worth it?" equation. The good news is you can retake the CompTIA Security+ exam if you initially fail.
After your first fail, you can retake the exam as soon as you feel ready. If a third attempt is needed, you must wait 14 days from your last exam date to retest.
If additional retests are needed, the 14-day rule will apply. Candidates should be aware that they are responsible for the exam fee at each attempt to pass the exam. Free retests and retake discounts aren't available for purchase individually, but they are included in most CompTIA bundles. When you purchase your exam voucher and training solutions together in a bundle, you get the added bonus of a free retake voucher – just in case. See what bundles are available in the CompTIA Store.
Is CompTIA Security+ Enough to Get a Job? What About Earning Potential and Average Salary?
A key factor individuals should consider before getting a cybersecurity certification is what type of average salary it will yield. The truth is there is no definite salary CompTIA Security+ can promise.
Beware of sources that promise a certification will result in a certain salary. An IT pro's salary isn't directly related to a certification in and of itself. Rather, it's related to the job role that the certification(s) helped the IT pro get, in addition to other factors such as location, employer, industry and more.
A few cybersecurity jobs – and their average/median annual salary – CompTIA Security+ can help you land include:
With CompTIA Security+ alone, you could be in the running for one of these job roles. Willing to earn more CompTIA certifications and work experience? If so, you'll be qualified for higher-level information security jobs. Here are some examples:
CompTIA Cybersecurity Analyst (CySA+) and CompTIA PenTest+ are examples of intermediate cybersecurity certifications to pursue after CompTIA Security+. CompTIA Linux+ is another good option as Linux skills are critical to a cybersecurity professional's success.
If you want to work with specific equipment, consider a vendor-specific certification, such as Microsoft Certified Security Administrator Associate.
In many cases, CompTIA Security+ can be the key to getting an entry-level job in IT security. It can even be helpful in landing a help desk role. However, earning this cert is only the first step in starting a career in cybersecurity.
Once you get your foot in the door to the information security industry, keep learning and keep earning cybersecurity certifications. With a commitment to continuous learning and hard work, you can go as far in cybersecurity as you want.
Become an IT Security Professional With CompTIA Security+
The COVID-19 pandemic increased the rate of digital transformation. This has made organizations more vulnerable than ever to cyberattacks. According to CompTIA's State of Cybersecurity 2022,the estimated global cost of cybercrime in 2021 was $6.1 trillion. Statistics like this help explain why cybersecurity is so important in the post-COVID business world.
Organizations need security professionals who are trained to handle all types of incidents. Getting CompTIA Security+ is the first step to becoming an information security specialist who can help fight and mitigate cybercrime.
Is CompTIA Security+ worth it? Now that you understand the benefits of having CompTIA Security+, we hope you agree that it is.
You can start your journey to a career in cybersecurity by earning CompTIA Security+. Download the CompTIA Security+ exam objectives to get started.
*This salary figure was derived from the U.S. Bureau of Labor Statistics (BLS).