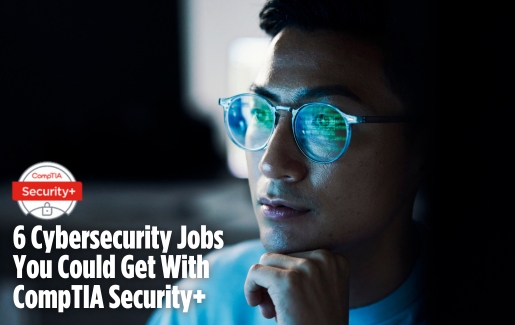 The ever-changing threats to our landscape and environments mean that the importance of securing our systems and networks increases exponentially. Organizations must focus on assessing their cybersecurity posture and designing a cyber-resilient IT infrastructure. More and more job roles are tasked with core cybersecurity readiness and response to address today's threats.
IT pros must help identify cyberattacks and vulnerabilities to mitigate them before they infiltrate systems. That's why systems administrators, or sysadmins, and similar types of IT jobs are so critical today.
If you're looking to break into cybersecurity, you may be familiar with CompTIA Security+. CompTIA Security+ is a global certification that validates the foundational skills necessary to perform core security functions and pursue an IT security career.
Let's take a closer look at how IT professionals who have CompTIA Security+ are qualified for the following cybersecurity jobs:
Wondering how much you could make? Check out the CompTIA IT Salary Calculator.
What Cybersecurity Skills Does CompTIA Security+ Cover?
Let's first take a look at how CompTIA Security+ prepares IT pros for these positions. Right off the bat, it's important to note that CompTIA exams are developed through an intensive process where IT pros come together and discuss what knowledge, skills and abilities are required to perform certain job roles. So, you can be sure the topics covered by CompTIA Security+ match the knowledge, skills and abilities cybersecurity pros need today.
To be successful in any of the above listed cybersecurity jobs, an individual should be able to do the following:
Assess the security posture of an enterprise environment and recommend and implement appropriate security solutions.
Monitor and secure hybrid environments, including cloud, mobile, Internet of Things (IoT) and operational technology.
Operate with an awareness of applicable regulations and policies, including principles of governance, risk and compliance.
Identify, analyze and respond to security events and incidents.
It's no coincidence that these skills are exactly what CompTIA Security+ covers. (Check out the exam objectives for yourself – download them for free!) Companies are looking to hire qualified IT pros who can confidently handle tasks aligned to organizational security assessments and incident response procedures, such as basic intrusion detection and reporting – and the median salaries for these position back that up.
6 Jobs You Could Get With CompTIA Security+
If you have a CompTIA Security+ certification, you may be interested in one of the following in-demand, cybersecurity jobs. Keep in mind that there are many factors that influence salary such as location, job level, years of experience, organization size and more.
1. Security Specialist
Security specialists continually analyze risks and develop strategies to prevent breaches by securing an organization's information systems. Similar to the other jobs listed here, security specialists monitor, detect, analyze and respond to security incidents or anomalies to protect against cyber threats. Ensuring a company's network is operational and secure is imperative to the core business. This means that security specialist skills are in demand and critical to operations.
Some day-to-day duties of a security specialist include the following:
Managing and monitoring unusual activity that may present as a cyberattack and threat
Implementing security controls to close off vulnerabilities
Building firewalls into network infrastructures
Granting permissions and/or privileges to authorized users
Suggesting security measures
Evaluating and designing security strategies for cyber resilience
CompTIA Security+ covers the latest core skills needed to mitigate threats, attacks and vulnerabilities. This requires the ability to identify, analyze and respond to security incidents, apply security controls, and troubleshoot problems. A specialist must also understand common threat vectors and attack surfaces and know how to defend and protect the network.
In addition, the certification covers security program management and oversight that applies to all cybersecurity work roles, not just security specialists. This includes summarizing elements of effective security governance, explaining elements of the risk management process, understanding the processes associated with third-party risk assessment and management, explaining the types and purposes of audits and assessments, and implementing security awareness practices.
Some cybersecurity specialists assist cybersecurity architects in the research and development of security projects and may write procedures for services. These vast job skills make cybersecurity specialists highly sought after.
According to CyberSeek, the average advertised salary for a cybersecurity specialist is $106,265.
Read more about a becoming a security specialist.
2. Systems Administrator
If you like to manage and maintain the information systems, infrastructure and enterprise application systems while evaluating, recommending and implementing security improvements, then systems administrator, or sysadmin, may be the job for you.
A sysadmin can install, configure, upgrade or debug network and wireless technologies and enterprise applications through the following tasks:
Analyzing, troubleshooting and resolving information systems issues
Installing operating system (OS) software, patches or upgrades
Configuring, optimizing and monitoring performance
Conducting server build deployments (hybrid and cloud)
CompTIA Security+ covers the key skills a systems administrator needs to secure their systems, which are very similar to the skills needed of a security administrator. Typically, a systems administrator must harden their systems to be more secure and must understand the security implications of proper hardware, software and data asset management. They must also implement security controls to help ensure their systems remain secure, with the ability to report and communicate system status and security incidents.
According to the U.S. Bureau of Labor Statistics (BLS), the median annual salary for a systems administrator is $90,520 as of May 2022, which is 95% higher than the median national wage for all occupations. Additionally, according to Lightcast, there were more than 131,400 job postings by U.S. employers for systems administrators during the 12 month period ending March 2023.
Read more about becoming a systems administrator.
3. Security Administrator
Security administrators focus on the security-related issues around developing secure systems to protect data and updating policies within an organization. They are solely focused on the cybersecurity resilience of a company by understanding its security needs and safeguarding and protecting from harmful security threats.
A security administrator may be responsible for the following:
Integrating security requirements into systems
Installing firewalls or other security tools
Implementing security plans designed to fit the needs of the organization
Conducting regular scans and performing regular security audits
Monitoring network traffic and reacting to anomalies
CompTIA Security+ covers the skills needed to think like a security administrator and carry out these responsibilities in order to develop a strong defense system. These skills include general security concepts, identity and access management, the change management process, cryptography and disaster recovery. It also covers the security principles required to harden and secure an enterprise infrastructure.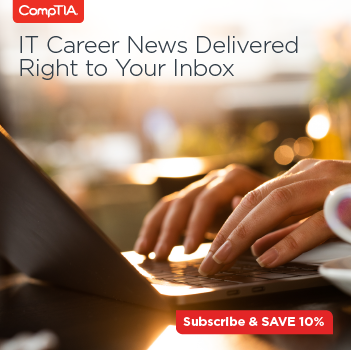 As a security administrator, you might have installation considerations like site surveys, Wi-Fi analyzers, or wireless access point (WAP) placements to contend with. To support implementation tasks such as these, security administrators must know how to implement ideal security protocols in order to secure network designs.
It's no surprise that demand for security administrators is rising. And you'll be rewarded for your skills. According to CyberSeek, the average advertised salary for a security administrator is $128,665.
Read more about becoming a security administrator.
4. Security Analyst
A security analyst is a key player in an organization's cybersecurity framework. They apply their understanding of threats, vulnerabilities and mitigations to detect cyber threats and implement changes to protect the organization.
A security analyst protects an organization in the following ways:
Managing and configuring tools to monitor activity on the network
Analyzing the reports from those tools to identify unusual behavior on the network
Proactively identifying network vulnerabilities through penetration testing, vulnerability scans and vulnerability assessment reports
Planning and recommending changes to increase the security of the network
Applying security patches to protect the network
CompTIA Security+ covers the core skills needed to support security operations, which is a key skill of security analysts. Security operations includes continuous security monitoring, vulnerability management, security alerting, identification of potential security issues and mitigation. This also involves the ability to report and communicate security incidents to the proper channels.
According to CyberSeek, the average advertised salary for a security analyst is $107,517 as of April 2023.
Read more about becoming a security analyst.
5. Security Engineer
A security engineer is at the forefront of protecting an organization's systems from unauthorized access. They apply their knowledge of security architecture, operations and program management to build and maintain a system that's safe against cyberattacks. They stay up-to-date on new technology, work closely with the IT team to build an emergency plan and play a crucial role in defining and maintaining corporate security policies.
Some responsibilities of a cybersecurity engineer include:
Creating new solutions to solve existing security issues
Enhancing security capabilities by evaluating new technologies and processes
Defining, implementing and maintaining corporate security policies
Configuring and installing firewalls and intrusion detection systems (IDS)
Responding to information security issues
Supervising changes in software, hardware, facilities, telecommunications and user needs
Recommending modifications in legal, technical and regulatory areas that affect IT security
CompTIA Security+ covers skills used by security engineers, including security architecture skills. For example, engineers often compare and contrast security implications of different architecture models to choose the best one. They also apply security principles to secure enterprise infrastructure and ensure resilience and recovery in security architecture, including backups, disaster recovery and business continuity.
According to CyberSeek, the average advertised salary for a security engineer is $127,094 as of April 2023.
Read more about becoming a security engineer.
6. Help Desk Analyst
A help desk analyst is a vital part of any organization's cybersecurity strategy. They are often the first point of contact for users facing issues with hardware or software, applying their skills to identify potential security risks in user-reported issues and use their understanding of security operations to resolve incidents effectively. Their role in maintaining the integrity of the organization's IT systems is crucial, as they help uncover threats and attacks through the help desk systems, contributing to the overall security of the organization.
Here are a few ways they support an organization:
Providing technical assistance to computer users
Answering questions or resolve computer problems for clients in person, or via telephone or electronically
Providing assistance concerning the use of computer hardware and software
Identifying security threats, attacks and vulnerabilities
Reporting security incidents to the cybersecurity team to be mitigated
The CompTIA Security+ certification provides help desk analysts the with skills they need to identify security incidents on the front lines of customer service. For example, if a large numbers of customers report the same issue, such as being unable to log in, getting kicked off a system or being informed their password has been changed, it might be a security incident.
According to the BLS, the median annual salary for a help desk analyst is $57,890, which is 25% higher than the median national wage for all occupations. And the need for help desk analysts are growing, with the 10-year projected growth rate at 21% above the national rate.

Learn about the CompTIA Cybersecurity Career Pathway.
As you can see, the necessity of employing systems and security administrators within an organization are imperative to the bottom line as they ensure the day-to-day operations run smoothly. These IT pros are focused on organizational security assessments and incident response procedures, such as detection and mitigation of incidents to ensure no network disruptions.
CompTIA Security+ ensures IT pros are qualified to identify and implement the best security protocols and encryption for a particular network/cloud design, mobile solution or even wireless setting.
Ready to get started? Learn the skills you need with CompTIA CertMaster Learn + Labs. Sign up for a free 30-day trial today!
Looking for more about CompTIA Security+? Check out these articles: