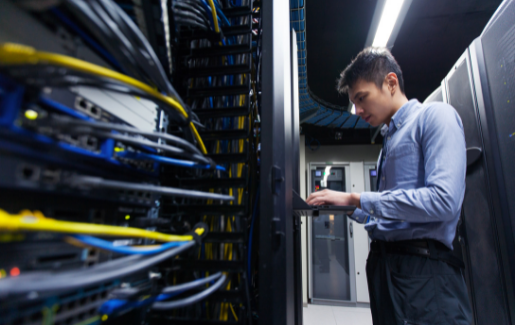 Data centers have existed for decades, and the demand continues to grow with the evolution of the cloud. As an IT professional, it's essential to understand how data centers operate and what levels currently exist. Most simply stated, a data center is a wide area of secure space that houses servers. Factors like area, cooling, humidity, electricity, network connectivity and security are defining components of a proper data center.
Examining Data Center Levels
Once you understand what it takes to run a data center, it's important to understand what levels of data centers exist. Data center levels ensure clear segregation between the level of redundancy built into the data center. The lowest value being 1, and the highest being 4.
The Telecommunication Industry Association (TIA) and Uptime Institute are responsible for setting data center standards. While TIA initially set the standards for the telecommunications industry, many data centers are classified by Uptime Institute levels.
Let's take a look at each of the tiers:
Tier 1: This is the most basic level of a data center, typically a small business. Tier 1 data centers provide a single path of power and cooling without redundant components. IT pros working in Tier 1 data centers are handling human errors. For example, a common redundancy is adding uninterruptable power supplies (UPS) or generator systems. Usually, these facilities will undergo a full shutdown before maintenance is carried out. This is very common in an office setting. In situations where planned maintenance is not carried out, there can be unplanned outages which, in turn, cost the organization time and money.

Tier 1 = 99.671% availability and 28.8 hours downtime

Tier 2: This type of data center is usually a medium-sized business and is considered a notch above Tier 1 by adding few redundant components to power and cooling solutions. Tier 2 IT pros provide a bit more resiliency when it comes to failures occurring in power, cooling and electricity domains. This requires a full (planned) shutdown of the data center.

Tier 2 = 99.749% availability and 22.7 hours downtime

Tier 3: The Tier 3 data center is a large company and one of the most common. These IT pros benefit from the advantages of Tier 2 and add more redundancy to the data center components via multiple power and cooling paths and ensuring power shutdowns are not required for maintenance activities. A Tier 3 data center is able to sustain 72 hours of power outage.

Tier 3 = 99.982% availability and 1.6 hour downtime

Tier 4: Currently, Tier 4 is the pinnacle of data centers and usually multi-million-dollar businesses. IT pros working in Tier 4 centers ensure most of the systems are highly redundant and planned or unplanned maintenance will not impact IT operations. A Tier 4 data center has two independent utility paths and is typically able to withstand a 96-hour power outage and environmental impacts – barring a significant natural disaster.

Tier 4 = 99.995% availability and 25 minutes downtime
The pyramid below shows how each layer provides services with the respective availability. It's important the decision makers within an organization understand which data center level provides best support and availability. This is the fundamental reason why customers tend to trust the cloud as cloud providers focus on ensuring the service availability, security and redundancy of their data centers meet these standards.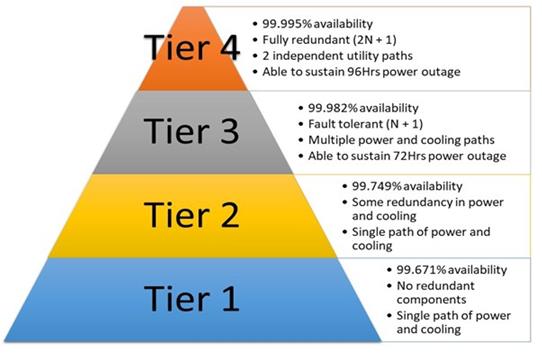 Figure 1: Each layer of a data center is defined by certain characteristics
Cloud providers like Microsoft, AWS, Google, IBM and other data center providers have been working on a variety of projects to modernize, increase efficacy and make data centers more environmentally friendly. There are different initiatives and projects, which are run by individual organizations and collective groups, to achieve the same. Before we look at some of these projects, let's examine one of the key measurements of data center environments: power usage effectiveness (PUE).
Understanding Power Usage Effectiveness (PUE)
The power usage effectiveness (PUE) is one of the most common parameters considered to be a method to baseline the efficiency of a data center. PUE was originally developed by The Green Grid and was later incorporated into ISO/IEC 30134-2:2016 as an ISO standard in 2016. Therefore, any organization that would comply with the respective ISO standard would automatically have a PUE value closer to the optimum value of 1.0.
The most efficient data center will have a PUE value as close to 1.0 as possible.
Figure 2 shows the formula used to calculate PUE.

Figure 2: How to calculate power usage effectiveness (PUE)
Making the Data Center More Energy Efficient
Some organizations are working to make the data center more energy efficient. One example is Microsoft's Project Natik.
One of the common problems (and one of the largest investments by any cloud provider, service or data center provider) is power and cooling. In an effort to optimize cooling, Microsoft is researching the feasibility of putting a data center in the ocean. Project Natik was born around 2015 and Microsoft is currently in phase 2 of its research.
Working in the Data Center
IT pros who work in data centers are data center technicians. Data center technicians help ensure that the servers are consistently running smoothly – and when they're not, they help problem solve and determine resolutions to avoid major downtime. With the virtual nature of data centers, security, reliability and availability are of utmost importance. If you enjoy configuring server hardware, implementing security controls and troubleshooting, working in the data center may be a good fit for you.
To land a job at a data center, you need to have hardware troubleshooting and repair skills to keep networks intact. You should also understand servers, routers and other specific tech equipment. If you have some years of experience in a help desk or technical support role, upskilling with CompTIA Server+ could be just what you need to win the job.
CompTIA Server+ ensures that IT professionals at the administrator level are able to do the job in any environment because it is the only certification that is vendor neutral and not restricted to a single platform. The exam covers essential hardware and software technologies of on-premises and hybrid server environments including high availability, cloud computing and scripting.
CompTIA offers both the certification and a full suite of training solutions to help you learn the skills you need to work in a data center.
Ready to work in the data center? CertMaster Learn + Labs for CompTIA Server+ is a comprehensive learning experience that helps you build IT skills and get exam ready. Start studying with a free trial of CertMaster Learn + Labs for Server+.