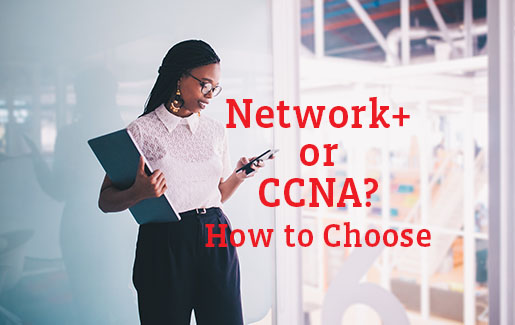 There are several IT networking certifications on the market, and CompTIA Network+ and Cisco Certified Network Associate (CCNA) are two of the most popular. But this is not an apples-to-apples comparison. It goes beyond simple preferences. In fact, it's likely that many IT pros concentrating in infrastructure will end up with both certifications. The question is: Which one should you take first?
4 Reasons to Start With CompTIA Network+
When it comes to certifications that help IT professionals build a foundation for a flourishing career in networking, CompTIA Network+ is the place to start. While other certifications cover networking skills, CompTIA Network+ is known for mastery of baseline skills. Here are 4 reasons CompTIA Network+ is the first step for IT pros looking to advance their infrastructure careers.
1. CompTIA Network+ Broadens IT Pros' Networking Capabilities
IT pros, especially those who want to build a computer networking career, must make it their mission to broaden their knowledge of networking topics. They can do so by earning a vendor-neutral certification, such as CompTIA Network+. CompTIA Network+ prepares candidates to work with any tool or product, regardless of vendor, which makes an individual's computer networking capabilities limitless.

CCNA, on the other hand, trains candidates to work with Cisco's tools and products exclusively.
For the best career results, IT pros should first earn a vendor-neutral certification like CompTIA Network+ and later stack vendor-specific IT networking certifications onto it.
4 reasons people looking to advance their IT career choose CompTIA Network+
2. CompTIA Network+ Prepares Candidates for Specific Job Roles
IT pros hoping to land a specific type of networking job require training that prepares them for the role they want to assume. CompTIA Network+ does this, covering the skills needed for specific job roles in any environment.

This means that if a hiring manager wants to quickly onboard a new network engineer or network administrator, for example, someone with CompTIA Network+ may have a leg up on someone with only CCNA because they know and possess the skills needed for the job and can apply those skills to any equipment.
The new CompTIA Network+ (N10-008) provides deep knowledge of computer networking and ensures IT pros have all the skills they need to function effectively in the following roles:
Network Operations Center (NOC) technician – a NOC technician's responsibilities are often similar to that of a systems administrator or network engineer
IT professionals who want to get into networking as quickly as possible and feel confident in their ability to take on any of the roles listed above should pursue CompTIA Network+.

3. CompTIA Network+ Includes the Essential Business Skills Employers Are Looking For
Today's workplace is changing quickly. Digital transformation is a top priority for many companies, and hiring managers are looking for job candidates who have practical business skills that will help them add value to their company. In addition to providing multi-vendor networking skills, CompTIA Network+ teaches business skills that are in high demand, including the following:
Change management
Incident management
Disaster recovery
Business continuity
Troubleshooting
Conversely, CCNA concentrates on technical skills alone, further making the case for earning a foundational certification like CompTIA Network+ first.

4. CompTIA Network+ Benefits Job Candidates and Enterprises
To say CompTIA Network+ is a boon to IT pros is an understatement. It gives them the knowledge to resolve major or minor networking issues regardless of vendor or tool. But it is also beneficial for enterprises.
Because those who have earned the IT networking certification understand complex computer networking topics, it stands to reason that they will be more efficient and make fewer mistakes than candidates with a vendor-specific networking certification. This equals cost savings for enterprises.
The Benefits of CCNA Certification
While it's in the best interest of IT pros to earn CompTIA Network+ first, there is still value in CCNA certification.
Specifically, CCNA certification allows you to build on your foundational networking skills by providing in-depth knowledge of Cisco systems and ultimately a route toward future specialization. When IT pros earn certifications in an order where they can build upon what they've previously learned, they set themselves up for IT career success.
Entry-level IT Pros Need Vendor-neutral Certifications
Entry-level IT pros who are just getting started in the industry and want to specialize in computer networking will do themselves a disservice by jumping ahead to get a vendor-specific IT certification before a vendor-neutral one. Diving deep into computer networking topics rather than skimming the surface will provide the foundational knowledge needed for a successful IT career.
Want to learn more about CompTIA Network+? Download the exam objectives to see what's covered.