The great state of Colorado is well known for its gorgeous landscape, plentiful sunshine and a slew of outdoor activities – everything from skiing and hiking to whitewater rafting and horseback riding can be part of an average weekend here. But, did you know Colorado is also well known for its tech scene? The state may not have the Silicon Valley reputation of the West Coast, the rich history of the East Coast or the crazy growth of the South – but it does boast a mix of innovation, incentive and funding that create a thriving environment for technology companies – and IT pros.
That said, Denver, Boulder and Colorado Springs all make an appearance on the CompTIA Tech Town 2020 Index for the third consecutive year. All three metro areas have ranked in the top 20 since the inception of our report in 2018.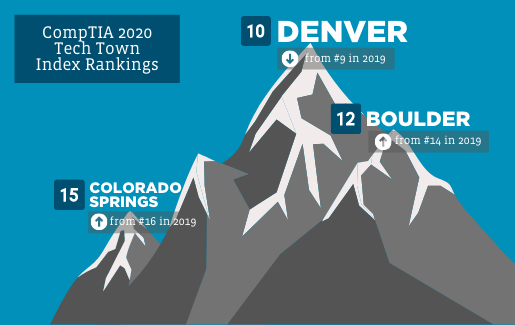 It's interesting that while the metro areas of Boulder and Colorado Springs continue to climb up the list, Denver is very slowly declining. Could it be that Boulder and Colorado Springs are making a concerted effort to attract more tech talent? Or are people simply favoring less-populated areas these days?
But even with its minor recent descent, the Mile High City is still the crown jewel of the state's tech industry. According to the Denver Business Journal, technology companies and startups throughout the state are on the rise in a big way. In January 2021, 12 deals brought in $600 million in funding, far outpacing the December 2020 total of $67 million from just 6 deals. Let's take a look.
Denver (No. 10)
Colorado's capital city comes in at No. 10 on the CompTIA Tech Town 2020 Index. The Denver metro area posted nearly 80,000 jobs in a 12-month period, far more than Boulder and Colorado Springs combined. IT jobs are expected to grow by 3% in 2021 and by 12% over the next 5 years.
The city is well-known for its efforts to attract new business to the area. Through the Office of Economic Development and the Denver Metro Chamber of Commerce, tech companies are on the receiving end of several tax credits, grants, financing options and other incentives – and it seems to be working. Several Denver-based startups including Dizzion, Pax8, JumpCloud and Gtmhub are breaking venture capital records.
Of course, it's not all about business.
Let's take a look at the advantages and disadvantages of living in Denver.
The Good
Proximity to the mountains: Denver is within driving distance of many mountains including Mt. Elbert, Mt. Evans and Longs Peak in Rocky Mountain National Park.
Extra sunny: Denver experiences an average of 300 sunny days each year, even when it snows.
Active lifestyle: Denver is the home to many extreme sports, but it's also bicycle-friendly and very walkable.
The Bad
High altitude: One mile above sea level takes some getting used to.
Cost of living: The cost of living is about 14% higher than the national average.
Public transportation: Lack of adequate public transportation.
How Much Money Could You Make in IT?
Use CompTIA's IT salary calculator to see how much different IT jobs earn in different metropolitan areas across the United States.
Boulder (No. 12)
Boulder comes in at No. 12 on the list, up 7 spots from No. 19 in 2018. Google and Twitter are mainstays in Boulder, with each company investing $130 million and $125 million respectively back into the community. But it's also the home of startup incubator, Techstars, and a healthy venture capital community.
With more than 10,000 technology jobs being advertised as up for grabs in a 12-month period, and the fact that the number of IT jobs is expected to grow by 10% over the next five years, it's no surprise that Boulder is making a name for itself in the tech world. Boulder-based companies like Neat Capital, a home financing technology, are making headlines with their own achievements.
But what about lifestyle? What are the advantages and disadvantages of living in Boulder?
The Good
Great place to raise a family: Boulder is full of young families with a variety of excellent schools.
Active nightlife: Boulder also offers numerous restaurants, bars, pubs, taverns, breweries and clubs.
Lots of open space: Boulder is surrounded by a green belt that protects the natural surroundings.
The Bad
Cost of living: The cost of living is about 17% higher than the national average.
Crime rate: Boulder is ranked among the 10% of places with the highest crime rates.
College town: University of Colorado students make up much of the population while school is in session.
Colorado Springs (No. 15)
Colorado Springs ranks No. 15 on the Tech Towns list, stealthily ascending from No. 20 in 2018. This metro area advertised for more than 16,000 technology jobs in a 12-month period and as companies and investors continue to discover the area, the number of IT jobs is expected to grow an estimated 6% in the next five years.
That's not news to Colorado Springs-based SaaS startup Quantum Metric. The company saw business boom in 2020, nearly doubling its staff and revenue during the pandemic and securing its place as Colorado's first new tech unicorn of 2021.
What are the advantages and disadvantages of living in Colorado Springs?
The Good
Friendly community: Colorado Springs hosts frequent local events and fosters a sense of unity among its residents.
Cost of living: Colorado Springs cost of living is just 7% above the national average, making it more affordable than Denver and Boulder.
Clean air: Colorado Springs often ranks in the top 10 cities for the cleanest air in the country.
The Bad
Weather-related traffic blockages: Traffic blockages due to snowfall is common here.
Road construction: Due to the above-mentioned weather challenges, the roads may seem like they are constantly under construction.
Bears: Although bear attacks are certainly not the norm, bear sightings are pretty common.
Big city dwellers and nature lovers alike have their pick in Colorado. The state's reputation for a focus on health, fitness, outdoor activities and a love of sunshine make it a great choice for IT pros who desire a nourishing work–life balance. Which one would you pick? Denver, Boulder or Colorado Springs?
Get articles like this sent right to your inbox. Subscribe to CompTIA's IT Career Newsletter today. As a bonus, you'll get 10% off your next CompTIA purchase.