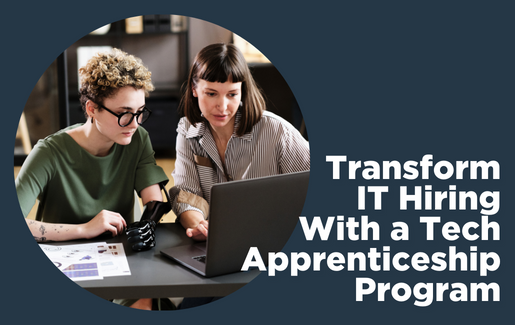 Hiring for tech roles is a challenge for most employers, and the current labor market demands better solutions for recruiting and retaining talent. This struggle has become the norm, not the exception, as IT skills gaps continue to widen. The good news is when organizations use the right tools, such as apprenticeships for tech, IT hiring becomes much easier.
A tech apprenticeship program is a structured talent development program that allows companies to hire for in-demand, entry-level tech roles and develop those employees for promotion.
These underutilized programs typically last one year and require employees to participate in industry-aligned IT training. With the right program, employers gain the ability to solve their IT and cybersecurity hiring problems for good and transform their entire organization.
Employers who are willing to offer apprenticeships can use this pathway to source highly driven talent from outside their organization, while also creating a viable pipeline for lateral and upward mobility among existing employees. In today's tight talent marketplace, employers who opt to adopt apprenticeship have a significant edge over their competitors.
But tech apprenticeship programs offer benefits beyond filling IT labor market gaps. Apprenticeships help employers:
Develop a highly skilled workforce and promote a company culture of ongoing learning and competency in tech
Create ROI – for every dollar invested in an apprenticeship program, organizations recoup $1.47
Expand and diversify the talent pipeline
Improve employee retention and productivity – a remarkable 92% of apprentices continue working for the same company post-apprenticeship
Positively impact communities – every $1 invested into apprenticeship programs results in a public return of $28 in benefits
CompTIA Apprenticeships for Tech provides the tools and support employers need to get started with an apprenticeship program. In addition, CompTIA Decision Labs, hosted by American Institutes for Research (AIR), can help organizations decide if hiring from a multi-employer existing program or creating their own program is the best choice for them.
Tech Apprenticeships Benefit IT Pros, Educators and Training Providers
It's no surprise that apprenticeships help connect people to promising careers in tech. With a tech apprenticeship, IT professionals can:
IT pros involved in CompTIA Apprenticeships for Tech can also earn industry-recognized CompTIA certifications. These credentials will add weight to their resume and broaden their IT skills and knowledge.
Educators and training providers can also derive value from tech apprenticeships. These programs enhance career pathways for aspiring IT pros, increase career development and employment opportunities, and launch initiatives that make a positive impact. Through tech apprenticeships, workforce development, educators and training providers can support the shift to competency-driven skills acquisition.
Get Your Tech Apprenticeship Program Started
There is more than one way to offer tech apprenticeships. Some organizations choose to launch these programs independently, while others opt to work with an intermediary. The latter can be a wise move for busy companies, as an intermediary can administer the program, oversee the apprentices and design learning plans.
CompTIA Apprenticeships for Tech is a solid option for businesses that want to offer IT apprenticeships, but don't want to do it alone. It gives organizations greater access to tech talent in vital IT job roles, including the following:
Let us help you navigate the apprenticeship process, making it easy to launch registered tech apprenticeship programs that successfully develop diverse talent for careers in tech for every industry.
Unsure of whether to launch your own tech apprenticeship program or use an existing program? Sign up for our upcoming CompTIA Decision Lab to find out.