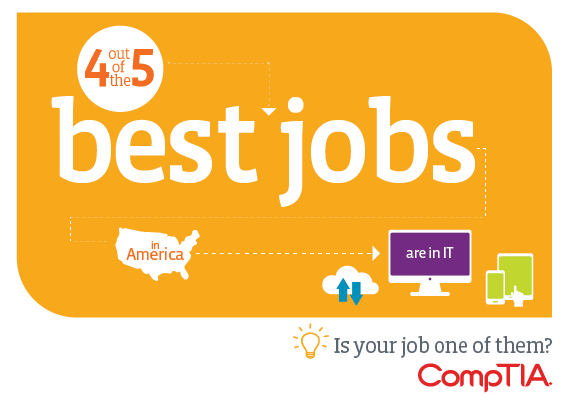 Are you looking to switch jobs? Wondering what career path to take? If your interest lies in IT, you're in luck because four out of the five best jobs in America are in your field, according to Glassdoor. In fact, 14 of the top 50 jobs are in IT, making it the most represented field on the list. For its annual report, Glassdoor reviewed the occupations represented on its site and ranked their earnings potential, job satisfaction and the number of openings.
So how do you land one of these top jobs? You'll see that many of them relate to data, which is not surprising, as it's one of the most in-demand skills employers are looking for this year. Many of them also align with CompTIA certifications, so keep reading to get a jump start on pursuing the career of your dreams.
Data Scientist (#1)
What Is It? Data scientists combine math, statistics and programming skills to organize data, analyze it to address business challenges and communicate it clearly so decision makers can take action.
How Much Could I Make? $110,000 median base salary
How Do I Get There? If you have a propensity for numbers, an analytical mind and an interest in programming, a data scientist career could be for you. In addition to an advanced degree in math, statistics or computer science, you'll want to get hands-on experience with data. This could come through internships, boot camps, hackathons or even volunteer data-based projects. You'll also want to be well-versed in programming languages like SQL, R and Python and platforms like Hadoop and Hive.
DevOps Engineer (#2)
What Is It? DevOps combines software development with IT operations, striving for collaboration between the two functions. DevOps engineers often start in one of these functions – as a developer or a system administrator, for example – and become interested in how their role influences the other side.
How Much Could I Make? $110,000 median base salary
How Do I Get There? You'll want to begin with a solid foundation in software development or IT operations. If you don't already have them, CompTIA A+ and CompTIA Network+ can give you the IT building blocks you need to get started. On the development side, there's a host of certifications, boot camps and training opportunities that can give you the experience you need to move into DevOps. And adding CompTIA Linux+ to your repertoire will validate your skills in open-source tools and technologies.
Data Engineer (#3)
What Is It? Whereas data scientists analyze and communicate data, data engineers design and build the tools that collect and share it. They are software engineers who understand how to uncover and sort data in a useful way.
How Much Could I Make? $106,000 median base salary
How Do I Get There? Data engineers have a background in programming and understand how databases and equipment work to deliver the data they're collecting. Certifications like CompTIA Network+, Linux+ and Server+ can help you get there. You'll also want to gain proficiency in SQL, Python, Hadoop and other analytics skills to understand how data scientists and analysts will use the tools you create.
Analytics Manager (#5)
What Is It? Analytics managers and data scientists have some overlap in that they both use data to tell stories and solve problems. The difference is that analytics managers may not necessarily use the intensive programming skills needed by data scientists. Two of the hot IT disciplines for analytics managers are business intelligence (BI) and cybersecurity.
How Much Could I Make? $112,000 median base salary
How Do I Get There? Analytics managers need a solid understanding of how technology functions and how the business and its customers use it. But rather than working directly with the technology, analytics managers seek to understand how it influences data and outcomes. They take raw data and translate it into useful information for the business. That's where the CompTIA Cybersecurity Career Pathway comes in. Certifications like CompTIA Security+, Cybersecurity Analyst (CySA+) and CompTIA Advanced Security Practitioner (CASP) show that you can apply behavioral analytics to improve IT security.
Database Administrator (#7)
What Is It? Database administrators hold the keys to the information that data scientists, data engineers and analytics managers need. Whereas data engineers build databases, database administrators make sure the databases function correctly and protect the data from unauthorized access.
How Much Could I Make? $93,000 median base salary
How Do I Get There? Most database administrators hold a bachelor's degree in a computer-related field, such as management information systems. They need to understand database programming languages, including SQL, and open-source technology like Linux. CompTIA Linux+ certification will give you the foundational skills and knowledge of Linux system administration.
Knowing which jobs are in demand and how to land them is a great first step on the path to a successful career. For more information about how to pursue the IT career of your dreams, check out the CompTIA Career Roadmap to discover which certifications, from CompTIA and other providers, will help you get there.