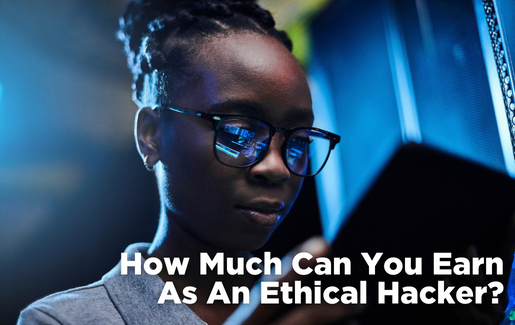 One of the many high-demand positions within the cybersecurity career field is ethical hacking. Ethical hacking is the practice of detecting vulnerabilities in applications, systems or infrastructures to minimize the potential attack risk for organizations.

Ethical hackers are responsible for testing and legally hacking systems to ensure proper cybersecurity for an organization. They play an integral part in the information security profession due to their proactive type of work within it. The work of ethical hackers helps improve the security posture of countless businesses and individuals.

If you want to transition your career into ethical hacking, you may wonder what you can expect in salary. Read on to learn more about the average salary, job titles and the future of this high-demand career.
What Ethical Hackers Do
Ethical hackers are critical in protecting an organization's operating systems from cybercrime. Notably, ethical hackers are not the same as malicious hackers or unauthorized hackers. They do not break into networks or steal data from organizations for their own gain. Instead, ethical hackers work for organizations to uncover and resolve vulnerabilities before an attack occurs.
The most experienced ethical hackers, also known as authorized hackers, are skilled at thinking and operating like malicious hackers. They are often highly skilled in coding and programming with Microsoft and Linux servers as well as scripting languages like JavaScript. Ethical hackers also have extensive expertise in penetration testing, security risk assessments, network security and other cybersecurity-related roles.
Becoming an ethical hacker is not an entry-level role. It requires experience, education and certifications to branch in this role, and many ethical hacking jobs require several years of experience in information security. Numerous jobs will also require certifications, such as the EC-Council's Certified Ethical Hacker (CEH) certification or CompTIA's PenTest+ certification.
Job Titles and Career Paths for Ethical Hackers
As an ethical hacker, you can choose from various career paths to explore. For some ethical hackers, they may decide that they want to start their own cybersecurity consulting firm and hire other employees. Other ethical hackers may work as freelancers, offering their skills on the side while continuing their day job.
Full-time jobs are also available for those who wish to work in a cybersecurity role within an organization. Full-time penetration testers will test their networks for vulnerabilities by using ethical hacking techniques. You could also become a cybersecurity specialist who works directly with IT departments on software development or security implementation processes. There are countless possibilities available for IT pros to explore within ethical hacking.
Here are a few examples of information security related roles that involve ethical hacking as a regular function of the job:
Security consultant
Malware analyst
Intrusion detection and prevention engineer
Ethical Hacker
Information security analyst
Information security manager
Ethical Hacking vs. Other Cybersecurity Roles
Ethical hacking is an integral part of the overall security vision. Ethical hacking is a specific subset of cybersecurity, but it's not the same as being a cybersecurity consultant. An ethical hacker uses their technical knowledge to test and secure systems from malicious attacks while cybersecurity consultants are trained to protect the confidentiality, integrity and availability of data and network devices as a whole. Many organizations may not know if their systems are secure unless they specifically have someone test them for vulnerabilities.
An ethical hacker needs specific skill sets and knowledge to do their job well. They also need to be able to work with non-technical people to achieve organizational security goals like ensuring that organizations implement the best information security practices within their system and networks.
Organizations will often hire an ethical hacker to take on the role of a penetration tester or security engineer. These roles can also overlap with other industry jobs, such as cybersecurity specialists or information security analysts. However, they are not the same roles as ethical hackers. Cybersecurity specialists and information security analysts focus on assessing risks and developing solutions for mitigating them within an organization's network infrastructure.
Salary Ranges for Ethical Hackers
Many factors will determine your salary within an ethical hacking role. These factors can include your location, experience, organization size, your certifications and degree. An ethical hacking role can also pay differently for a self-employed consultant versus an in-house employee.
According to Payscale, the average compensation for a certified ethical hacker can range between $51,000 to $130,000 in the United States. The average yearly salary for most ethical hackers in the United States is roughly $82,000.
For instance, let's look at an ethical hacker's salary based in Chicago, Illinois. An ethical hacker with a master's degree in cybersecurity along with three years of experience can expect to make around $90,000 annually. Keep in mind that these approximates are based on a multitude of factors.
The salaries for international ethical hackers will also differ depending on years of experience, organization size, certifications and knowledge. It is always best to research the salary on websites such as Salary.com, Payscale, Glassdoor and more to better understand what you can expect to make in an ethical hacking job in today's job market.
Future of Ethical Hacking
The future of ethical hacking is expected to increase the demand for highly skilled hackers. The Bureau of Labor Statics approximates there will be nearly 35 million unfilled roles within the information security sector by 2025, and as such, more organizations will continue to seek IT pros to protect their data better – keeping ethical hackers in demand.
Rapid growth in the industry often means there will be plenty of jobs available for those who want to pursue a career as an ethical hacker. According to Investopedia, the cybersecurity industry has seen the lowest unemployment rate throughout the United States in the past few years.
As the push for more hybrid and remote work continues to increase, the need for experienced ethical hackers will also increase. Organizations will need skilled information security professionals, like ethical hackers, to mitigate security issues within cloud environments.
Get the Skills You Need
As a lucrative and highly sought-after career path, you need to ensure that your ethical hacking skills are validated and on par with what employers are looking for.
Whether you're a seasoned hacker or just getting started, CompTIA can be your first resource for earning certifications. Look into our certification offerings today and get your career started!
Get more tech insights like this right in your inbox with CompTIA's IT Career Newsletter. Subscribe today, and you can save 10% off your next CompTIA purchase.