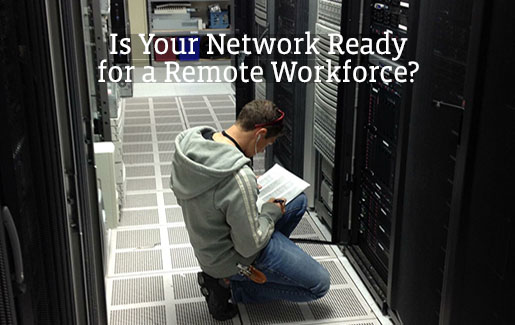 The spread of the coronavirus has us facing some interesting, novel realities. With the CDC recommending social distance, many organizations are arranging for business continuity by going mostly or entirely remote. This offers a unique solution to the workplace problems created by the coronavirus, but what exactly does it mean for the IT pros who keep us up and running? Some organizations have been lucky to be quite well prepared. Others are having to adjust, and still others are scrambling.
No matter how prepared you might be, network engineers, tech support workers, cybersecurity professionals and other IT staff will certainly be facing new challenges as we navigate this difficult situation. But when IT pros successfully keep "business as usual" despite these challenges, they will be heroes – if always from a distance. Here are 10 things you need to consider to prep your organization for the influx of remote work traffic.
A Computer Networking Checklist for Going Remote
1. Network Bandwidth and Service Costs
To ensure business continuity, remote workers will need to access company systems and resources, making network bandwidth the first challenge. Most services will require additional bandwidth in order to function.
You will need to confirm that your network infrastructure has the capacity to accommodate increased remote workers. James Stanger, CompTIA chief technology evangelist, cited the primary concern as capacity planning, and encourages IT pros to ask themselves, "What have you done to prepare your network?"
There are several considerations for determining how much network throughput you require:
How many employees do you have in the company?
What is the differential between employees who were working remotely before and who are now?
What will this new employee traffic look like?
How many employees will be using the virtual private network (VPN) to gain access to the network?
How many users are defined on the domain controller for remote access?
Can your cloud vendors accommodate increased traffic workload?
What costs will be associated with more bandwidth and cloud service costs?
Does your internet service provider (ISP) allow for temporary increases over the configured bandwidth to cover any temporary traffic increases?
What kinds of service distancing can we put in place so that current resources (e.g., VPN connections) won't get overwhelmed until we expand available services?
In the event that your bandwidth cannot accommodate the rise in traffic, you may also need to develop other guidelines, including staggered working intervals, keeping employees off network when it's not needed and limiting access to non-critical services.
One thing that has taken a lot of us by surprise is that quite a few employees didn't know the strength of their bandwidth. Some companies regularly have their employees test bandwidth, but not all do. So, the first step is to determine end point connectivity with at-home bandwidth tests.

For example, CompTIA, which has a largely remote workforce, has had employees test their at-home bandwidth for years, and it has paid off in reducing connectivity issues.
2. Teleconferencing or Video Conferencing
Let's face it: Remote working can sometimes be a little lonely for the uninitiated. Face-to-face communication can enable productivity when in-person meetings are not an option. Employees will need a way to collaborate with one another, and video conferencing is a great way to keep communication lines open and even help boost morale.

"As we're expected to engage in physical social distancing, IT departments are increasingly asked to help employees feel connected, secure and socialized," Stanger said. "In other words, productive."
If your company hosts a teleconferencing or video conferencing tool, make sure all users have access. If your company isn't set up with one yet, ask yourself these questions as you evaluate offerings:
How many user licenses will you need, and will they be traditional/installed or cloud-based?
Do you need recording capabilities?
Can your network infrastructure accommodate large amounts of video conferencing?
Can your telephone system handle an abundance of video conferencing?
3. Cybersecurity
Enabling remote access for everyone comes with all sorts of cybersecurity concerns. If your organization supplies a device, you will need to ensure it has appropriate security protocols, such as antivirus software and firewall protections. If users will be connecting from their home device, you could potentially be opening your network to the security vulnerabilities inherent to the user's device.
"If that home device -- the family PC, for example – has been infected with malware, it may now acts as a conduit, and a hacker can gain access to your entire company," Stanger said. "That's a fairly common scenario, but with the sudden influx of remote workers, this represents a new situation for many IT pros."
Read more about this in CompTIA's The Who, What, Why, How and DDoS Attacks: A Guide for IT Pros
Because some networks may not be prepared for this amount and diversity of devices with questionable security levels, attackers may sense an opportunity.
"It could be a nightmare of patch levels, and if the security is low, it's going to be a hacker's dream," Stanger said. Most businesses haven't had to support this level of remote work, so it's uncertain what kind of attack surface might become available to hackers.
And in remote work culture, social engineering becomes an even larger concern.

"Many workers have developed fairly useful natural patterns to help thwart individuals trying to trick them – like shouting over the cube to their neighbor to verify if an email is real or not," Stanger said. "But with everyone working remotely, such natural patterns no longer apply. IT pros will have to help individuals learn new patterns to thwart social engineering attacks."
Check out our library of security awareness training videos to help keep your workforce cybersecure
Physical security will also become an issue. As employees work remotely, what security measures have been put in place to ensure that their former places of work – and an organization's IT infrastructure – are properly monitored.
4. Virtual Private Network (VPN)
The VPN is what allows your employee's device to behave as though it was plugged in at the office, but in many cases, existing VPN solutions are not provisioned to accommodate every employee connecting all at the same time. This access to critical systems should not be taken lightly and requires significant modification – you'll have to add new users, and in some cases, new devices and bandwidth.
Make sure the following has been addressed:
Are all users set up with VPN access?
Have all users been trained to remotely access the VPN?
Are you ensuring secure passwords and connections are being used to access the VPN?
What kind of filters do you have in place to help protect your network?
Do you have a standard for what devices are allowed to use the VPN and what level of updates and security are required for those devices?
5. Help Desk
While some of your employees may be accustomed to remote working conditions, it's likely that some will not be set up for remote access and may have difficulty doing it themselves. In these cases, you'll have increased tickets and call volume for the help desk.
To keep operations running smoothly, you'll need to ensure you have adequate help desk resources to handle employee and customer issues:
Do you have enough help desk personnel?

Can you provide 24-hour help desk access?
Do you have enough telephony to provide and route the calls?
Are your help desk employees prepared and able to address increased call volumes?
Are they ready to support all of the new notebook computers (and associated software) that will need to be purchased?
How will your tech support team help set up individuals with useful, safe workstations so that they can stay productive?
What software support skills will the help desk team need to support the installation and use of mission-critical solutions, such as instant messaging, email and VPNs?
What mobile support knowledge will the help desk team need?
In addition to these five concerns regarding your computer networking setup, there are a few other things to consider.
6. Internal and External Voice and Video Connectivity
Employees will need to be able to contact one another internally, as well as address incoming customer phone calls and connections. In remote work situations, customer calls are often forwarded to personal devices, requiring additional telephony resources. If you host your own web conferencing tool, you'll also need increased capacity to handle the uptick in call volume.
7. Communication Tools
One of your primary concerns should be supporting communication tools. Whether your company uses a collaboration tool such as Slack or an internal messaging tool such as Yammer, you'll need to make sure these are functional and secure to allow employees to communicate as efficiently as possible.
Your organization may be using Slack, Zoom, Microsoft Teams or a combination of all three or more. The service doesn't matter. But, many companies are experiencing sizing and "fitment" issues, Stanger said.

Fitment is an auto industry term to describe whether or not a part you bought actually fits the car. IT pros may find that solutions that worked for them a month ago do not meet the company's needs today, so they may need to adjust their solutions to add more features, more users, etc.
8. Mission-critical Tools
What essential tools do you need to keep operations running smoothly? Divert your efforts and technological resources to support these tools. Whether it's a customer relationship management (CRM) system or your favorite e-commerce platform, you'll definitely need to keep your main tools functional.
9. Segmented Network Traffic
A virtual local area network (VLAN) can be useful for segmenting your network traffic. VLANs allow you to create more secure, virtual networks that are easier to manage.
With an increase in traffic, segmenting networks with VLANs and access control list (ACL) additions will be important. Creating a VLAN for remote workers can help you manage users more efficiently and protect the network in case of ransomware or other cybersecurity issues.
10. A Plan for Reinstatement
As your employees become more accustomed to remote working conditions and there is less strain on your network infrastructure, you'll need a plan for reinstating less critical services. Stanger warns IT pros to look ahead and plan for the inevitable transition back to the office.
"You will go from crash status to rolling out additional services as they become available," he said. Prepare to prioritize those services accordingly, and arrange to give users access to support smooth operations.
One of the more exciting things we'll see moving forward is how creative IT pros become as they help their organizations communicate and collaborate in this new normal. At CompTIA, we'll continue to gather research on the challenges and solutions that come out of this crisis.
Stay ahead of the curve in your tech career with CompTIA's IT Careers Newsletter. Subscribe today and get 10% off your next purchase.