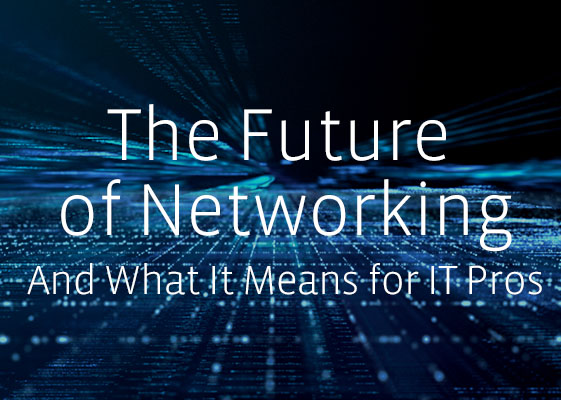 We're on the verge of the next seismic shift in computer networking – if we're not experiencing it already. To understand why we are where we are, let's take a look at how we got here.
For the past 20 years or so of enterprise computing, the model for office technology has looked like some variation of the following: In-house computers connect to in-house servers via local area networks (LAN), and multiple office LANs are connected to a data center via a wide area network (WAN).
Most everything applicable to work that's not installed locally on a computer exists within the confines of the data center or networked shared drives, accessible through the office network. Those who are granted access to work remotely log in through a virtual private network (VPN) to access what they need from anything on the office's servers or the data center.
If you're wondering why things were like this for so long, the answer is simple. This was the only model that made sense for secure enterprise computing – in fact, it was the only one that was possible. We had to do it. As a chief information security officer (CISO), this hub-and-spoke model had its benefits, in theory: Asset management was made easier through the exclusivity of corporately issued endpoints. It was rare to see rogue devices on a network – Wi-Fi was in its infancy, and access to sensitive applications and data required an RJ45 connection. The quest for enterprise visibility is less onerous when the IT and cybersecurity functions know what is connecting to their network and from where!
Cloud computing, however, began to change things. It started with end-user adoption. People grew comfortable using cloud-based services, like Gmail, to manage personal tasks, like email and chatting. Someone could start a conversation in the morning before work, continue it via mobile web on their commute and resume it in the office, reaching the web interface of the cloud-based tool through a work network (if their access wasn't blocked). Employees were using non-work tools with incredible convenience, picking up where they left off on the same centralized tool no matter what device or location they were accessing it from.
Now enterprise computing as an industry has followed the lead of its user base.
Pros and Cons of Cloud Computing Services
Today, with increasing frequency, enterprises themselves are adopting cloud computing services – whether it's using Amazon Web Service's (AWS) infrastructure to build out tools or leveraging ready-made, task-specific software as a service (SaaS) tools created and managed by vendors.
Early adopters with cloud-based platforms, like Salesforce, have been joined by old-school in-house software mainstays, like Microsoft. Now Microsoft Office, once one of the most common software packages for IT staff to jump from computer to computer installing or patching, can be accessed on the cloud in its Office 365 iteration.

But the model has proved thorny for some businesses maintaining legacy infrastructure. The mandate of the IT department to maintain strict usage guidelines, combined with the ease of access and enterprise-wide demand for cloud-based tools that exist outside of the purview of the enterprise network, has led to companies going through some contortions to get the job done. Asking employees to go through a VPN and then go back out to use a cloud tool doesn't always provide the nicest user experience – to put it mildly. And for dynamic up-and-coming developers, it can feel like bureaucracy is hampering creativity.
As with any technological shift, cloud migration can make networking and security pros a bit uneasy. Suddenly, the perimeter of the network is no longer always top-of-mind. Employees anywhere can access the tools they need by navigating to an app from their home wireless connection or even their smartphone data connection and logging right in.
So where is networking technology headed, and what does it mean for the IT pro? Taking an even longer view into enterprise technology's evolution can give us some ideas.
Computer Networking in Context: Now, Then and For the Future
Before even the longstanding LAN/WAN model of enterprise IT, there was networked communication. We had dumb terminals communicating directly with virtual address extension (VAX)-based mainframes. Then we had dial-up connectivity. Then LANs, WANs and data centers came into fashion and the ethernet cable became a familiar sight, trailing across the floor of any business environment. Then Wi-Fi came along, and with it, mobility, letting employees compute without plugging in. Now we're managing many tasks on centralized, remote cloud servers via app or browser window – a partial thematic return to the mainframe days.
Cloud adoption is the beginning of something, but it's certainly not the end. New technologies like blockchain rely not on centralization, like the cloud, but on peer-to-peer (P2P) relationships between individual nodes. P2P gets a bad name in enterprise computing due to its association with illegal file sharing, but serverless networks or those leveraging endpoint telemetry bring with them huge benefits in terms of speed and non-repudiation.
And while innovations like 5G promise enhanced wireless experiences, further demands for reliability and speed as cloud tools become more sophisticated and complex may push office end users back to the future with next-gen, high-speed cables.
Innovations in infrastructure march ever-forward in increasing speed and broadness of accessibility. But as this happens, trends in infrastructure being wired or non-wired, centralized or decentralized, come in waves; they're cyclical like the seasons. Cloud computing provides irrefutable benefits to many, but there are some critical prerequisites to successfully moving over from legacy infrastructure. To retain business resilience and maintain network visibility and control, IT needs to map data and application flows between infrastructure components prior to a cloud migration.
Whether the transformation has come on quickly or gradually, whether it's been evolutionary or revolutionary, at its root, every model of network infrastructure has been about moving information, in the form of data packets, from a location that has it to a user who needs it. The IT professional of the future, just as the IT professional of today and yesterday, will need to be there to make that happen.
Assuring Connectivity No Matter What
Yes, thanks to the cloud, the shape of enterprise networks has changed and is changing. But enabling and assuring secure, reliable connectivity on the enterprise level is not going anywhere. And as CompTIA keeps an eye on developments throughout the IT industry, its certifications will always validate the most up-to-date baseline knowledge required to thrive in the IT world.
CompTIA's certifications have evolved over the years to highlight once-experimental technologies like machine virtualization and once early-adopter technologies like mobility as they grew central to doing business. And whether we're talking about the cloud or what lies beyond it, CompTIA Network+ will set IT professionals up to handle it.

Validate the skills needed for your computer networking career now and in the future with CompTIA Network+. Download the exam objectives to see what it covers.