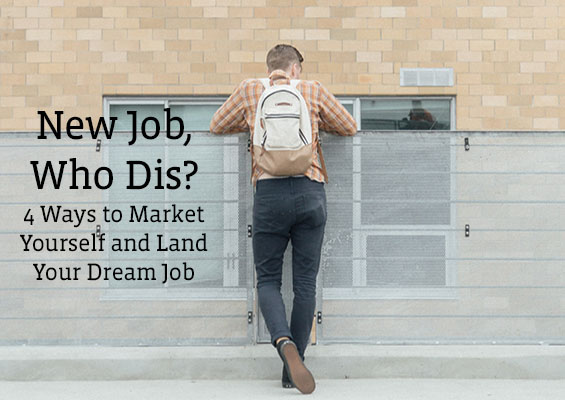 There are many benefits to pursuing a career in IT. Not only do IT careers offer solid earning potential, but the information technology job market has thousands of vacant positions. However, this doesn't necessarily make it a buyer's market for IT pros and recent grads. New and experienced IT job candidates alike should work on increasing their marketability and professional value to potential employers just as professionals from any other industry would. This will not only help ensure they get a job, but a job they'll love.
Easy Tips for Making Yourself More Marketable as an IT Job Candidate
Becoming a highly marketable IT job candidate doesn't have to be complicated. While it does take time and effort, it can also be a simple process.
1. Build Your Personal Brand
A great way to set yourself apart from the competition and grab the attention of hiring managers is to build your personal brand. This may sound intimidating, but any IT pro can do it.
"Your brand can…comprise your social media presence, your reputation among industry peers, and in some fields, a cohesive portfolio of work. Having a blog or website can also contribute positively to your brand. If relevant, be sure to include in your resume a link to your work to demonstrate your unique selling proposition to hiring managers," Caroline Schmidt wrote for Vault.
If you haven't started building your personal brand yet, consider creating a public social media presence on sites like LinkedIn, Twitter, YouTube or even Reddit – all places where IT pros hang out. Post about what you're learning, what you're working on (following your company's social media policy and using common sense about what may or may not put your company at risk, of course), what you're reading and events you're attending.
Establish a posting schedule that will keep you active and consistent. You can then add a portfolio, personal website and/or blog as it makes sense for your career. While this isn't mandatory, it will strengthen your personal brand and speak volumes to hiring managers.
2. Position Yourself as an Expert in Your Field
Expertise in a specialized area of IT is always attractive to potential employers. Even if you don't consider yourself a full-blown expert, if there's an area of technology on which you've focused significant work or study, start positioning yourself as an expert in that field.
Start by thinking like an expert. For example, if you have a lot of experience with cloud computing, ask yourself what a top expert in this specialization would do.
Would they host a podcast, webinar or workshop?
Would they speak at a conference?
Would they mentor a peer who wants to do similar work?
The more activities like this that you have on your resume or LinkedIn profile, the more your expert status will be confirmed to potential employers, which will increase your marketability as an IT job candidate.
While you shouldn't make any false claims about your expertise, don't get in your own way by assuming you don't have enough experience or knowledge to label yourself as a specialist. If you have any doubts about this, ask a former employer, mentor or educator if they think you'd qualify as an expert. They may also have suggestions as to how to word this to impress hiring managers.
3. Get a New IT Certification
If you've been in IT for long, you probably have some IT certifications. However, if it's been a few years since your last one, it may be time to go for another. And if you're just starting your IT career, certifications can show employers that you have the knowledge and skills they're looking for – even if you don't have the job experience to back it up yet.
IT hiring managers look for candidates who are dedicated to ongoing professional development. Stating that you value professional growth on your resume isn't enough. In this area, actions speak louder than words.
Getting a new IT certification lets employers know that continuous learning is your priority. At the same time, you are gaining critical technical skills that can increase your earning potential, creating a win–win situation.
If you are currently in the process of working on an IT certification, don't hesitate to let employers know. They will be interested in your progress and why you chose it. They may also be impressed that you are continuing to build your IT skill set.
4. Renew the IT Certifications You Have
Keeping your IT skill set current is just as important as earning new certifications. Some IT certifications have an expiration date, and renewing them before they expire shows employers that you are serious about getting and staying up to speed with new technologies.
CompTIA offers a number of options to renew, but they fall under two categories:
The first option is for those wanting a quicker route to renewal and usually requires participation in training and/or taking an exam. Spoiler alert: if you're going for a new IT certification, it may automatically renew the ones you already have.
The second option requires earning continuing education units (CEUs) over a period of time. CEUs are activities IT pros can complete to earn credits toward renewing a certification.
Here are a few examples of activities that can earn you CEUs:
Attending webinars and conferences
Taking or teaching an IT course
Participating as a Subject Matter Expert in a CompTIA exam development workshop
Authoring articles, white papers or blog posts
Earning additional IT certifications
Getting relevant work experience
Employers focus less on which path you choose and more on the fact that you're showing a commitment to keeping your IT skills and certifications current.
Leverage Confidence to Differentiate Yourself from Other IT Job Candidates
The more you can differentiate yourself from other IT job seekers, the better your chances of being hired. By building your personal brand, establishing yourself as an expert and getting and renewing IT certifications, you can increase your marketability and value as an IT job candidate.
Make yourself more marketable with CompTIA training and certifications. Sign up for the IT Careers Newsletter and get 10% off your next purchase.