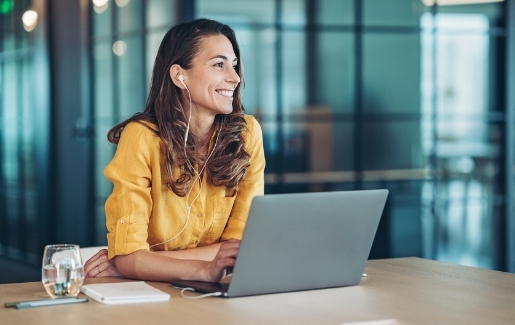 Looking for a new job or to switch careers altogether? If so, you aren't alone. About 30% of U.S. employees reported seeking a career change or new job in the last quarter of 2021, according to CompTIA's Job Seeker Trends report.
If you're interested in an IT career, you are also in good company. Ranking 4th, IT is among the top 5 career categories of interest among those seeking a job, and IT saw the highest rate of positive change in job seekers' interest as compared to the June 2021 research, per the report.
Also, according to the CompTIA State of the Tech Workforce, also known as Cyberstates, IT is currently at double the national growth rate. This makes it one of the fastest-growing occupations in the world.
IT Hiring Is at or Beyond Pre-Pandemic Levels
Despite the pandemic, now is a great time to start an IT career. IT pros often enjoy higher-than-average wages and room for professional growth. Moreover, IT pros are in demand globally.
An article by CIO said recruiting in the tech sector is on the upswing, "with companies reporting they are hiring 'at or beyond pre-pandemic levels,' according to a report by Robert Half Technology."
With the new CompTIA A+ certification, getting into IT doesn't have to be a major challenge. Read on to find out why CompTIA A+ is #CareerGoals, why it will benefit you and how it can help you start an IT career.
Related Reading: Best IT Support and Help Desk Certifications for 2022
4 Reasons Why the New CompTIA A+ Is #CareerGoals
CompTIA A+ is a foundational, vendor-neutral certification that validates key skills demanded in the workplace. It helps employers find perfect candidates for end-point management and technical support roles. Because it holds ISO/ANSI accreditation status, it is widely trusted by employers around the world.
These aren't the only reasons why CompTIA A+ is #CareerGoals. Here are some others:
1. CompTIA A+ alone can help you start an IT career.
This is fantastic news for those who want to make a quick career change. If you have CompTIA A+ and the experience a specific job calls for, you have what you need to get your foot in the door to the IT industry and land a job in tech support.
IT pro Ian Clark, an insider threat analyst at General Motors, went from food service to IT in just 6 months, and CompTIA A+ played a role in his success.
"I went from having no IT experience in February 2020 to earning the CompTIA A+ certification and getting a competitive IT job by the beginning of April that same year," Clark said. "Earning CompTIA A+ gave me the advantage I needed to get that job."
With the new CompTIA A+, you can get into an IT support role fast. And often a degree is not even required.
2. CompTIA A+ ensures sufficient income from the start of your IT career.
This is because the certification qualifies you for a variety of good-paying tech roles. Each role offers a different salary, and some salaries are quite competitive.
For example, let's say you earn CompTIA A+ and then find a job as a tech support specialist. The median annual salary for tech support specialists in the United States is $53,000, according to CompTIA State of the Tech Workforce, also known as Cyberstates. If you earned $53,000 per year, you'd be making 26% more than the national median wage. This would put you ahead financially and get your IT career off to a great start.
Wondering what you would earn in different IT roles? Use the CompTIA Salary Calculator to get an idea of what you'd make in your location with a specific occupation and level of experience.
3. CompTIA A+ puts YOU in-demand as an IT pro.
That's because it is one of the most in-demand certifications for specific IT jobs, such as those related to tech support. Furthermore, employers posted more than 1.6 million jobs seeking professionals with technical support or help desk skills during the last 12 months ending March 2022. Many employers recommend or require this certification, including Blue Cross Blue Shield, Dell, HP, Intel, Nissan, Ricoh and more.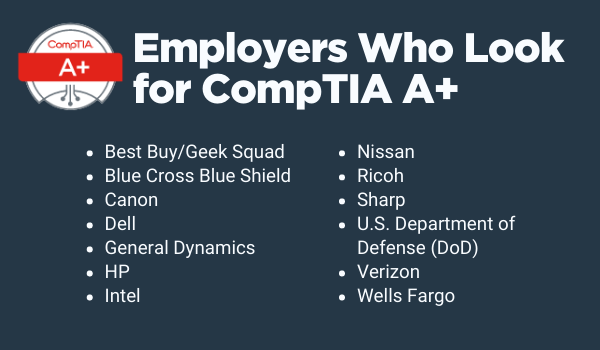 Read more in 5 Jobs You Could Get with CompTIA A+


Tech support goes beyond the help desk. It can also include technical support engineer or analyst, systems support specialist, IT specialist, technical support manager, computer repair technician and more. CompTIA A+ gives you the foundation you need for these roles.
According to Emsi Burning Glass, U.S. employers posted nearly 45,000 jobs over the past 12 months (ending in March) seeking professionals who hold CompTIA A+. You can give yourself a competitive edge and increase your odds of getting the job you want by setting your sights on this popular certification.
4. CompTIA A+ raises your status as an IT pro.
In general, IT certifications can get you more respect in your field. According to a CompTIA career insights survey among IT professionals in 2021, most IT workers reported that their employer provides a high level of recognition and support for IT certifications, such as those from CompTIA.
Per the report, most IT pros who currently hold a CompTIA certification expect to see benefits such as:
Increased determination to advance their career
Better confidence in their skills
A greater quality and value of work contributions
Additionally, and particularly in the United States, certifications from CompTIA are highly valued for certain IT pros. This includes those looking for their first IT job, those seeking a new IT role in a different field and those pursuing career advancement within their current field.
Must-Read for IT Pros: 10 Reasons Why You Should Get CompTIA A+ Certified
CompTIA A+ Can Help You Reach Your IT Career Goals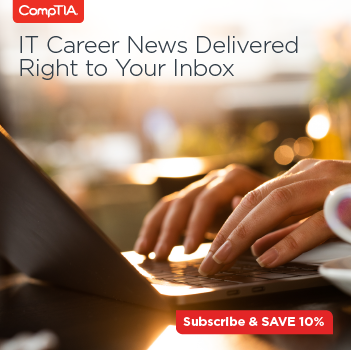 What are your career goals for this year? If they include starting an IT career, earning a solid income, giving yourself a competitive edge as a job candidate or improving your status as an IT pro, CompTIA A+ is for you.
CompTIA A+ is the ideal place to start on your IT career path and is required by many employers. Position yourself for success and join the 1 million IT pros who already have CompTIA A+ by diving right into this certification.
Here are the 4 steps to certification: