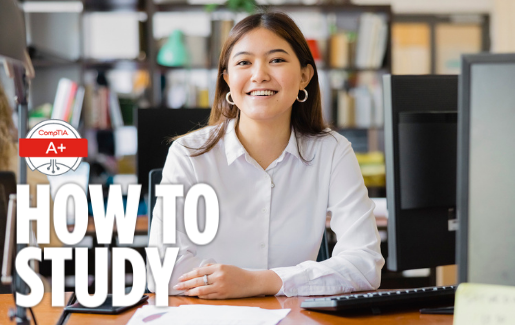 If you're looking for jobs in careers such as IT specialist, help desk technician or field service technician, CompTIA A+ may be for you. Having IT certifications makes a great first impression when looking for a job, and it can even separate you from other applicants. To get started, below are some general IT certification study tips followed by a look at the new CompTIA A+ 1100 Core Series (220-1101 and 220-1102) certification exams and training options being released this month.
Step 1: Create a Plan
Before you jump into your CompTIA training products, it's important to first make a plan and consider the following:
Do you meet the prerequisites? CompTIA A+ recommends 9 to 12 months of hands-on experience working in the lab or field.
Do you have a plan? It pays to be organized and diligent upfront when it comes to successfully passing certification exams. Download your customizable study plan.
How do you learn best? Consider whether to self-study or attend a course from an authorized training provider. See all of your options.
How will you test yourself? Use practice exams correctly to discover how quickly you take exams and identify areas of weakness for additional study. Check out CertMaster Practice.
Once you've answered these questions, you can begin figuring out what you know and what you are unfamiliar with. You can also get started using the training solutions that are right for you. In order to know what to study, you need to download the exam objectives.
Step 2: Download the CompTIA A+ 220-1101 and 220-1102 Exam Objectives
Exam preparation begins with the exam objectives. How else will you know what to study? You can download the exam objectives for the new CompTIA A+ exam directly from the CompTIA website.
Read through all of the objectives and mark topics that you are comfortable with as well as those you are unfamiliar with. Identifying areas of strength and weakness helps organize your studying. The exam objectives are divided into domains to help with exam preparation.
Here are the new CompTIA A+ domains and their relative weights:
| | | | |
| --- | --- | --- | --- |
| 220-1101 | Exam Weight | 220-1102 | Exam Weight |
| Mobile Devices | 15% | Operating Systems | 31% |
| Networking | 20% | Security | 25% |
| Hardware | 25% | Software Troubleshooting | 22% |
| Virtualization and Cloud Computing | 11% | Operational Procedures | 22% |
| Hardware and Network Troubleshooting | 29% | | |
It's vital to pay attention to the exam topic percentages, and always remember that troubleshooting is the underlying concept.
Step 3: Learn the Material
Now that you've reviewed the exam objectives and have an idea of what you already know and what you need to focus on, it's time to study. CompTIA offers both self-study and classroom-based training options so that you can choose the method that best meets your needs.
CompTIA CertMaster Learn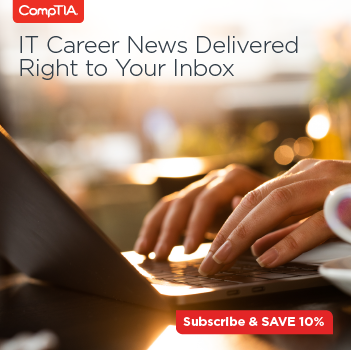 CompTIA CertMaster Learn is a comprehensive eLearning solution designed around CompTIA exam objectives. CertMaster Learn is packed with content and features that are designed to help you learn in an engaging and flexible way. It is also organized into a personalized learning plan to help you manage your study time.
CertMaster Learn includes:
Interactive learning with flashcards and performance-based questions
Videos that demonstrate key concepts and processes
Customizable learning plan
Easy self-assessments
Learning progress analytics and reporting
CompTIA Live Online Training
CompTIA Live Online Training brings the classroom experience to you. Log on every day to receive guided learning, hands-on training and real-time support from one of CompTIA's industry-leading instructors from the comfort of your home.
All CompTIA Live Online Training bundles include CertMaster Learn, CertMaster Labs and CertMaster Practice so you can reinforce what you learn in the classroom on your own time and ensure that you have ALL the tools needed to prepare for your exam.
CompTIA Career Tech Academy
In our IT-Ready Technical Support online program, we train students with little-to-no information technology experience and give you the technical and soft skills to launch your career. You will learn the technical skills necessary to prepare for your CompTIA A+ certification exam, one of the leading industry certifications for landing a job in IT and launching your tech career. You'll be taught by CompTIA A+ certified instructors and have access to online learning tools and discussion forums to reinforce your studies.
You'll also receive targeted professional development to refine critical business skills, such as communication, conflict management, teamwork, critical thinking and problem-solving. You'll be prepared to apply both technical and professional skills starting Day One of your tech job.
But learning is just the beginning. You need to put what you've learned into action. The CompTIA A+ exam includes performance-based questions, which evaluate your ability to complete hands-on tasks related to the exam objectives. In order to pass your certification exam, you'll need to get some hands-on experience.
Step 4: Work on Getting Hands-on Experience
While CompTIA recommends 9 to 12 months of hands-on experience, we know that many aspiring IT pros seek out CompTIA A+ as the first step in their career. CompTIA CertMaster Labs for A+ –­­­­­­­­­ now available for both exams – provides you with the platform to gain critical hands-on experience:
Supporting, installing, configuring and maintaining operating systems
Maintaining and troubleshooting networks
Managing users, workstations and shared resources
Implementing operational procedures in preparation for your CompTIA A+ certification exam
When integrated with CertMaster Learn, CertMaster Labs are displayed as Study Tasks within the CertMaster Learn Learning Plan. As a result, learners experience both knowledge acquisition and hands-on skills development through a single login and seamless workflow.

When you purchase a CompTIA A+ bundle that includes both CertMaster Learn and CertMaster Labs, you'll get a seamless integrated experience where you can practice what you've learned within the same platform. There are bundles available for each individual exam as well as for both exams together.
Step 5: Get Exam Ready
You've learned the material and practiced the skills. Now it's time to prepare for your exam. You'll want to become familiar with how questions are presented and get used to the pressure of the clock.
CompTIA CertMaster Practice offers a full, timed practice test experience, including scenario-based multiple-choice and performance-based questions – the same types of questions you'll encounter when taking the CompTIA A+ exam. This is a great feature that enhances the learning process.
Here are a couple of specific recommendations for CertMaster Practice:
Discover if you tend to be quick or slow when taking exams
Learn the average time each question takes to complete
Get comfortable with the interface
Reinforce knowledge by using study mode (correct answers are displayed immediately)
CertMaster Practice gives you confidence as you go into your exam.
Ready to Get CompTIA A+ Certified?
Now you can get started! Take your career to the next level by committing yourself to earning one of the best IT certifications when you sign up for the new CompTIA A+ 1100 series certification exam. Begin by creating a study plan and understanding the exam objectives and domains. Then, study the topics, practice your hands-on skills and prepare for your exam. These skills will serve you well on nearly any CompTIA exam you decide to pursue.
Learn the skills you need with CompTIA CertMaster Learn + Labs. Sign up for a free trial today!

Looking for more about the CompTIA A+ Core Series? Check out these articles: