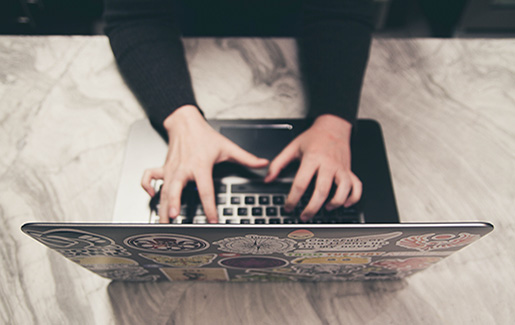 Whether you're looking for work in technical support, cybersecurity or as a systems analyst, knowing how to write a convincing cover letter that highlights your IT knowledge and convinces employers that you're worth hiring is a crucial career skill.
To help you improve your chances of getting hired, here are four strategies to help you write a more compelling cover letter.
4 Cover Letter Tips for IT Pros
1. Don't Just Repeat the Content of Your Resume
Your resume and cover letter are the perfect pair: If written well, they work together to give employers a clear picture of your relevant qualifications.
However, many job seekers don't understand the purpose of a cover letter and use it to rehash the information on their resume. Don't make this mistake.
Your cover letter and resume are two unique documents, and each has a distinct purpose for getting you hired.
A successful IT resume gives employers a broad picture of your relevant technical skills, work history and computational prowess. Your cover letter is more focused and should home in on those accomplishments — making a pointed case for how your experience makes you uniquely qualified for the position.
Rather than giving an overview of your qualifications, you should use your cover letter as an opportunity to pitch yourself as the ideal candidate by providing one or two detailed examples of your achievements.

For example, while you might simply list IT certifications on your resume, your cover letter gives you the opportunity to connect the dots for the employer about how specific skills validated by your certifications qualify you for the job.
Your cover letter should also be written specifically for the organization you want to work at and explicitly connect your qualifications to their needs.
2. Address the Organization's Problems
Many organizations struggle to stay up to date with the fast-changing nature of tech. One of the best ways to win over any employer is to tailor your cover letter to their needs and show how you're the right person to help them solve their issues.
Start by researching the organization to get a better sense of their goals, products and challenges. Then, read the job description and take note of any specific qualities or skills they're looking for in candidates.
Pay special attention to:
Technical abilities (i.e., network configuration, programming languages or penetration testing)

Day-to-day responsibilities

General skills (i.e., leadership, customer service or project management)
Use your cover letter to demonstrate to the hiring manager that your skill set makes you uniquely suited to help them tackle the specific challenges they're facing.
For example, let's say that you're applying for a position as a network technician, and the job description mentions a need for candidates who have managed cloud network architecture in the past. You should then use your cover letter to highlight any hands-on experience or knowledge you've accumulated about cloud networks during your career.
Paying attention to the job description and customizing your cover letter accordingly will make you look like a better candidate for the role.
How to Get an IT Job
Are you job hunting? Check out our full series on how to get an IT job:
Write an effective cover letter
Subscribe to CompTIA's IT Careers Newsletter
for more advice, and get 10% off your next CompTIA purchase.
3. Demonstrate Your Skills
If you've worked in an IT position in the past, you know that doing a job well comes down to your skill set. That's why hiring managers looking to fill any job — even an entry-level help desk position — will want to know what technical expertise, personal strengths or software knowledge you can bring to their company.
For example, every web developer application will say they possess a knowledge of HTML and CSS and have experience with Javascript. Likewise, every network engineer mentions their proficiency with configuring a DNS server and their ability to handle switches and routers.
To get an edge over the competition, go beyond listing the basics and demonstrate that you have the ideal mix of professional skills and technical skills needed to excel on the job.
If you're not sure what soft skills are relevant for a job in IT, look through the job description of the position you're applying for. Usually employers mention any desired personality traits or strengths that they find valuable in new hires. You can also try searching for IT cover letter samples online to get a better idea of the soft skills IT professionals include in their applications.
4. Quantify Your Achievements
Employers don't just want to be told what you can do — they want to see what you can do. So, what's the best way to show them what you've accomplished? Simple: Back up the examples in your cover letter with numbers.
Resolved an impressive quantity of help desk tickets over the years working as a help desk technician? Improved bandwidth speeds for your last company? Made improvements to security infrastructure? Be specific, and include quantifiable data about those successes when you're writing your cover letter to make it clear to the employer what you're capable of accomplishing.
As an IT professional you're uniquely positioned to quantify your experience in a way that any hiring manager can understand. Many IT jobs rely on data to measure performance — use that data to demonstrate your achievements on the job.
By quantifying your experience, you not only make your cover letter more compelling to read, but you also give employers more context for how effective you are.
Maximize the Impact of Your Cover Letter
When writing your next cover letter, improve your chances of getting hired by employing the following strategies:
Make your cover letter unique from your resume

Tailor it to the company

Demonstrate a strong mix of hard and professional skills

Highlight your achievements with hard numbers
Finally, before you start sending off applications, make sure you pair your letter with a matching resume to start reeling in interview offers.
CompTIA is teaming up with Zip Recruiter to help connect you with jobs. Submit your information to receive customized job alerts via email.