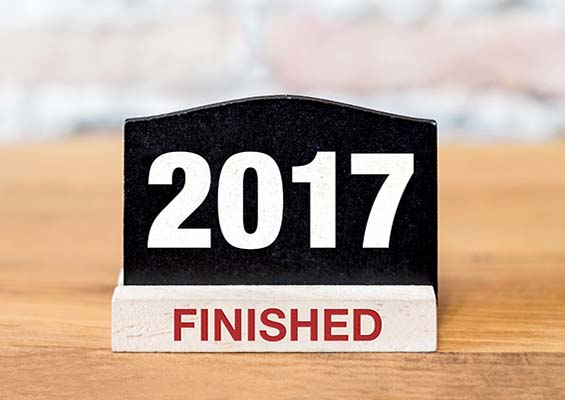 In January, IT Career News looked ahead to what CompTIA had planned for 2017.Now that the year is coming to a close, we're revisiting that list and adding in a few more accomplishments to recap all that's happened in the past 12 months. In case you missed it, here are some highlights of 2017 at CompTIA.
New Certification: CompTIA Cybersecurity Analyst (CySA+)

In February, we launched the highly anticipated CompTIA Cybersecurity Analyst certification, which connects the dots from CompTIA Security+ to CompTIA Advanced Security Practitioner (CASP) along the CompTIA Cybersecurity Career Pathway. It applies behavioral analytics to IT security and validates the critical knowledge and skills required to prevent, detect and combat cybersecurity threats. In October, the U.S. Department of Defense approved CySA+ to meet the requirements of 8570, which outline the skills and certifications needed by military personnel and contractors.

Infographic: 4 Skills Mastered with CySA+ Certification

Updated Certification: CompTIA Security+

With the release of CompTIA Cybersecurity Analyst, CompTIA Security+ needed an overhaul to dive deeper into cybersecurity fundamentals and incorporate the importance of applying cybersecurity techniques to mobile and Internet of Things (IoT) devices. The new CompTIA Security+ (SY0-501) covers topics like hands-on network security, risk management, threat intelligence, data and host security, identity management and cryptography and public key infrastructure (PKI).

Infographic: 6 Skills You'll Learn When You Earn Your Security+ Certification

Updated Certification: CompTIA Project+

We also launched an updated CompTIA Project+ in March of this year. Project+ is ideal for anyone who manages small- to medium-sized projects and can relate to any number of job titles, in and out of IT. It covers project basics and constraints, change management and communication, project tools and documentation.

Article: Do You Have What It Takes to Be a Project Manager?

Retiring Certifications: CompTIA Healthcare IT Technician and CompTIA Mobility+

CompTIA Healthcare IT Technician and CompTIA Mobility+ both retired in 2017, but you don't have to worry – if you hold these certifications, you're considered certified for life. If you didn't get them, you can look to other CompTIA certifications that cover similar content. CompTIA A+, CompTIA Network+ and CompTIA Security+ cover much of what was covered by Mobility+. And those looking to get into health care IT may find that the IT skills they need are validated by CompTIA A+.

Article: 5 Things You Didn't Know About CompTIA A+

New Training Tools: CompTIA CertMaster and CertMaster CE

Although our online study companion, CompTIA CertMaster, is not new, we've released several new versions to help you prepare for current CompTIA exams. This year, we released CompTIA CertMaster for CySA+ as well as new versions of CompTIA CertMaster for Security+ and Project+. And in 2017, we introduced CompTIA CertMaster CE, a self-paced e-learning course that allows you to renew your certification in a matter of hours. The courses reinforce what was covered in the certification exam you took and keeps you up to date by introducing the content from the latest version of the exam. We currently offer CertMaster CE for CompTIA A+, CompTIA Network+ and CompTIA Security+.

Discount: Get 10 Percent Off CompTIA Training and Certifications

CompTIA Subject Matter Experts (SMEs)

As part of the exam development process, we invite IT professionals to our headquarters in the Chicago suburbs to participate in week-long exam development workshops, where we fine-tune exam content. They help us to make sure that the things covered by our exams are what IT pros are actually doing out in the field. This year, 256 SMEs participated in 19 workshops. For the first time ever, we hosted two workshops simultaneously. Thank you to all of our SMEs for taking time out of your busy schedules to help us ensure our exams are relevant.

Opportunity: Sign Up for a Workshop, Including for Our Forthcoming Penetration Tester Exam

CompTIA Research Highlights

CompTIA put out IT research studies on everything from emerging tech to cybersecurity to IT industry trends. Of particular interest to IT pros are pieces like The Evolution of Security Skills, CompTIA Quick Start Guide to the Internet of Things and The Future of IT Skills: Software Development. And CompTIA's annual IT Industry Outlook highlights trends in the industry.

IT Research Studies: CompTIA Insight and Tools

CompTIA Association of IT Professionals

This past summer, CompTIA launched the CompTIA Association of IT Professionals (AITP). Connect with IT pros locally and from across the country at live and virtual events, access online training and webinars, download CompTIA research, get discounts on CompTIA products and everyday purchases, and find your dream job with TechTalent powered by CompTIA.

Benefits: CompTIA AITP

CompTIA Events

CompTIA events brought out record numbers of IT professionals and industry members. We kicked off the year with our sixth annual D.C. Fly-In, where more than 140 technology executives representing 29 states discussed the technology workforce, cybersecurity, apprenticeships and more with members of Congress. Our slate of live events also included the Annual Member Meeting in March, ChannelCon in August and the EMEA Member and Partner Conference in September. In addition to our all-day IT pro virtual learning event, the CompTIA Plus Conference in December, we added an IT pro track to ChannelCon for the first time. If you didn't get to any of the events this year, be sure to check them out, as well as our quarterly IT pro webinars, in 2018.

Articles: Recaps from CompTIA Events

CompTIA at Industry Events

CompTIA also had a presence at industry events, including RSA, the Service Desk and IT Support (SITS) show, the Armed Forces Communications and Electronics Association (AFCEA) Conference and Spiceworld. CompTIA's Chief Technology Evangelist James Stanger presented at many of the top IT and cybersecurity events around the world and shared his observations and experience in IT Career News.

Articles: James Stanger's Hub
All in all, it was a great year here at CompTIA, and we hope you had a great year as well. Stay tuned for a new list in January of all the exciting things we have planned for 2018.

Is this your slow time at work? Get a leg up on your next certification ​and buy a bundle, ​which includes CompTIA CertMaster, an exam voucher and a retake voucher.