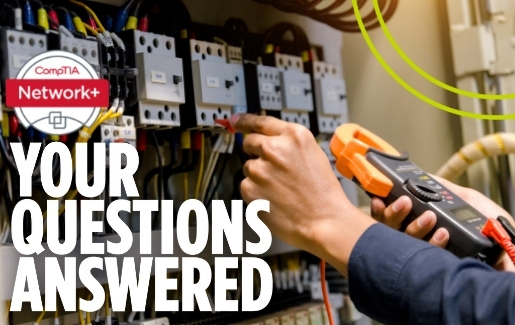 To ensure that an organization's networks are functioning properly and securely protected, IT pros must understand the fundamentals of computer networking. Certifications validate an IT pros knowledge and skills on tech topics, and CompTIA Network+ is a globally recognized certification that validates the skills required to implement enterprise-level wired and wireless network solutions. This well-respected, long-standing IT certification just got a refresh to ensure it addresses the needs of today's computer networking pros. Read more about why and how CompTIA updates certification exams.
Not sure if CompTIA Network+ is right for you? Read on as we've answered your pressing questions about the newest version of the exam.
Why Is There a New Version of CompTIA Network+?
IT pros know that the technology industry is relentlessly evolving. Because of that, CompTIA is committed to updating certification exams to keep up with the industry. The new CompTIA Network+ (N10-008) focuses on foundational networking tools and technologies used to create secure networks and guarantee the availability of critical business information.
What's on the Latest Version of CompTIA Network+?
The latest version of CompTIA Network+ (N10-008) includes both performance-based and multiple-choice exam questions across five domains:
Networking Fundamentals (24%)
Network Implementations (19%)
Network Operations (16%)
Network Security (19%)
Network Troubleshooting (22%)
Some of the new specific additions to this exam are:
Network architecture: including software-defined networking, ensuring that candidates understand network integrations and the cutting-edge technologies being used in deployments.
Emerging wireless standards: these technologies are covered to allow businesses flexibility and maximal security when deploying networks.
Network security: this has been streamlined to focus on the critical aspects of hardening networks against malicious attacks and the secure execution of network deployments to protect against unintended data breaches.
Why Should I Get the New CompTIA Network+?
If you're interested in a computer networking career, CompTIA Network+ is where you start out to build up your knowledge and skills. CompTIA Network+ is the only certification that covers the hands-on skills and precise knowledge needed to in today's networking environments.
What Jobs Can I Get with CompTIA Network+?
The following job roles are directly connected to the information you learn from the new CompTIA Network+ exam:
Primary Job Roles for Network+ N10-008
Secondary Job Roles for Network+ N10-008
NOC Technician
Telecommunications Technician
Cable Technician
Datacenter Support Technician
How Can I Prepare for the CompTIA Network+ Exam?
CompTIA CertMaster Learn
CertMaster Learn is a comprehensive, self-paced eLearning environment that uses videos, assessment and performance-based questions to prepare candidates for the CompTIA certification exam.
CompTIA CertMaster Labs
CompTIA Labs helps learners gain hands-on experience configuring a wide range of technologies in a self-paced, pre-configured browser-based environment in order to prepare for practical aspects of CompTIA certification exams.
CompTIA CertMaster Practice
CertMaster Practice is an adaptive knowledge assessment tool that determines what a learner has already mastered and what they still need to learn to improve confidence and increase retention before a CompTIA certification exam.
Official CompTIA Study Guides
Official CompTIA Study Guides are designed from the ground up to help you learn and master the material for your CompTIA certification exam. Self-paced CompTIA study guides are clearly written and structured and are flexible so you can study at any pace.
How Long Will It Take Me to Earn CompTIA Network+?
While the time it takes to study depends on the individual, we recommend 1-2 years total IT experience, with 9-12 months of hands-on experience working in a network support or network administration role.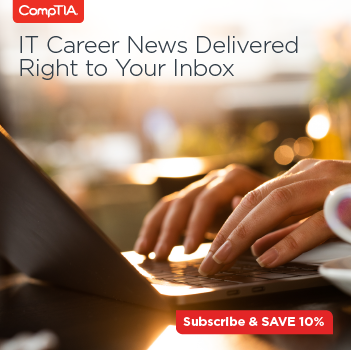 How Much Does the CompTIA Network+ Exam Cost?
The retail price for CompTIA Network+ (N10-008) is $338. CompTIA offers several ways to reduce this cost. Check out our article on how to save on exam vouchers as well as information about financing options.
How Do I Choose Between CompTIA Network+ and CCNA+?
When it comes to certifications that help IT professionals build a foundation for a flourishing career in networking, CompTIA Network+ is the place to start. Unlike other vendor-specific networking certifications, CompTIA Network+ prepares candidates to support networks on any platform. It provides the foundation you need to work on networks anywhere.
The CCNA certification allows you to build on your foundational networking skills by providing in-depth knowledge of Cisco systems and ultimately a route toward future specialization.
Learn more about the differences between CompTIA Network+ and CCNA
I've been studying for CompTIA Network+ (N10-007). Should I switch gears and study for CompTIA Network+ (N10-008) instead?
If you've been studying for the CompTIA Network+ (N10-007), we recommend checking out the exam objectives for N10-008 to cross reference what you've already learned from your studies. If it makes sense for your time and level of knowledge, you may want to switch gears and prepare for the new exam (N10-008). If you've already purchased a CompTIA Network+ voucher, you can apply it to any version of the exam.
If you choose to take the CompTIA Network+ (N10-007) exam, make sure to do so before it expires!
What Is the Expiration Date for CompTIA Network+ (N10-008)?
The English version of the CompTIA Network+ N10-007 exam will retire on June 30, 2022. At that point it will be completely replaced by N10-008.
How Long is CompTIA Network+ Good For, and How Can It Be Renewed?
CompTIA Network+ is good for three years. CompTIA offers a number of ways for you to renew your certifications, including earning continuing education (CE) credits or earning a higher-level certification.
Ready to start studying? Writing out your plan will set you up for success. Download our free training plan worksheet to help get organized and make your dream a reality.