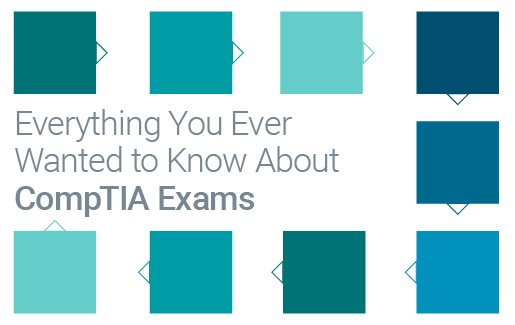 CompTIA certifications are used by 9 out of 10 tech-savvy organizations as part of the hiring process. Companies including Apple, Dell, HP and Intel trust them to screen job candidates and find qualified IT pros. Nearly 2 million people hold CompTIA certifications to validate their IT skills. With so many professionals depending on CompTIA, we take exam development very seriously.
CompTIA certifications are trusted by organizations around the world to help prepare the technical workforce, but producing certification exams is not easy work. With the rate at which technology changes, it's important to regularly update what the exams cover to ensure IT pros have the knowledge they need today and in the future.
The development cycle of a CompTIA exam is a rigorous process involving input from a large variety of industry professionals, many of whom also provide oversight to ensure a high level of accuracy and impartiality. All this effort results in an exam that global employers rely on in their search for qualified workers.
Taking a certification exam also requires a high level of commitment and preparation. With that level of effort, it's important to know what you're getting into. Because CompTIA has made it our mission to prepare people for the IT workforce, we want to tell you everything we can about our exams.
What Can You Expect From a CompTIA Exam?
CompTIA exams are administered by Pearson VUE. After purchasing an exam voucher, test takers register with the date and exam they plan to take and how they plan to take it – in person or online. Candidates must adhere to the testing policies before they begin their exam.
After you've scheduled your exam, your next step should be downloading the exam objectives to guide your studies. Exam objectives are the specific items that the exam will cover, and they're categorized into exam domains.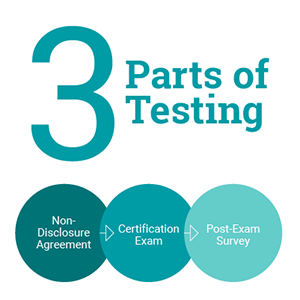 These are downloadable and free on CompTIA's website. The exam objectives outline what you need to understand and study prior to taking the exam.
On exam day, testing involves three parts:
Signing a non-disclosure agreement, where the participant agrees not to reveal test content
Taking the certification exam – the length of time and number of questions vary from exam to exam and can be found on the certification's webpage under Exam Details
Completing a post-exam survey
Who Develops CompTIA Exams?
CompTIA's exams validate vendor-neutral skills needed for jobs in the technology industry. Teams of subject matter experts (SMEs) help ensure CompTIA certifications cover skills that will be applied in real job roles. They come from a range of backgrounds and have displayed a high level of expertise and strong leadership. This group of experts advises on the content and helps develop the exam questions. CompTIA publishes a list of current SMEs on its website to ensure transparency and good faith in the exam development process.
Additionally, a psychometrician – an individual who has a PhD and is an expert in the science of testing – oversees the procedures to ensure the process abides by the test standards outlined in the Uniform Guidelines on Employee Selection Procedures and The Standards for Educational and Psychological Testing.
How Are CompTIA Exams Developed?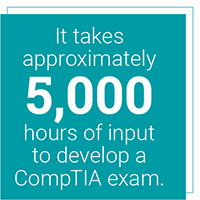 To keep the content of CompTIA exams up to date, new exams are released approximately every three years. CompTIA's exams are accredited by the American National Standards Institute (ANSI) to show adherence to rigorous exam standards and consistent updates, which help keep exam content aligned with the expectations of a fast-moving technology industry. Releasing a new exam every three years meets accreditation standards and prevents content from falling out of date.
The exam development process is intense and requires approximately 5,000 hours of input from the exam development team and SMEs who participate in focus groups that include writing and review to help identify the best content, formulate questions and verify their validity. Throughout a full development cycle, approximately 30 to 45 SMEs will engage with CompTIA to launch a new or updated certification program.
This is how CompTIA exams are developed:
SMEs apply to become test contributors. Read more about how to become a SME.
CompTIA conducts a Job Task Analysis Workshop with SMEs to determine important tasks and duties performed by a defined target audience for the certification.
From these outcomes, the SMEs develop the exam objectives.
The final draft exam objectives that come out of the Job Task Analysis Workshop are distributed to the global IT industry in a survey format to gather input and confirm their accuracy.
Psychometricians analyze the survey results to ensure validity.
CompTIA then conducts an Item Writing Workshop in which SMEs are trained on how to write questions to ensure they properly validate skills.
SMEs spend a week writing questions and scenarios based on the exam objectives.
SMEs also review every single question for accuracy.
CompTIA performs beta testing, where IT pros volunteer to take the exam before it's publicly available.
Based on beta test performance and statistical analysis, valid questions are compiled, and "bad" questions are removed.
Finally, CompTIA conducts a Standard Setting Workshop, in which SMEs follow development guidelines and best practices to determine which questions should ultimately be included in the exam and establish a cut score (a standard) for the final exam.
Beta exam stats and data from the Standard Setting Workshop are combined to inform a decision for the final cut score.
The final set of items are compiled into exam forms, and the new exam is published via Pearson VUE.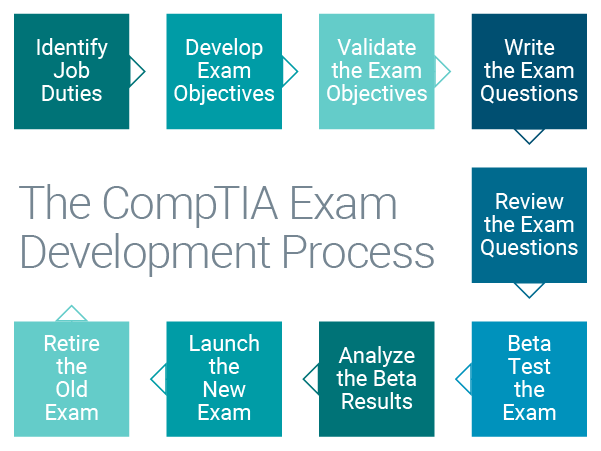 CompTIA Exam Launch and Retirement
Once the exam development process is complete, CompTIA begins to transition from the old version of the exam to the new one. The old version does not retire as soon as the new one launches – there is a period of time where both exams are available.
Launch refers to the date when a new exam becomes available with updated content.
Retirement refers to the date when an old exam is no longer available and is taken out of circulation.
When a new version of the exam launches, the old one is still available for at least six months (sometimes longer depending on other market factors).

IT pros who have already been studying for the old version of the exam can decide if they want to finish studying for and take the old version of the exam before it's no longer available or if they want to pivot and study for the new version.
With three years in between launches, new exams often have significant changes. Sometimes these changes appear in the details of the exam objectives, and other times exam domains are completely overhauled. It just depends on what has changed in the field.
Once you purchase an exam voucher, you can use it for any version of the exam before your voucher expires. And regardless of which version of the exam you take, your certification remains valid for at least three years from the date it is issued. Read more about this in the section below , "Good-for-Life vs. CE Certifications"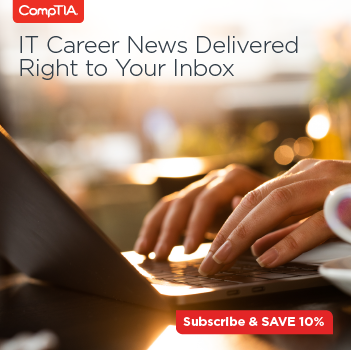 Exam Retirement vs. Certification Retirement
CompTIA uses the term retirement for both exams and certifications, and they mean different things:
Exam retirement refers to the process of keeping certification exams up to date.
Certification retirement refers to the sunsetting of CompTIA certifications that are deemed no longer relevant to the industry.
The status of your CompTIA certification is not affected in any way by exam retirement. A person who receives a certification the day before an exam retires will still hold a valid certification. But, a word to the wise: Don't wait to take your exam until the last day before retirement. If you fail, your only recourse will be to take the new exam, which means studying new exam objectives. Leave yourself a buffer!
When a certification is retired, the exam is no longer available and certificates are no longer issued. The entire product is retired, so no one can earn it ever again in the future. Those who earned it before it was retired may hold a Good-for-Life certification.
Good-for-Life vs. CE Certifications
Some CompTIA certifications qualify as Good-for-Life (GFL), meaning you do not need to renew them to keep them active. These include any retired CompTIA certifications as well as any CompTIA certifications awarded prior to January 1, 2011.
Most CompTIA certifications are now considered continuing education (CE) certifications, which means you need to earn continuing education units (CEUs) to keep your certification active beyond the initial three-year period. There are a number of ways to earn CEUs. Learn more about how to keep your CompTIA certification active through continuing education.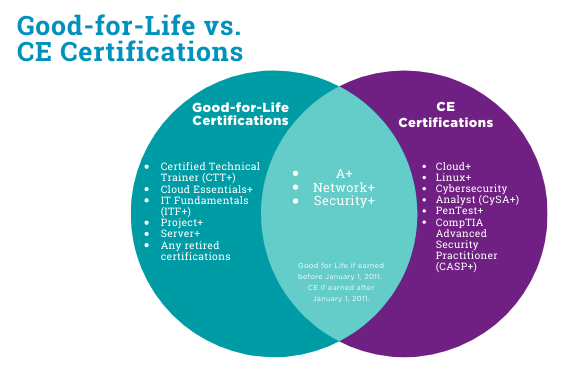 Good-for-Life Certifications (Active): Certified Technical Trainer (CTT+), Cloud Essentials+, IT Fundamentals (ITF+), Project+, Server+
Good-for-Life Certifications (Retired): CDIA+, Convergence+, CTP+, DHTI+, e-Biz+, Green IT, Healthcare IT Technician, i-Net+, IT for Sales, Mobile App Security+ ADR, Mobile App Security+ iOS, Mobility+, PDI+, RFID+, Strata IT Fundamentals, Storage+
Good-for-Life if earned before January 1, 2011, but CE if earned since then: A+, Network+, Security+
CE Certifications: Cloud+, Linux+, Cybersecurity Analyst (CySA+), PenTest+, CompTIA Advanced Security Practitioner (CASP+)
CompTIA Exam Launch and Retirement FAQs
You've got questions and we've got answers. Here are some FAQs about CompTIA exams.
What should I do if I prepared for an exam that is being retired?
First, don't sweat it! You'll have at least six months before the exam is no longer available, so you have time to make a decision:
If you feel like you're almost ready to take your exam, continue studying as you have been and take the old version before its retirement date.
Prepare for and take the new exam. Start by downloading the new exam objectives and compare them to the old exam objectives that you've already been studying. You will likely be off to a good start with your studies, but doing this will help you pivot to focus on only what the new exam covers.
Where Can I Find Exam Retirement Dates?
You can find exam retirement dates on each certification's web page under Exam Details, but we've also listed them for you here.
CompTIA Exam

Launch Date

Retirement Date

CompTIA

Core

Certifications

IT Fundamentals (ITF+)

September 2018

TBD

A+

January 2019

TBD

Network+

March 2018

TBD

Security+

SY0-601 launched November 12, 2020

SY0-501 retires
July 31, 2021

CompTIA Infrastructure Certifications

Cloud+

February 2018 – CVO-003 coming in 2021

TBD

Linux+

April 2, 2019

TBD

Server+

July 2015 – SK0-005 coming in 2021

TBD

CompTIA Cybersecurity Certifications

Cybersecurity Analyst (CySA+)

April 2020

TBD

PenTest+

July 2018 – PT0-002 coming in 2021

TBD

CompTIA Advanced Security Practitioner (CASP+)

April 2018 – CAS-004 coming in 2021

TBD

CompTIA Additional Professional Certifications

Project+

March 2017

TBD

CTT+

August 2003

TBD

Cloud Essentials+

November 2019

TBD
How Do I Know What Is Being Changed for New Exams?
You can download the exam objectives for free from the CompTIA website. To ensure you know what is being covered, you should download the objectives for the exam you'll be taking. You can even download both the old and new versions if you'd like to compare them.
Is There a Big Difference in Content Between Retired Exams and New Exams?
The level to which exams differ depends on the extent of change occurring in the field. Basic principles, core concepts and frameworks don't change as frequently as the skills and tools needed to do the job. But with three years in between exam releases, every new exam includes a number of updates to ensure the certification adheres to what IT pros are currently doing.
+ Means IT Careers
Want to know more about CompTIA certifications? Learn how to choose, how to study for and how to save money on CompTIA certifications, as well as how to take your exam and how to get a new job once you get certified, with + Means More: How CompTIA Can Help You.
Validate your skills with CompTIA certifications. Download the exam objectives to get started.