IT Salaries and Career Opportunities Continue to Grow
With the tech unemployment rate at 2.2%, less than half of the national rate, and 307,000 IT jobs posted in June, now is the perfect time to launch or advance your IT career.
IT Job Opportunities
From IT support and networking to cybersecurity and tech leadership roles, opportunities continue to expand throughout the IT industry.
Demand for cybersecurity professionals is up nearly 50% since December, with cybersecurity job postings hitting a high of 17,000 in May and currently holding at more than 14,000.
IT careers outside of cybersecurity are also experiencing growth. Demand for network support specialists hit more than 2,200, up nearly 10% from May. Computer support specialist job postings are up by more than 50% since December 2020. In addition to the more than 20,000 IT support postings in June, the data suggests salaries are trending up, making it an ideal time for qualified candidates to launch IT careers throughout the United States.
If you're looking for your next IT support role, or trying to plan the next stop in your cybersecurity career, be sure to sign up for job alerts from ZipRecruiter. Not sure about your next move? Check out the CompTIA Career Roadmap to help you decide the best path for your IT career journey.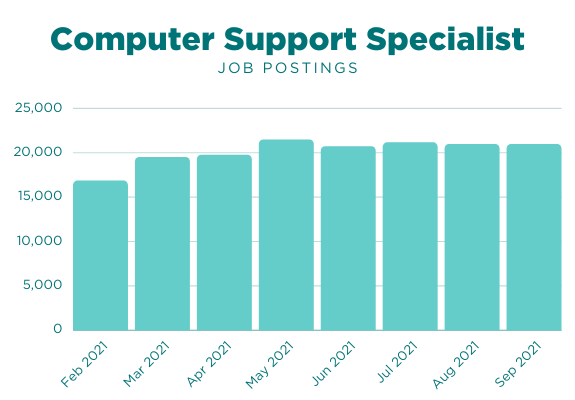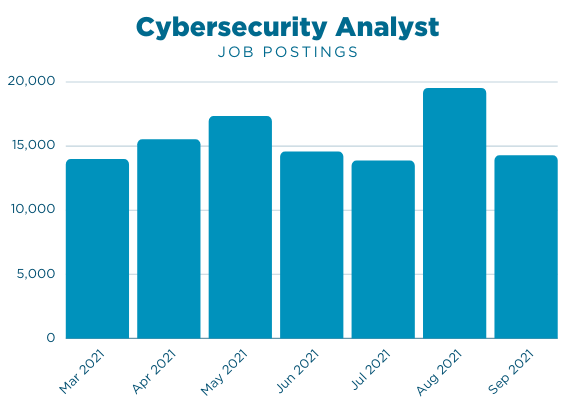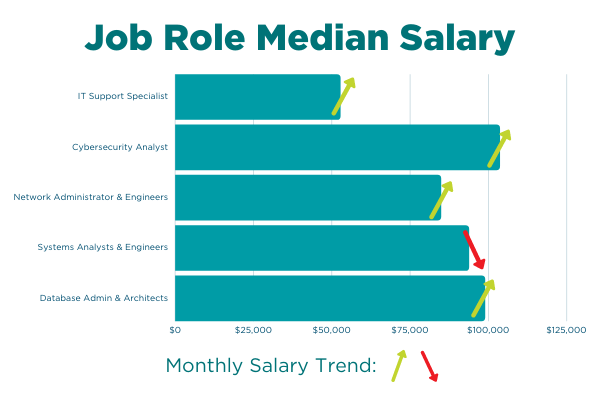 Not only is there a growing demand for tech workers, but there's also increasing demand for new skills. More than 150,000 job postings included cybersecurity and cloud skills. This is an increase of more than 40,000 since December of 2020.
Looking to grow in your career? Now is a great time to upskill. If you're interested in moving into the cloud, get started with a free trial of CompTIA CertMaster Learn for Cloud+. If you simply want to test your current skills, check out CompTIA CertMaster Practice and see if you have what it takes to move up to the next level.
IT Career Salaries
Everybody wants to earn more money. Careers in IT can be very lucrative. Tech salaries are growing and offer great stability in the current job market. For example, the median tech salary in June is sitting at more than $91,000, nearly double that of the national median wage. Use the CompTIA IT Salary Calculator to see IT salaries in your area and know your worth when searching for new opportunities.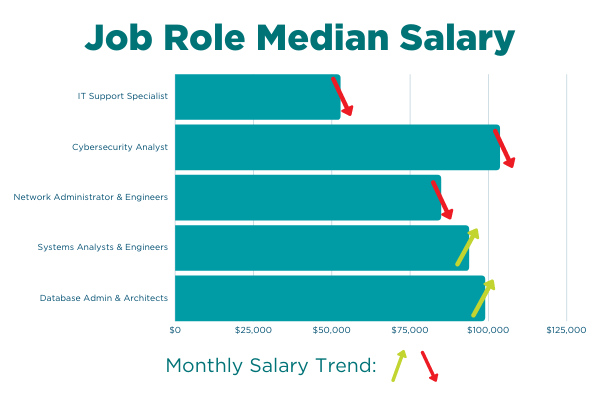 Check back each month for updated job posting and salary data to help you track you next move. We'll make it easy and send updates right to your inbox. Subscribe today to stay on top of CompTIA's IT Career News. As a thank you, we'll give you 10% off your next purchase.
Because monthly job posting data may be subject to higher levels of volatility and revisions, CompTIA recommends caution in using monthly data without proper context. See methodology of the CompTIA Tech Jobs Report for more details.
The CompTIA Tech Jobs Report is available here.