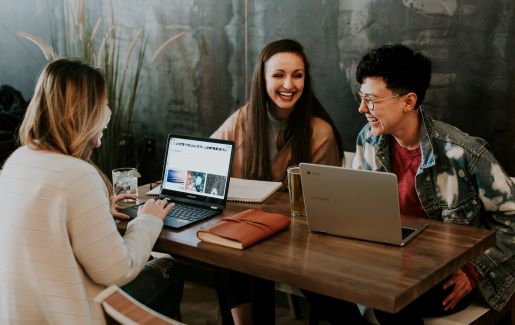 By participating in cybersecurity competitions, like the National Cyber League (NCL) Games, students can prepare and validate their skills with practical challenges they will likely face in real-world cybersecurity roles. Players can also receive individualized, comprehensive feedback from the games that highlight their personal strengths within industry-relevant challenges. This feedback is a great resource for those entering the industry and is part of what helps competition participants stand out when seeking IT and cybersecurity jobs.
Cybersecurity competitions, like the NCL Games, are designed to assess, prepare and validate students of all skill levels.
"NCL will absolutely help to take you from N00bSec to Cyber-Champion by advancing your knowledge from curriculum to career in a way that makes learning feel like playing," said chief player ambassador Kaitlyn "CryptoKait" Bestenheider. "It's an opportunity to find your path into the cybersecurity workforce."
In the NCL Games, challenges are easily identifiable and sorted by nine categories:
Open source intelligence
Log analysis
Network traffic analysis
Cryptography
Scanning
Forensics
Password cracking
Enumeration and exploitation
Web application security
There are challenges in each category at three difficulty levels (easy, medium and hard) so players with different levels of cybersecurity expertise can measure their progress through each competency area.
Competitions can also serve as course content for educators looking to keep students engaged in a way that helps learning come naturally. Additionally, the NCL Game challenges help fill Centers of Academic Excellence (CAE) requirements and apply to one or more of the National Institute of Standards and Technology (NIST) National Initiative for Cybersecurity Education (NICE) Cybersecurity Workforce Framework categories.
Team competitions encourage the important industry soft skills of collaboration, peer learning and team building, which is a significant plus for employers. Combine this experience with the feedback reports every player receives at the end of the season, and you've got a recipe for job hunting success.
When students compete, schools can earn prestige and recognition as they go head-to-head with rivals or well-known schools and universities. Institutions can also move up in cybersecurity rankings, like the NCL's Cyber Power Rankings, which ranks the more than 500 academic institutions that participate annually.
How Do I Join a Competition?
Cyber competitions are hosted around the world, and a quick internet search can give you a number of options.
This year, CompTIA has partnered with the NCL to support its collegiate offensive and defensive capture-the-flag-style games and promote education, skills and careers in cybersecurity. Through this partnership, paid CompTIA Student members will receive $15 off of their registration fees.
You can start before you even register by checking out the many resources created by the NCL Player Ambassadors. From the weekly Thursday Night Live coaching sessions to the constantly evolving resources in the official NCL Coaching Guide and the extensive collection of blogs, the NCL Player Ambassadors ensure there are plenty of ways for you to prepare for the NCL competition. They even have a few NCL Practice Challenges.
Once you register for the NCL Games, you gain access to the official game platform with the NCL Practice Gym. The practice challenges in the gym are from former NCL Games and will help you learn to navigate the platform.
Tips for Success in Cybersecurity Competitions
When competing in a cybersecurity competition it is important to fully understand the rules, as every competition is a little different.
Know the topics covered
Take your time
Take care of yourself, stay hydrated and eat
Take advantage of any practice areas or tests
Reach out to player ambassadors for questions
Talk to others who have participated in prior years
Plan your roles as a team
What Is the National Cyber League?
How was the most inclusive, performance-based cybersecurity game formed? In 2011, while looking to provide an ongoing virtual training ground for students to develop, practice and validate their cybersecurity knowledge and skills, leaders from National Science Foundation Advanced Technical Education (NSF ATE) Cybersecurity Centers and other institutions formed the National Cyber League. The capture-the-flag-based competition was developed into a next-generation, high-fidelity simulation environment for high school and college students.
The NCL stands out from other cybersecurity competitions by providing comprehensive, individual Scouting Reports that can be integrated into resumes and shared with potential employers to highlight specific areas of success. More than 10,000 students and 550 institutions participate each year in the NCL.
With more than 500,000 cybersecurity-based jobs available (CyberSeek) and a fun, performance-based game to help you get there, what are you waiting for? Follow your cybersecurity passion today!

Join as a CompTIA Student Member and save $15 on your NCL registration.