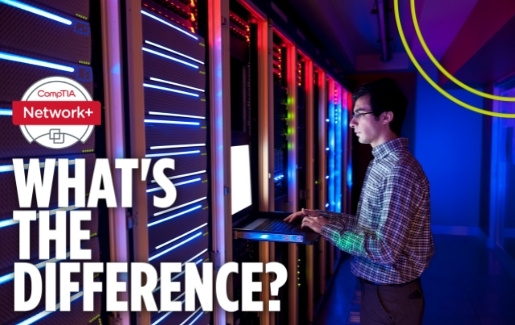 Whether employees are working in a physical office or working from home, IT pros need to have computer networking skills to keep their organizations operating smoothly. The new CompTIA Network+ (N10-008) does just that! As a vendor-neutral networking certification, CompTIA Network+ prepares candidates to support networks on any platform. It provides the foundation you need to work on networks anytime and anywhere.
CompTIA Network+ validates the technical skills needed to securely establish, maintain and troubleshoot the essential networks that businesses rely on. Over 500,000 IT pros worldwide have chosen CompTIA Network+ to ignite their IT careers since its inception. The brand-new CompTIA Network+ (N10-008) launches on September 15, 2021.
IT Jobs Related to CompTIA Network+
Today's employers know that a CompTIA Network+ certified professional has a solid foundation in networking, which relates closely to other facets of IT such as cloud computing, virtualization, software development, cybersecurity and more!
Primary job roles that directly utilize the skills you will learn from the new CompTIA Network+ exam include:
Secondary job roles that may benefit from the skills you learn on the CompTIA Network+ exam include:
NOC technician
Telecommunications technician
Cable technician
CompTIA Network+ 007 vs. 008
CompTIA routinely updates certification exams to ensure that the content accurately reflects updates in technology and industry standards. Specifically, CompTIA Network+ gets revised every three years.
The updated CompTIA Network+ (N10-008) certification validates the skills required to implement enterprise-level wired and wireless network solutions; identify and troubleshoot network performance issues and harden networks against threats to mitigate security vulnerabilities.
CompTIA Network+ is the only certification that covers the specific skills that network engineers need. Other certifications are so broad, they don't cover the hands-on skills and precise knowledge needed to in today's networking environments.
Here are a few highlights of the new exam and how it compares to the old version.
CompTIA Network+ 007 vs. 008 Exam Domains and Objectives
The content in the new CompTIA Network+ (N10-008) exam focuses on foundational networking tools and technologies used to create secure networks and guarantee the availability of critical business information, as reflected in the exam objectives below:
CompTIA Network+ 007 Exam Domains

CompTIA Network+ 008 Exam Domains

Networking Concepts (23%)
Infrastructure (18%)
Network Operations (17%)
Network Security (20%)
Network Troubleshooting and Tools (22%)

Networking Fundamentals (24%)
Network Implementations (19%)
Network Operations (16%)
Network Security (19%)
Network Troubleshooting (22%)
Here are some of the additions to the newest version of CompTIA Network+ (N10-008) as they relate to the exam domains:
Network architecture appears on the exam for the first time, including software-defined networking, ensuring that candidates understand network integrations and the cutting-edge technologies being used in deployments.
Emerging wireless standards and technologies are covered to allow business flexibility and maximum security when deploying networks.
Because constant access to both internal networks and SaaS applications drives productivity, network performance monitoring and high availability are covered as separate objectives.
Network security has been streamlined to focus on the critical aspects of hardening networks against malicious attacks and the secure execution of network deployments to protect against unintended data breaches.
How CompTIA Network+ Evolves with the Industry
Technology is ever-changing, and CompTIA certifications are routinely updated for that reason. CompTIA Network+ is accredited by ANSI and also meets U.S. DoD directive 1570.01-M requirements. This ensures that the subject matter is kept up-to-date and fills real world needs, including some of the most important skills IT pros need in their jobs. Such skills include:
IP addressing and connecting networks to ensure connectivity and network availability
Wireless standards and technologies that are continually evolving
Securing and hardening networks against malicious attacks and presenting corporate networks with a first line of defense
Troubleshooting end-user issues for a variety of common networking problems.
How to Train for CompTIA Network+
CompTIA Network+ boasts a full suite of CompTIA training products for aspiring networking professionals to choose from. Whether you prefer to self-study or thrive in a classroom style environment, there is an option for you.
eLearning with CertMaster Learn
CertMaster Learn includes a customizable learning plan and performance-based questions that take you on a path of consistent learning toward your certification exam.
Interactive Labs with CompTIA Labs
Acquire the necessary hands-on skills for your certification exam with CompTIA Labs. You will develop a deeper understanding of the subject matter and reinforce the practical aspects of certification exam objectives.
Exam Prep with CertMaster Practice
CertMaster Practice is an adaptive online companion tool that assesses your knowledge and exam readiness. CertMaster Practice confirms strong areas and fills knowledge gaps in weak areas, helping you feel more prepared and confident when you go into your certification exam.
The Official CompTIA Network+ Study Guide
If you prefer traditional textbook style learning, The Official CompTIA Network+ Study Guide, in print or electronic format, is packed with informative and accessible content that covers all exam objectives.
Instructor-Led Training
Whether you're looking for in-classroom or live online training, CompTIA's vast network of Authorized Training Partners offers best-in-class instructor-led training for both individuals and teams.
Ready to get started? Download the exam objectives for CompTIA Network+ 008 to begin studying.