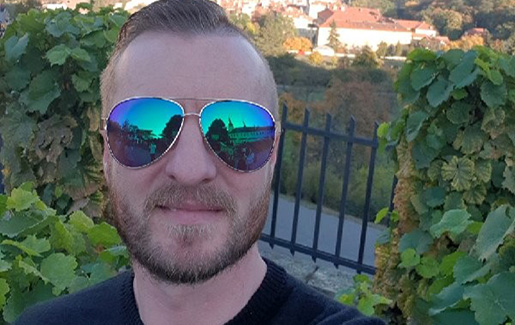 In 2019, Michael Deegan was working as a manager in a warehouse. He was happy enough with the position. The money was good, and the job was in the same general area as the supervisory roles he had been in for more than a decade.
Then things changed.
The company he was working for was bought out, and job cuts came shortly thereafter. Deegan found himself laid off, made redundant.
"I was kind of stuck and wondering what to do with myself," Deegan said. "I thought now was as good a time as any to have a career change. It was as good a time as any to do what I really wanted to do."
For Deegan, that meant turning a lifetime interest into his next career. He was considering tech, and would soon learn that CompTIA was the key to moving from novice to the next level and beyond.
There's room for everyone in IT. Get the skills and confidence you need to succeed with CompTIA Tech Career Academy.
Start now.
Rediscovering His Tech Skills For a Career Change
When Deegan was a kid, his tech-savvy father was the type to pick up the latest tech gadget which, at that time, meant a PC with its cursor flashing at the DOS prompt. Then came Windows. Deegan got into that operating system's first wave of popular games, all the while teaching himself the basics necessary to use and troubleshoot a machine of that era.
He found it fun to compute, but life took him in a different direction. In high school there weren't any classes on IT or computing to guide him down the professional path. By graduation, he found himself employed in a non-technical field making good money, and it seemed like it was good enough.
Throughout his career in management, though, he continued to tinker with computers. Assembling a desktop here, fixing a laptop there; it was always in the periphery. As was his theoretical interest in the mechanics of white hat hacking.
Suddenly, these interests jumped to the forefront. Deegan took a programming class to start getting a feel for the contemporary standards of the tech world, while also looking for jobs. When an entry-level IT position availed itself, rather than just sending over his resume, he spoke with the hiring manager. He went in for an interview, and his combination of natural tech acumen, potential and recent study got him a job at the help desk.
Now an IT assistant at CWG Choices, Deegan has his sites on moving onward and upward through the IT ranks. He researched what it would take to work in a cybersecurity role and saw one name that stuck out as the key to a career in that space: CompTIA.
"When you go out and look at some of the jobs in cybersecurity, everybody asks for it," Deegan said. "That's sort of the minimum that you must have. Every cybersecurity job mentions CompTIA Security+ as one of the certifications they will take."
Preparing For the CompTIA Security+ Exam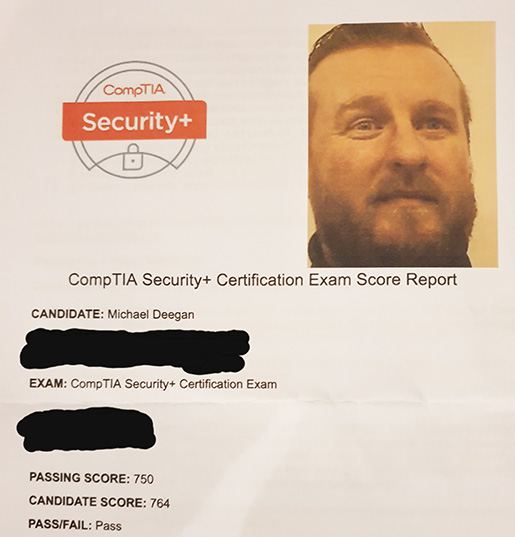 While working his help desk role and handling IT tickets, Deegan began building his higher-level skills through studying for the CompTIA Security+. He began a cybersecurity course through training provider Robust IT. It didn't take him long to realize just how much there was to learn as a cybersecurity novice, even for a lifelong computer user with a mind for tech.
"Being new, a lot of it I didn't understand," Deegan said. "You think you understand these things, but then when someone starts laying it out in front of you properly, you go 'oh, OK.' There was a lot I picked up (in the course), but then I had to do a lot of research on the bits I didn't understand."
So, research he did. Deegan spent long nights reading, trying to wrap his mind around the higher-level IT concepts that form the foundation for cybersecurity. He used other study tools, too. YouTube proved to be an excellent source for finding walkthroughs and clarification. By his exam date, Deegan was ready.
Getting the Attention of Cybersecurity Recruiters on LinkedIn
In February 2020, Deegan successfully earned his CompTIA Security+ certification. He had taken the first step toward a cybersecurity career – and the impact of his cybersecurity certification was immediately clear.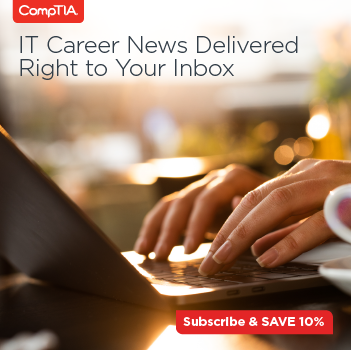 "When I added my digital badge to LinkedIn and posted that I had completed the exam, somebody called me and said, 'You've got this exam. Would you be willing to come in and speak to me about this job?'"

Deegan added that he included relevant hashtags in the LinkedIn post to help it reach more people. Just two days after earning CompTIA Security+, Deegan was already being scouted for cybersecurity roles.
Deegan has more cybersecurity learning and certifications in his plans for the future. He has been taking courses through Robust IT and just earned CompTIA PenTest+ in June. Next on his list is Certified Ethical Hacker (CEH).
His layoff has proven to be a blessing in disguise, setting him on the path to a career he'd always wanted. When it comes to CompTIA's impact – both on his own entry into cybersecurity and what it can do for others – he sums it up in one word.
"It's massive," Deegan said.
Have you always wanted a career in cybersecurity but didn't know where to start? Download the exam objectives for CompTIA Security+ for free to see what skills you need.
Matthew Stern is a freelance writer based in Chicago who covers information technology, retail and various other topics and industries.