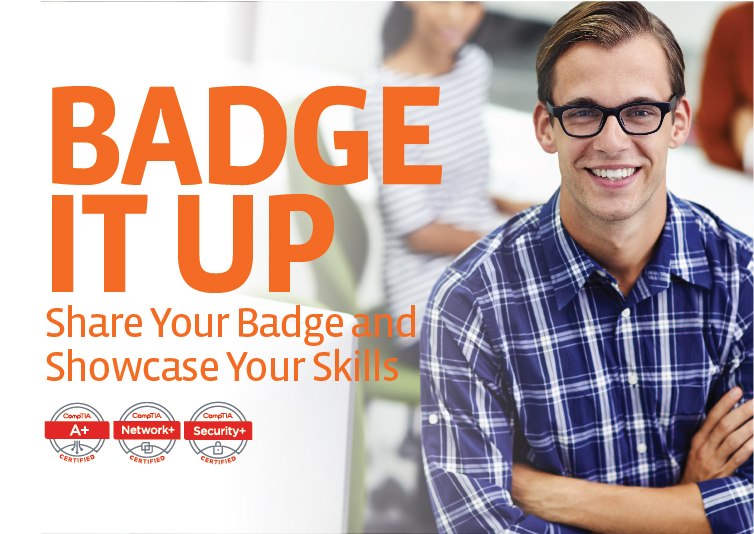 You may have heard that your CompTIA certifications can now be shared as CompTIA digital badges – images and metadata offered by Credly that prove to employers that you've demonstrated the hands-on skills needed by today's IT workforce. But do you know how they work, the benefits they offer and how you can get yours? Keep reading to learn more.
1. Digital Badges Are Verified Credentials
Not just anyone can post a CompTIA digital badge to their LinkedIn profile. CompTIA digital badges are images combined with robust metadata that includes details like what the certification represents, who holds the certification (you), and how and when you earned it. CompTIA has partnered with Credly to translate the learning outcomes from your certification into the metadata that accompanies your badge. The digital badge is yours and yours alone.
The CompTIA digital badge's metadata not only shows employers what you know, but you can use it to better explain your certifications in cover letters, interviews and more. The next time you encounter someone who hasn't heard about your certification, you can succinctly explain it based on what you read in the metadata of your digital badge.
2. CompTIA Digital Badges Show a Deeper Mastery of Skills
Earning multiple, related CompTIA certifications can earn you a CompTIA Stackable Certification, and with digital badging, you can efficiently show your range of expertise. CompTIA digital badges can be activated for both individual and stackable certifications. (Credly works with a number of education, training and certification bodies, so there may be other digital badges that you can activate to round out your profile.)
For example, if you have CompTIA A+, CompTIA Network+ and CompTIA Security+, you can activate those individual digital badges as well as the badge for CompTIA Secure Infrastructure Specialist. The metadata for the stackable certification will show employers the individual certifications you earned to achieve that credential and what IT skills are related to it.
3. You Decide Who Sees Your Digital Badges
Some people like to shout their achievements from the rooftops while others prefer to keep them on a need-to-know basis. With Credly's Acclaim platform, you decide who gets access to your CompTIA digital badges. You can easily configure your privacy settings to control what information is made public and what is kept private.
Some people might post their badges to every social media profile, their email signature and their online portfolio, while others may reserve their CompTIA digital badges for their resume only. You can use Credly's Acclaim platform to display your digital badges, or you can download them to share on other open badge infrastructure (OBI)-compliant sites. CompTIA digital badges meet all these needs and more, so you do you. You're in complete control.
4. CompTIA Digital Badges Help Set Your Career Path
Identifying the next steps in your career can be challenging. When you activate your CompTIA digital badge, you'll gain access to resources that can help you make informed decisions about your next move. Through Credly's Acclaim platform, you can access labor market insights to search by title, location, employer or salary range for open positions related to your certification. If you find a job posting that interests you, you can apply with just a few clicks.
You'll also receive personalized certification recommendations based on your earned credentials and special offers for additional training and certifications from CompTIA.
5. CompTIA Digital Badges Are Free! (Well, Sort Of…)
There are no additional fees associated with activating your CompTIA digital badge. Once you've earned your CompTIA certification, your CompTIA digital badge is an added benefit we're providing to you, free of charge.
If you already hold a CompTIA certification or stackable certification that's eligible for digital badging, you'll receive an email inviting you to activate your badge. You can also find the link in your Certmetrics record. It's a quick-and-easy process – within minutes, you can activate your badge and start sharing it.
Read more about CompTIA digital badging.