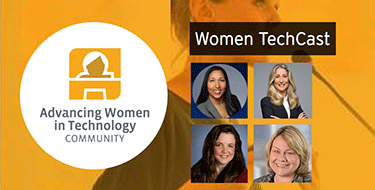 CompTIA's Advancing Women in Technology (AWIT) Community has shared a plethora of information over the past year on diversity and inclusion in the workplace, and now it has added a podcast series to the list. Industry leaders like Rokeya Jones, Theresa Caragol, Nancy Hammervik and Tiffani Bova take a deep dive into ways company culture impacts everyone in the office, and how inclusion and collaboration have been proven to drive profits.
The podcast hosts, AWIT executive council members Michelle Ragusa McBain and Melissa Murillo, have thoughtful conversations with their guests about how to hold inclusive meetings and how a work-life blend might be more realistic than a work-life balance.
Start Listening Now
Stream the Women TechCast podcasts now for ways to implement diversity on an organizational level, make technology accessible to more people, and to learn why retention — not recruitment — is the word on everybody's lips.
The podcast is also available from CompTIA's Advancing Women in Technology Community resource library. Listen now for realistic ways to promote diversity best practices in your own workplace.
Here are Some of the Episodes Available Now
The Power of Diversity with Rokeya Jones
Diversity is about more than what you can see, explains Rokeya Jones of Microsoft in her conversation with AWIT's Michelle Ragusa McBain.
Who Does "Diversity" Belong To? with Tiffani Bova
Tiffani Bova of Salesforce talks about working with girls in STEM and how her passion for that project brought her face to face with the United Nations.
3 Ps to Drive Diversity with Theresa Caragol
Channel Chief Theresa Caragol of Achieve Unite talks about ways sponsorship can be more valuable than mentoring, and how intentional meditation helps her call the shots.
Inclusivity Equals ROI with Nancy Hammervik
CompTIA's Nancy Hammervik talk about the assumptions we make in interviews and hiring, and how unique perspectives and experience round out the best technology companies.
Future episodes include conversations with Linda Rendelman of Tech Data, Terry Morreale of NCWIT and Janet Schijns of Office Depot. There's also a bonus episode featuring a panel on diversity in technology with women from Target, Wells Fargo, HealthPartners and TechData. The panel was recorded for Creating IT Futures, which has several programs to help women get into IT.
Subscribe and follow the Women TechCast podcast channel so you will be notified when new podcasts are added.
AWIT's Resources on Diversity
The AWIT Community has released a number of thoughtful pieces on diversity in technology as well. Here are some of the other things AWIT has released related to the conversation of diversity and inclusion in the workplace:
Taking a Purpose-Driven Approach to Righting the Gender Imbalance in IT
AWIT community leader Cathy Alper tells us how by making conscious decisions now about how we recruit, hire, support and promote women in technology, we can create a future where women in IT is the new normal.
From Charity to Parity: Changing The Conversation About Gender Diversity In IT
Including women and diverse candidates isn't just the right thing to do, it's also profitable.
Introduce Young Women to Technology with Revamped Dream IT Career Resources
The AWIT Dream IT Career Resource Center helps you share real stories about women working in IT and help girls see technology as a career option.
NCWIT Webinar on Unconscious Bias
Learn how unconscious bias discourages women and other underrepresented individuals from pursuing education and careers in technology in this interactive presentation.
How to Consciously Create a Diverse Culture
Join Jessica Mah and Lori Jolley as they discuss diversity benefits and what it takes to consciously create a diverse culture.
Kirsten Hoyt works at Briar Hill Consulting and is a member of CompTIA's AWIT community.