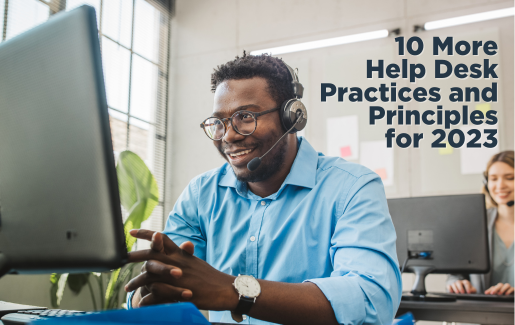 An organization's help desk is one of its primary communication centers. Your help desk is an intermediary between end users and the IT infrastructure. Users ask for help with hardware, applications and connectivity. They can also request new features, find learning opportunities and discover more efficient ways of doing their jobs from this knowledge repository.
A follow-up to Top 10 Best Practices for Help Desks in 2023, let's look at even more ideas on maximizing your organization's investment in its help desk.
These tips can be categorized into:
Developing Expertise
Following users
Maintaining Metrics
Here are 10 more ways to provide amazing service with greater efficiency.
Develop Expertise
The list begins with expertise. Help desk technicians have a broad range of knowledge and handle troubleshooting daily. They must keep security and privacy in mind as they interact with users, customers and systems. It's also critical that they stay current with today's new technology topics.
1. Never Forget Security
Security is a buzzword that never goes out of style, and for good reason. One of your help desk's major tasks is to ensure security. Team members might teach users the proper (i.e., secure) way to do a task, safely implement a configuration change or update or deploy systems free of malware. Regardless, security is job one of any IT team, and the help desk is no exception.
2. Protect User Privacy
Privacy concerns continue to loom large over every interaction. Whether maintaining the privacy of employees requesting help desk services or external customers attempting to purchase your organization's products, make every effort to protect user privacy when communicating with the help desk. Many of these requirements will be industry regulations.
3. Stay Current With New Technologies
It seems like no other industry changes as fast as the technology business. Help desk personnel must stay abreast of current technology trends. Many of these trends will become business processes someday. Furthermore, your users may be on the cutting edge of these trends and looking to the help desk to provide support. Familiarity with new ideas and tools could lead to an implementation within the help desk itself that brings major benefits.
4. Use a Troubleshooting Methodology
A troubleshooting methodology offers an approach to problem-solving based on best practices, specific tools and an understanding of the environment. Whether you're doing a simple ping test to a remote system or troubleshooting encryption problems within a virtual private network (VPN) connection, a methodology helps identify the issue, narrow its scope, propose a solution, and then test the result. Don't forget that the methodology should include updating the help desk's knowledge base.
Related Blog: Getting Into Cybersecurity: Why It's Great to Start at the Help Desk
Know Your Users
Recognize the unique attributes of the users in your environment and be aware of changes to those users over time. Projects come and go, world events occur, new technologies appear—and your users reflect these changes. The past several years have seen an unprecedented shift toward work-from-home solutions, greatly impacting support services. New communication channels exist to deal with a global user base. Use these channels to maintain contact.
5. Provide Support to Remote Users
More employees than ever work from home or the road, and the help desk must evolve to support these remote folks. New technologies make collaboration, conferencing, file sharing, data access, and more available to your users anytime, anywhere. Make sure the support team has the tools and knowledge to troubleshoot these remote connections. Don't forget to review the help desk's hours of availability to confirm they align with business hours and address the multiple time zones your users may work from.
6. Offer Multichannel Support
Not only do users work from anywhere, but they also communicate using almost anything. There are many communications and support channels. Review user interaction preferences. Phone and email are the two obvious channels, but don't forget about chat (either with bots or live support specialists), text and searchable knowledge bases. Even social media has its place, such as with major announcements. Find out how your users want to talk to you and provide a suitable channel.
7. Provide Updates
Often when users approach the help desk, it's because their work has been interrupted. The user can no longer work and meet their obligations, whether due to a hardware failure, software glitch or lack of knowledge. Acknowledging their issues and maintaining timely communications is critical. Check with them whenever there is new information about their support ticket, such as a shipping update, an appointment with a desktop support tech or a scheduled software deployment. And even if there's no new update, it's a good idea to check in and let them know you haven't forgotten or lost them in the shuffle.
Related Blog: What Is Remote Help Desk Support?
Maintain Metrics
Help desk software enables issue tracking and allows organizations to gather information on improvement opportunities and what's going well. These metrics will enable the help desk to clarify service level agreements and become more involved with new initiatives, ensuring better support for employees.
8. Measure Success With Customer Feedback
It isn't easy to make improvements without solid information about the current state of support. Metrics are critical to understanding where help desk team members spend their time. If there are regular reports of configuration problems, unpatched or missing software or unavailable services, data helps pinpoint the issue to get it resolved. For example, updated configuration files or new Group Policy settings could address consistent configuration problems. You can gather metrics via surveys and customer feedback opportunities. Help desk personnel can remind users about satisfaction surveys during follow-up communications or updates.
9. Review and Clarify Service Level Agreements
Service level agreements (SLA) set expectations between providers and consumers. In most cases, the help desk is a service provider, offering support, information and facilitating solutions. Other employees usually consume this service. Concerns such as availability (service hours), quality and offerings are placed in the SLA so that everyone involved clearly understands the help desk's responsibilities. Review existing SLAs to ensure they still match budgeting realities, new job roles and existing offerings. Without a service level agreement, other employees might assume that your help desk is available anytime and offers an immediate response.
10. Position the Help Desk as a Stakeholder
Major project participants consist of stakeholders who share the risk, cost and benefit of the project results. Your help desk is often a stakeholder in such deployments, whether acknowledged or not. The help desk leadership team can work to position it as a stakeholder, ensuring support and training resources are available before the deployment or release.
Related Blog: How Would You Rate Your Help Desk?
The Help Desk Is a Customer Service Role
The help desk enables communication within an organization as a way for users to ask for help, whether it be updated hardware or how to use an application feature. There are many ways to maximize your help desk's efficiency and capability. The help desk is a customer service role, and that idea should be reflected in its relationship with users.
Invest effort in maintaining the help desk team's expertise. Solid metrics provide opportunities for proactive fixes and addressing weaknesses. And as businesses continue to move away from the traditional in-office model to more profitable and logical "work from anywhere" solutions, the help desk must adapt.
Get career advice like this right in your inbox with CompTIA's IT Career Newsletter. Subscribe today, and you can save 10% off your next CompTIA purchase.