In a perfect world, glass ceilings would not exist. However, our world is far from perfect. The good news is, it's improving, especially for women in IT. This is due to the go-getters in the tech industry who are working hard daily to shatter the barriers that suppress women professionally.
Women in Tech: How to Break into IT and Smash Glass Ceilings, a YouTube Live broadcast hosted by CompTIA, featured five outstanding women in IT. They are among the trailblazers who are actively making tech a more equitable and gender-inclusive industry. In the presentation, they explained what they love about their IT career and offered advice to aspiring women technologists. The panel included IT pros Kanika Tolver, Alli Houghton, Gabrielle Hempel and Gabby Ariza, as well as Amy Cliett from TechGirlz. The video was facilitated by CompTIA's Kelsey Blazaitis.
Should you join the ranks of these incredible IT specialists and become a woman in tech, yourself? Read on to find out.
What Do Women in IT Love About the Tech Industry?
Every woman in IT values the tech industry for different reasons.
"I feel like technology impacts every aspect of real life. To be able to change lives and help others through technology is so powerful," Gabby Ariza, cybersecurity specialist, said. "
That's what I love about technology. Also, there's always a problem to solve in tech, and I enjoy that about my IT career."
Many IT pros are drawn to the problem-solving aspects of a tech career. If you enjoy solving problems, that could be a sign that an IT career would be a great fit for you.
Read Ariza's CompTIA blog posts to learn more about her perspectives on IT.

Amy Cliett, director of TechGirlz, loves tech because the industry is rich with opportunity.

"I love technology for the opportunities it offers," Cliett stated. "The IT industry is one of the few that has a level playing field. You can take your IT career anywhere you want it to go and keep learning and leveling up."

Another perk of working in IT is the unlimited earning potential. As Kanika Tolver, CEO at Career Rehab and an IT project manager who has CompTIA Security+, said, "With IT, the more you learn, the more you earn."

Individuals with the top-paying IT certifications can earn over $100,000 annually.

See how much you could earn in IT with our IT Salary Calculator.

Challenges Force Women to Reinvent Themselves and Start an IT Career

Almost anyone who wants to start an IT career can do so. However, this doesn't mean there aren't challenges.

"One of my biggest challenges and barriers to getting into IT was working in an environment that was toxic," Tolver said. "In the job I had prior to my IT career, I wasn't growing. I had four managers in a five-year period. Simply put, I was in a bad place."

According to Tolver, the challenge of feeling stuck in a work environment she knew she didn't belong in led her to reinvent herself. She did this by revamping her resume and LinkedIn profile and looking for jobs outside of her organization. Ultimately, this led her to IT.

Unfortunately, the barriers to women entering IT are sometimes people who aren't welcoming of them in the tech space. Gabrielle Hempel, cloud security engineer, experienced this challenge firsthand several years ago when a chief information security officer told her that she could never go into security without working her way up, she would fail if she tried and she didn't have the skills needed to succeed.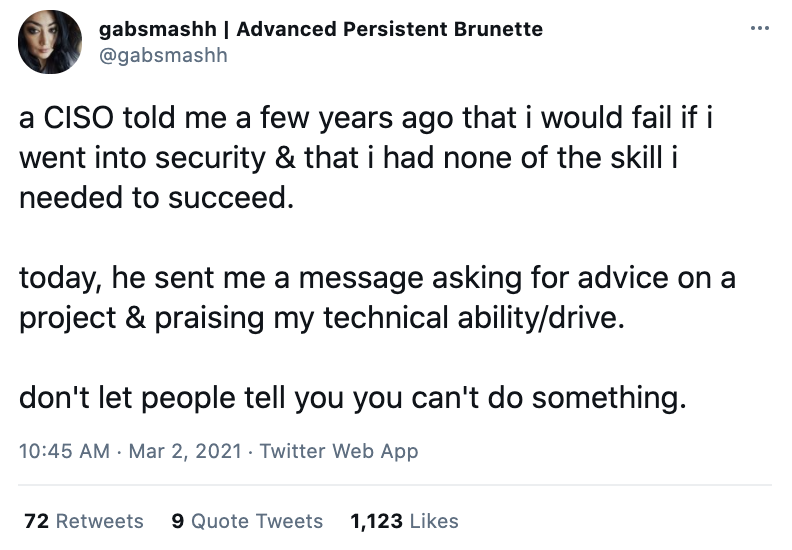 Recently, the individual who doubted Hempel in the past sent her a message asking for her advice on a project and applauding her technical ability. Recounting this story in a Tweet, Hempel had a mic-drop moment when she ended the narrative with a simple statement: "Don't let people tell you [that] you can't do something."

Each of the panelists faced roadblocks that could have prevented them from getting to where they are today. But by never taking "no" for an answer, and continuously learning and knowing their worth, these women carved out a sweet spot in tech, which is exactly where they belong.

Women In Tech Offer Advice to Those Who Want to Get Into IT

If there's one thing prospective women technologists need, it's advice from those who have succeeded. Alli Houghton, information systems specialist and CEO at Learn CyberSecurity, said "know your worth" is her best piece of advice for women interested in an IT career.

"You may find yourself with an organization that's dangling a carrot above your head about promotions and pay raises," Houghton explained. "If they aren't delivering on their word, know you are worth more than that. You work hard and deserve to be where you're at, and beyond."

Hempel encouraged women in tech to ask more experienced IT pros about what they do and how they got there to determine their own path.

"Only you know when you are ready for something," Hempel said. "[But] you can get clarity on what you are ready for and what you want by reaching out to people and asking them about what they do. If you find something you are passionate about, go for it."

IT is an industry that enables many employees to work from home. This is something women in tech value. Find out how to land a remote IT job from Hempel herself in the CompTIA blog article Remote IT Jobs: How to Get One and What to Expect.
Take Your Place as a Woman in Tech
Do you feel like you are hitting the glass ceiling at your current organization? Are you interested in starting an IT career? If so, don't let a lack of IT skills stop you.

"You may think that there are all these barriers to a career in IT, but there aren't," explained CompTIA senior manager, digital brand, Kelsey Blazaitis. "You don't have to be an expert in computers to love tech and have a drive to learn."

Whether you're a woman who wants to work in tech – or you know one – know that with training, certifications and a drive to make it happen, you can do it. There's a place for everyone in tech.

Subscribe to our YouTube channel for more videos about IT careers and to get alerts about future broadcasts.