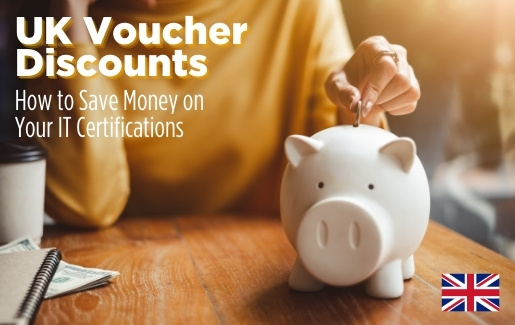 Getting an IT certification is an investment in your career. Whether you're just starting out in the IT industry or preparing for your next move, having a CompTIA performance certification can not only get your foot in the door for an interview, but also prove to employers that you have the hands-on skills they're looking for.
But with every investment comes a cost. The retail price for exam vouchers can be daunting, but there are ways to save money. Here are four ways to get a voucher discount on your next CompTIA exam in the United Kingdom.
4 Ways to Get a Voucher Discount in the UK
In general, there are four ways to save money on your CompTIA exam voucher. Some discounts are available to anyone, and some are only available to students or as part of a training programme. Here's a quick breakdown of the main types of voucher discounts. Keep reading for the details.
Type of Voucher Discount

How Much Can You Save?

Who
Is Eligible?

Bundle

Up to 46%*

Residents of most countries worldwide

IT Career News
Coupon Code

10%

IT Career News subscribers

Academic Store

40 to 65%

Students with a valid .ac.uk email address

Training/College Courses

Up to 100%

Eligibility varies
1. Save With a Bundle
Purchasing a bundle is the easiest way for anyone to get a voucher discount. CompTIA combines exam vouchers with training materials into bundles to help you fully prepare for your certification exam and save up to 46%* off the retail price. Many bundles include the exam voucher, study materials (including CertMaster training) and a retake voucher in case you don't pass your exam on the first try. With a bundle, you can go into your exam with confidence knowing that you've set yourself up for success.
CompTIA offers four types of bundles, and most of them include the following products:
| | |
| --- | --- |
| CompTIA Bundle Type | What's Included in the Bundle? |
| Basic Bundle | Official CompTIA Study Guide eBook, an exam voucher and an exam retake voucher. |
| Exam Prep Bundle | Official CompTIA Study Guide, CompTIA CertMaster Practice, an exam voucher and an exam retake voucher. |
| eLearning Bundle | CompTIA CertMaster Learn + CertMaster Labs integrated experience, an exam voucher and an exam retake voucher. |
| Complete Bundle | CompTIA CertMaster Learn + CertMaster Labs integrated experience, CertMaster Practice, an exam voucher and an exam retake voucher. |
Many CompTIA exam vouchers can be purchased as part of a bundle, and more may be added in the future. When you're ready to buy a voucher, check out the bundles in the CompTIA Store first. (When you're in the CompTIA Store, hover over or click "Bundles" in the menu bar. Bundles and pricing are subject to change. Discounts vary based on product.)

2. Get a Voucher Discount From IT Career News
Did you know that IT Career News readers can sign up to get 10% off their next purchase in the CompTIA Store? Just by subscribing to this blog, you can save on your next training product, exam voucher or bundle. Sign up today and grab your 10% off discount code. P.S. You can also click on the ad on this page.
3. Student Voucher Discounts
Actively registered students with a valid .ac.uk email address in the United Kingdom can get a discount of up to 40% off vouchers and up to 65% off learning products in the CompTIA Academic Store.
How to Get a UK CompTIA Student Discount
Go to the CompTIA Academic Store.
Discounts are already applied and reflected in the prices you see in the CompTIA Academic Store, so simply add the item(s) you want to your cart. Please note there are limitations on quantity and frequency of purchases.
Upon checkout, enter your student information for CompTIA to verify. You may be asked to upload supporting documentation.
Start studying and get certified!
4. Other Voucher Discounts
Depending on where you live and what you qualify for, you may be able to get trained and certified for free (or nearly free). Many training providers and colleges support government skills programmes such as bootcamps and apprenticeships and are able to fully fund or partially fund training and certifications. If you don't qualify for these free programmes, you can look for a self-funded training programme from an Authorised CompTIA Partner.

Getting an IT certification is an investment that will pay back in spades. But, if you need a more economical way to get certified, you have options. Bundles, discounts and training programmes that include certifications can all help you save money when buying certification vouchers.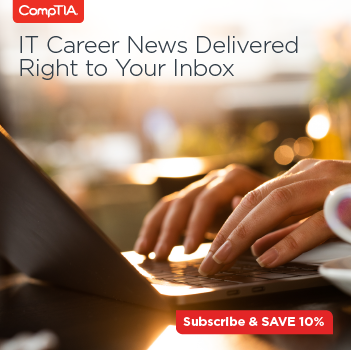 How to Get a CompTIA Exam Voucher
You know which certification you need, and you know how to save. So how do you get started? We recommend purchasing vouchers and training solutions directly from the CompTIA Store, the CompTIA Academic Store or a CompTIA Authorized Partner.
How Long is a CompTIA Exam Voucher Valid?
A CompTIA exam voucher is valid for 12 months from the date you received it. A voucher expiration date cannot be extended under any circumstances. A purchased voucher can be used for any version of the certification exam as long as it's used before it expires. You must register and take your certification exam prior to the voucher expiration date. Review the CompTIA voucher terms and conditions for more details or check out our FAQs.
What Does This Mean for IT Professionals?
It means you can continue to upskill! IT certifications are an investment in yourself – and your career – but that doesn't mean you have to break the bank. Take advantage of CompTIA offers, promo codes and deluxe bundles that will help you pass your next CompTIA certification exam. Good luck!
Learn the skills you need with CompTIA CertMaster Learn. Sign up today for a free trial today!