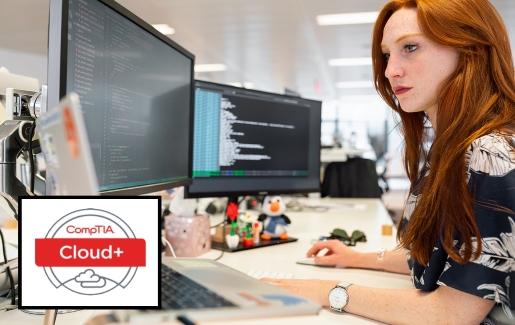 Career growth continues to boom in the infrastructure space as more workers telecommute and businesses move to off-premises cloud solutions. The new CompTIA Cloud+ (CV0-003) reflects these changes with an increased focus on the skills needed to make the cloud more secure and available. Here's what you need to know about the new CompTIA Cloud+.
How is the New CompTIA Cloud+ Different?
While still covering the foundational aspects of cloud technology emphasized in CompTIA Cloud+ (CV0-002), the refreshed offering expands in two important areas – security and high-availability.
The new CompTIA Cloud+ covers in greater depth the skills and abilities needed to secure the cloud, validating that candidates have the hands-on experience needed to secure environments regardless of the vendor solution.
In addition to validating the technical security skills cloud engineers need, the exam continues to highlight the importance of compliance requirements – a key function in today's ever-changing regulatory world.
The refreshed CompTIA Cloud+ (CV0-003) also includes an entire objective dedicated to high-availability – the goal of ensuring around-the-clock access to all your data and software as a service (SaaS) applications. This highlights the move toward cloud-hosted solutions throughout enterprise and small business.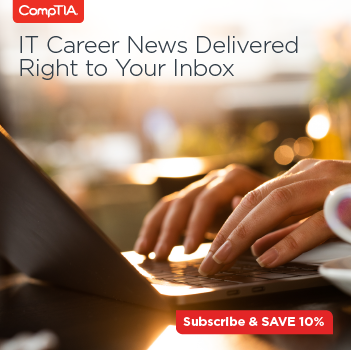 CompTIA recognizes that in a work-from-home world, it is critical for remote employees to have secure, uninterrupted access to data, applications and the solutions that allow business to succeed. CompTIA Cloud+ validates the skills and abilities that make this possible.
Overall, the CompTIA Cloud+ exam tests candidates in the following areas of cloud computing:
Cloud architecture and design
Securing the cloud
Automation and virtualization
Optimization of cloud environments
Disaster recovery
Multi-cloud environments
You can download the new exam objectives here.
The Importance of Multi-vendor Cloud Skills
I heard from an IT industry vice president recently that mergers and acquisitions were starting to "take off again." The effect of this is that if a large enterprise running Amazon Web Services (AWS) acquires two or three smaller organizations running Microsoft Azure and Google Cloud, then cloud engineers would need to understand not just the vendor platform, but the technical underpinnings of the cloud itself so they could work between all the elements of the full cloud stack.
Some enterprises might run multiple infrastructure as a service (IaaS) platforms for years, requiring staff to be able to operate between the major platforms. IT pros who have CompTIA Cloud+ understand the danger of vendor lock-in, and this certification validates they have the skills and knowledge to work across multi-vendor systems.
CompTIA Cloud+ is intended as a mid-career certification, for IT pros with 2 to 3 years of systems administration experience.
Cloud Smart and DoD Proven
CompTIA Cloud+ has been adopted by the U.S. Department of Defense (DoD) to ensure that its personnel and contractors are appropriately trained. In February 2020, CompTIA Cloud+ met the DoD Manual 8570.01 requirements for those who work with sensitive information and need to satisfy specific job requirements.
The DoD approved CompTIA Cloud+ for three vital workforce categories:
Information Assurance Manager Level I (IAM I)
Cybersecurity Service Provider Infrastructure Support (CSSP-IS)
CSSP Analyst (CSSP-A)
In addition to these workforce categories, CompTIA Cloud+ aligns with the U.S. Government Cloud Smart initiative. The cloud is about creating continuously updated, secure and highly available solutions – all of which are key components of the new CompTIA Cloud+ exam and illustrate the need for a security-first mindset that allows for flexible implementations of new technologies.

See What's on the New CompTIA Cloud+
You can begin preparing for the new CompTIA Cloud+ exam now by downloading the exam objectives for free from our website. They can serve as a roadmap for your studies and get you started on the right foot.
Ready to get started? Download the exam objectives for free.