As the world moves increasingly toward cloud-based technologies, the U.S. Department of Defense (DoD) is ensuring that its personnel and contractors validate the expertise needed to maintain and optimize cloud infrastructure services. CompTIA Cloud+ recently met the DoD Manual 8570.01 requirements for those who work with sensitive information and need to satisfy specific job requirements. This approval highlights the importance of a technologically savvy, cutting-edge military workforce.
The DoD approved CompTIA Cloud+ for three vital workforce categories:
Information Assurance Manager Level I (IAM I)
Cybersecurity Service Provider Infrastructure Support (CSSP-IS)
CSSP Analyst (CSSP-A)
Why CompTIA Cloud+?
With an emphasis on the technical skills needed to succeed in today's virtualized world, CompTIA Cloud+ ensures that military personnel and contractors are up to the task. This cloud computing certification addresses the increased diversity of knowledge, skills and abilities required of today's systems administrators and cloud engineers and validates what is currently necessary to perform effectively on the job.
CompTIA Cloud+ is the only performance-based IT certification that views cloud-based infrastructure services in the context of broader IT systems operations regardless of the vendor solution. The certification is ideal for IT pros such as systems administrators and cloud engineers who need to have expertise across multiple products and systems.
What's on CompTIA Cloud+?
Here are a few highlights of the topics covered by this cloud computing certification:
Cloud Deployment: CompTIA Cloud+ covers the implementation, maintenance and delivery of multiple cloud deployment models, emphasizing in-demand technical skills.
Cloud Security: Securing the enterprise is no longer the specific domain of cybersecurity experts in a world where the weakest link is often exploited. CompTIA Cloud+ focuses on these important aspects of cybersecurity:

Updated encryption standards, certificate and key management, and tunneling protocols
Access control technologies based on given cloud computing models
Automating the continuous improvement of organizational cybersecurity posture

Cloud Management and Migration: Understanding how a cloud-migration works is as important as being able to implement one. The CompTIA Cloud+ certification covers the knowledge, skills, and abilities to conceptualize, implement and troubleshoot moving to the cloud.
U.S. Government Cloud Smart Initiative
To proactively address the future of the cloud within the U.S. government, the Office of Management and Budget (OMB) has introduced Cloud Smart, a strategy that drives its approach to cloud computing. The initiative emphasizes cybersecurity and prioritizes an outcome-driven approach to the cloud. This methodology reflects what I am constantly hearing from experts on the ground – that we need to implement a security-first posture that provides the flexibility to implement successful cloud deployments.
A cloud engineer recently remarked to me that CompTIA Cloud+ is so vital because it addresses the very things Cloud Smart outlines:
Technology changes at a breakneck pace
Cloud is becoming the enterprise
Traditional delineations between on- and off-premises no longer hold
Whether it is virtualized infrastructure, automation and orchestration, or cloud bursting, CompTIA Cloud+ covers the future of cloud computing.
CompTIA Cloud+ and the CompTIA Infrastructure Career Pathway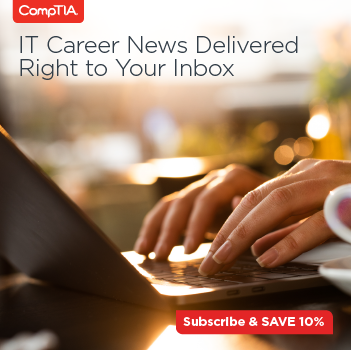 When it comes to IT infrastructure, the opportunities for career growth are more robust than ever. As part of the CompTIA Infrastructure Career Pathway, CompTIA Cloud+ is intended as a capstone for mid-career IT pros who have mastered the computer networking fundamentals covered by CompTIA Network+, gained the hands-on skills contained on CompTIA Linux+ and demonstrated advanced server expertise found in CompTIA Server+.
The addition of CompTIA Cloud+ to DoD 8570.01-M offers an exciting new opportunity for systems administrators and cloud engineers to certify their skills. CompTIA has worked carefully with experts from industry, the DoD and professionals in the field to craft a cloud computing certification that validates the most important aspects of working in the cloud.
Want to learn more about CompTIA Cloud+? Download the exam objectives for free to get started.