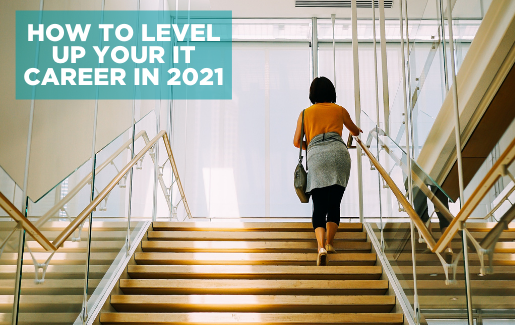 2020 was a taxing year for nearly all industries due to the pandemic. The pandemic has been first and foremost a human tragedy, and secondly been massively disruptive to the global economy. The IT sector has not been untouched by COVID-19. However, there is a slight silver lining for established IT professionals.
"It's hard to say that this is a good time for anyone, but being in the tech industry is one of the better places to be as digital transformation accelerates," said Seth Robinson, senior director, technology analysis at CompTIA, in 4 Ways Tech Firms Can Use CompTIA's IT Industry Outlook 2021.
This new year will surely challenge IT pros, but it will also offer them opportunities for career advancement through gaining new IT skills and better meeting the unique needs of the organizations they serve.
3 Tips to Help You Advance Your IT Career In 2021
If the idea of furthering your IT career this year feels vague or out of reach, understand that you can fulfill your goals by implementing a few simple tips. Here are some ways you can advance your IT career in 2021.
1. Write a Personal Statement of Purpose For Your IT Career
The first step to getting to where you want to go professionally is to write a personal statement of purpose, or statement of intent. If you applied to college, you may remember submitting a statement of intent. However, a personal statement of purpose related to your career isn't something anyone else will ever see. It exists for the sole purpose of helping you meet your professional goals.
If your goal is to gain new career ground in the next 12 months, it is crucial that you get specific regarding what that looks like for you, and a statement of purpose allows you to do that.

Here are a couple of examples of what a statement of purpose might look like for a seasoned IT pro:
My professional objective for 2021 is to move my IT career forward by more effectively helping companies meet their digital transformation goals despite a rough economic climate and a rapidly changing technological landscape.
The key to writing an impactful statement of purpose is to keep it simple. It doesn't have to be perfect – it just has to state clearly what you want to see happen professionally over the course of the year. Then, use this statement to create a detailed plan for your career advancement.
2. Create an IT Career Advancement Map
It's tough, if not impossible, to get to a specific destination without a map. If you've created a personal statement of intent, you now have a specific IT career destination for 2021. But to ensure you get there, you will need a master plan. Creating a plan for reaching your big career goal doesn't need to be complicated, but it does need to be detailed.
Here are some best practices for creating an IT career advancement map that gets results:
Talk to your current supervisor. Let your supervisor know about your overarching career goal for 2021. More than likely, they will have some advice you can take into consideration when making plans for reaching that goal. They may even be willing to help you put together your career advancement map.

Break your largest goal down into smaller goals. It is essential that you break your top IT career goal for the year into several bite-sized goals. Otherwise, you may be tempted to throw your main objective out the window when it starts to feel overwhelming and unattainable. You know yourself better than anyone, so only you know how small these mini goals should be. Use this information to begin piecing your career advancement plan together. And remember that even if you go at a slow pace and aren't exactly where you want to be at the end of the year, you will still have furthered your career significantly by taking the steps you've outlined for yourself.

Enlist the help of an accountability partner. An accountability partner or mentor can also be invaluable to you as you attempt to make and keep a plan for reaching a big goal. This is especially true if the individual is currently in an IT specialization you want to be in. Don't hesitate to try to recruit someone you don't know well for this job. You might be surprised how willing other IT pros are to help you move your career forward.
Even seasoned IT pros sometimes need help making plans for career advancement, especially when their goal is to segue into a new IT specialization. Use the CompTIA IT Career Roadmap to determine what path of learning you'd need to follow to further your career by stepping into a new role, or taking on a more advanced role within your current specialization.
+ Means IT Careers: See How CompTIA Can Help You Get Ahead
3. Earn IT Certifications That Keep You Current with Industry Trends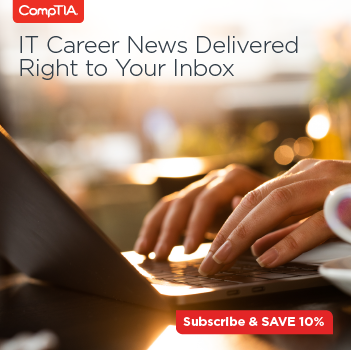 A vital aspect of advancing your career is consistently gaining new IT skills. Of course, this is due to the fact that the information technology industry is constantly changing. It's simply the nature of technology, and precisely why lifelong learners make the best IT professionals.
In 2021 it will be more important than ever to learn fresh IT skills that will make you increasingly valuable to companies. Organizations will be going through major changes this year, and they will need IT pros who are able to meet their needs. The more flexible you are both in your attitude and in your IT skill set, the quicker you will advance your IT career.
A sure way to build new technical skills is to earn IT certifications that align with your career goals, as well as with this year's IT trends. Keeping up with IT trends is important because trends reflect industry changes and organizational needs. CompTIA's IT Industry Outlook 2021 lists several IT trends for this year.
Let's take a look at the trend Cloud Is King:
Rather than making migration decisions for each IT system, companies will modify or choose systems to fit with a cloud strategy. Security assessments, integration requirements and provider comparisons will be par for the course rather than viewed as clunky overhead, and cloud will be the foundation for rebuilding efforts.
You can make yourself more relevant this year and further your career by earning CompTIA Cloud+. This IT certification validates the skills you need to maintain and optimize cloud infrastructure services. CompTIA Cloud+ is ideal for established tech workers who want to prove they have the cloud skills employers demand.
Allow Your IT Career to Thrive This Year by Expecting the Unexpected
If you want to move your career forward this year, you must develop a resilient, adaptable mindset and expect the unexpected. Bank on the fact that like 2020, 2021 will be a year like no other.
This isn't to say this year is going to be as challenging as last year, but it will be a time of rebuilding what was lost, and that is sure to be quite a ride. Those who have a flexible mindset, know where they want to go professionally, have clear-cut IT career goals and are earning IT certifications that equip them with skills necessary for keeping up with current industry trends, will find themselves further along professionally at the end of this year than they were at the beginning of it.
Get career advice like this right in your inbox with CompTIA's IT Career Newsletter. Subscribe today, and you can save 10% off your next CompTIA purchase.