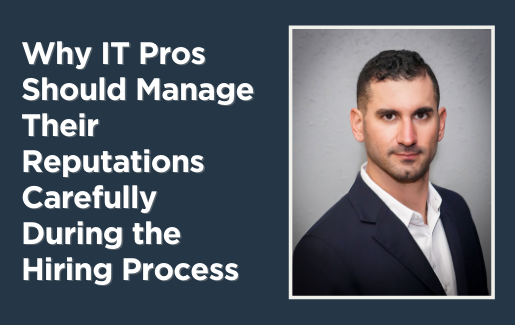 Surely you have heard that tech jobs are in-demand across the United States. In fact, per the May 2022 CompTIA Tech Jobs Report, postings of open positions for IT professionals has increased for 17 consecutive months, rising from 410,000 to 443,000 during April alone.
Career opportunities continue to abound for workers with tech skills in multiple industries. In April, postings for jobs working with technology in professional, scientific and technical fields exceeded 77,000. During the same period, open tech positions in the finance and insurance industries exceeded 67,000,000, while similar postings in manufacturing surpassed 57,000.
Cybersecurity is an especially hot job market. Per CyberSeek, U.S. employers across the spectrum of industries have posted at least half a million cybersecurity job openings over the past two years despite the pandemic's economic impact. Companies are pursuing candidates across a range of cybersecurity skills working with hardware and software, from entry-level specialists to experienced analysts.
During such times of plenty, IT pros with in-demand skills (like cybersecurity) looking to advance their careers may feel as though they cannot lose. If they leave one tech job for another that isn't what they expected, another great opportunity will present itself soon enough.
But IT workers should be wary of jumping from one position to the next too brashly, according to Mark Sasson, managing partner at Pinpoint Search Group, a cybersecurity recruitment firm.
Why IT Pros Should Manage Their Reputations Carefully During the Hiring Process
Sasson, who has been recruiting tech pros for more than a decade, and specializing in cybersecurity since 2014, believes would-be IT job changers should manage their professional reputations carefully while exploring new career opportunities. Carelessly burning bridges during the hiring process, he advised, can not only eliminate the possibility of reversing your direction, but narrow your career path forward, too.
"The pendulum always swings," said Sasson, who warned that today's hot IT job market can cool for reasons no candidate can control or anticipate.
Moreover, industries like cybersecurity are smaller than they may seem. With digital networking tools like LinkedIn, former, current and prospective employers may very well be connected in some way, especially with the technology industry's vast web of partner and channel relationships.
"If you've treated someone poorly or acted unprofessionally [during a hiring process], there's a good chance that executives interviewing you will hear about it," he explained.
That can damage immediate job prospects and limit future options, as hiring managers can have long memories. Sasson said former clients who haven't contacted him for 10 years have reached out recently via LinkedIn looking for tech talent.
"Who knows where the executive that's interviewing you today is going to end up in two, three or four years, and who knows whether you may want to interview with that company," he said. "You are truly risking the quality of your career," if you fail to manage your reputation while pursuing your next position.
Sasson said "every relationship, every conversation matters" with current employers, prospective suitors and recruiters if your objective is longevity in an IT career.
"Maybe you won't feel consequences today, but the consequences may get you at a time when you least want to feel the impact," he advised.
Which Professional Skills Help IT Pros Manage Their Reputations Successfully
The best way to manage your reputation successfully during the hiring process is focusing on professional skills. Sometimes called soft skills, these demonstrate your business savvy and professionalism.
America Succeeds found that 7 of the 10 most requested skills in job postings are professional skills and that employers seek these skills nearly four times more frequently than the top five technical skills.
Sasson encourages IT pros to cultivate three professional skills for effectively managing their reputations during the hiring process:
Collaborative communication
Critical thinking
Character
How IT Pros Can Apply Professional Skills to the Hiring Process
1. Collaborative Communication
To illustrate collaborative communication, Sasson described what IT pros should never do. He told the story of a candidate for a cybersecurity position who abruptly stopped all email and text correspondence and never offered an explanation.
"He was engaged. He interviewed with several people. He was scheduled [to interview] with the chief revenue officer and blew off the meeting," Sasson said. "I can guarantee you that entire [employer's] executive staff will never, ever talk to [that candidate] again."
Rather than a complete ghosting, Sasson suggests candidates discuss matters with recruiters openly and honestly. If you both agree the position is not the best fit, the timing is not right or other issues concern you, then the recruiter can propose gracious and graceful ways to communicate that you are withdrawing from consideration.
2. Critical Thinking
For critical thinking, Sasson recommends a "3 Yes" method for evaluating new opportunities.
Reflect on a job offer by asking yourself three questions:
Have I received and reviewed all available information about the position?
Will changing jobs advance me toward my overall career goals?
Do I believe the financial package provides fair compensation?
If after deliberate contemplation you decide the answer to each question is yes, Sasson said most likely you should accept the offer.
3. Character
In terms of character, Sasson tells candidates: "Do what you committed to do when you signed the offer letter."
This principle, he stressed, applies to the set of skills you agreed to bring to your new position and developing productive relationships with new executives, managers and other colleagues.
"There's a huge element of trust," Sasson said. He counsels and encourages candidates to remember that the people you meet during the hiring process will heavily influence your final decision, so treat each of them with appropriate respect.
"Keep in mind that when you sign the offer letter, they stop the search. They cut loose competing candidates. If you don't show up for work the first day, they're back to square one. You could set their company back by as many as four months [in terms of the recruiting process]," he said. "Like you, they have goals that they need to accomplish. They're human beings, and they are trusting that you're going to do your job. And you need to trust that they're going to uphold everything they said."
Get career advice like this right in your inbox with CompTIA's IT Career Newsletter. Subscribe today, and you can save 10% off your next CompTIA purchase.