After everything we went through in 2020, 2021 is sure to be a year of continued adjustments and accelerated digital transformation. To keep up, IT pros must actively seek IT skills that are in high demand. These in-demand skills will keep you competitive and functioning well into your IT career, regardless of what the future holds.
17 IT Skills Every Tech Specialist Should Seek This Year
This is a time for IT professionals to level up tech skill sets by obtaining specific competencies. If you choose to maintain the status quo, you may risk losing relevance in your field. Here are some of the top IT skills in demand this year.
1. Machine Learning Skills
There are many skills that fall under the heading of machine learning. IT pros should start with software engineering, system design, computer science fundamentals and programming. These competencies help IT pros find patterns in data.
2. Artificial Intelligence Skills
To strengthen artificial intelligence (AI) skills, which are key this year, IT specialists should seek knowledge of programming languages and data engineering. Additionally, learning about natural language processing (NLP), a branch of AI, will also be helpful to IT pros who want to add weight to their resume.
3. Cloud Computing Skills
The COVID-19 pandemic has wreaked havoc on company finances. Cloud computing skills, such as configuration, deployment, security for cloud services, management and troubleshooting will be essential to IT pros since cloud computing can help reduce capital expenditures by 38%.
4. Data Science Skills
Organizations need employees who can interpret raw data and transform it into usable feedback that enables them to create better products and services. Learning to work with a variety of programming languages (SAS, R and Python, for example) – a data science skill – can help IT pros do this.
5. Programming Language Skills
To say that understanding programming languages, such as Java, Javascript, C++ and Python is an IT skill currently in demand is an understatement. Every IT pro should work to strengthen these top skills in 2021.
6. Cybersecurity Skills
The COVID-19 pandemic has made companies more vulnerable than ever to cybercrime. By arming themselves with cybersecurity skills, like risk identification and management, IT pros can help keep organizations' sensitive data safe.
7. Big Data Skills
Big data enables companies to analyze huge amounts of data and make better business decisions. IT skills in demand in 2021 that are related to big data include effective problem-solving skills, data handling skills and understanding programming languages. By pursuing these competencies, IT pros can advance their career.
8. Soft Skills
In addition to technical skills, IT pros should bring a variety of soft skills to the table this year. Adaptability, empathy, teamwork, communication and active listening are just as important to employers as tech skills are. With that in mind, building and strengthening soft skills should be a top priority for IT specialists.
9. Automation Skills
Automation boosts efficiency, which is exactly what many companies need in the wake of the current global health crisis. A few automation-related skills tech specialists should seek include virtualization skills, cybersecurity skills and troubleshooting skills.
10. Structured Query Language (SQL) Skills
SQL is the standard programming language for relational databases, and it is important that IT pros know how to structure and manage these databases. Getting familiar with SQL is the only way to do this. Those wanting to move into a database administrator role should make it their mission to learn SQL inside and out.
11. Data Analytics Skills
An IT pro well-versed in data analytics has the ability to examine raw data and reach conclusions that enable companies to get better business results. As a top IT skill in demand for this year, it is vital that tech specialists learn the art of data analytics. Gaining some of the skills listed earlier, such as machine learning skills, SQL skills and language programming skills will strengthen your data analytics skill set.
12. Linux Skills
This year, companies are relying on IT pros to know how to operate Linux successfully. Basic maintenance, installing and configuring workstations, networking, and understanding the Linux command line are skills tech workers should start mastering now.
13. Mobile Application Skills
Organizations are increasingly turning to mobile app solutions to expand their customer reach during the coronavirus pandemic. Understanding application programming interface (API) development platforms and cross-platform app development frameworks enable IT specialists to help companies develop mobile applications and create the solutions they need during this tumultuous time.
14. Software Development Skills
New software is being developed rapidly to meet the changing needs of companies and their customers. IT pros should strive to gain software development skills, like software testing and debugging capabilities. Other skills in this family include programming language skills, user experience (UX) and DevOps skills, as well as the ability to design secure databases.
15. UX Design Skills
Proper UX design can help increase productivity, decrease support costs and boost customer retention and acquisition. Each of these benefits is attractive to organizations striving to create a healthier bottom line. IT pros should seek UX design skills, such as knowledge of researching target markets, visual design skills and coding, and project management skills to establish themselves as experts in the tech industry.
16. Business Analysis Skills
Business analysis is one of the most important IT skills in demand this year. There are many skills related to business analysis, including interpersonal and consultative skills, stakeholder analysis skills, and organizational and problem-solving skills. More than anything, tech professionals need a solid foundation in IT to operate in a business analysis capacity.
17. Virtual Reality Skills
According to Deloitte, virtual reality (VR) is set to grow in 2021. "We predict that...VR...will grow by 100% in 2021 over 2019 levels," as reported by Hypergrid Business. Examples of virtual reality skills IT pros should pursue include software engineering skills and knowledge of 3D tools and sound design.
By building as many of these skills as possible, IT pros can add maximum value to any project they contribute to. And an added bonus of upskilling is the potential to earn a higher salary. Thankfully, gaining the IT skills in demand for this year's job market is a simpler task than you might think.

How to Get the IT Skills You Need This Year
Looking at all the IT skills needed for this year may feel overwhelming. Creating a plan to obtain the technical skills you need will help.

First, take stock of your current capabilities. Which of these skills do you already possess? Cross them off the list and make a new list of the skills you are lacking.

While it may not be workable to become proficient in every skill you would benefit from having this year, it's entirely possible to add several new skills to your resume by earning the right IT certifications.
CompTIA offers a wide array of IT certifications that validate many of the in-demand skills from this list. Start with CompTIA training solutions, like CompTIA CertMaster Learn, and then prove your knowledge to employers by getting certified.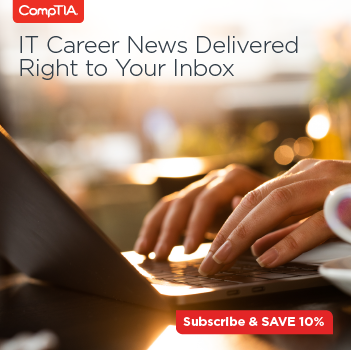 Want to know more about CompTIA certifications? Learn how to choose, how to study for and how to save money on CompTIA certifications, as well as how to take your exam and how to get a new job once you get certified, with + Means More: How CompTIA Can Help You.
Kick off the new year by developing some of the top IT skills in demand for 2021. As a result, you'll gain ground in your career during what is sure to be a year of rapid transition in the IT industry.
Ready to start studying? Writing out your plan will set you up for success. Download our free training plan worksheet to help get organized and make your dream a reality.