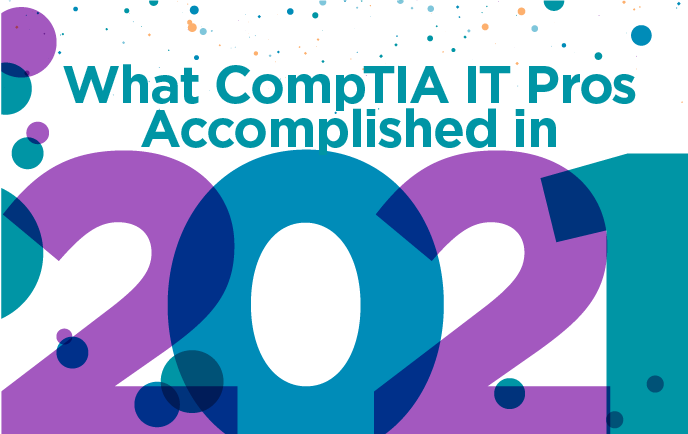 CompTIA supports IT pros throughout their careers. Through our training and certifications plus countless free resources, you could achieve your goals doing what you love most. Here are a few of the accomplishments that IT pros have shared with us this year.
(Career) Change Is a Good Thing
"After being laid off from an office job, I went to work at a coffee shop with good benefits to change careers, focusing on IT. The plan was working well, then the pandemic hit. I was laid off, and I pivoted to being the parent at home while my partner paid our bills. We made an aggressive self-education plan together. Within nine months, I achieved CompTIA A+, CompTIA Network+ and CompTIA Security+ certifications. Now I'm looking for work in IT, and it's at least a year ahead of schedule compared to the coffee-slinging plan."
Cayce A.
"I decided to go back to school at the age of 50 to earn a computer science degree. This was a change of career for me. I worked the last 24 years as a counselor. A lot of people told me that I was crazy and couldn't do it. I worked very hard and earned my CompTIA Security+ certification. I am well on my way to my degree in computer science and got my first IT job. I wish I could tell other women and non-traditional students that if they have a dream, they should go for it."
Alice E.
"My accomplishment this year is one of determination. After being laid off last year from my deskside support technical role, I decided to buckle down and pursue more education and knowledge. I had gained my CompTIA A+ certification in the beginning of 2021. I also have plans to acquire further education before year end. Thankfully, due to my determination to further develop my skills and never giving up searching for employment, I can say with much gratitude that as of today I had my first day at my new IT role within the airport."
Chris S.
Get More Out of Your Certification
"I ended 2020 having earned my CompTIA Security+ certification. My workplace was hit with ransomware in the spring. This delayed my studying for CompTIA Cybersecurity Analyst (CySA+) but gave me a hands-on approach to being a cybersecurity analyst and to earn the CompTIA Security Analytics Professional Stackable Certification."
Marcus R.
"This year has been a hectic year with my wife being away at medical school three hours away and becoming a one-income and parent household. It has been a challenge to work on pursuing my IT career. Nonetheless, with all the struggles I was able to schedule lab and study time to work towards the CompTIA Linux+ certification. After a few months, I'm proud to say that I successfully passed the Linux+ exam on July 25, 2021. It was a great accomplishment and allowed me to remind myself that even with all the struggles of life, we all can work hard for something we truly WANT! There's enough time in the day to budget an hour or two to dedicate to studying."
Luis V.
"I previously worked in IT until I unfortunately had a stroke. I became disabled and retired. I decided to return to IT and was able to self-study. I failed the CompTIA A+ 1001 exam the first time. However, I was determined to pass, so I retook the exam and passed! I look forward to passing A+ core 2, receiving my CompTIA A+ certification and attaining several certifications."
Contina M.
Kickstart Your IT Career
"With some help from CompTIA and my Security+ certification, I was accepted into Syracuse University's graduate program in information studies. I was able to take these accomplishments and use them to get selected for a commission opportunity in the Air National Guard to become the warfighting operations communications officer for my unit!"
Thomas T.
"I was able to work in AWS, Azure and VMWare Environments with the tools of CompTIA. I set up four new company environments and just graduated with my bachelors in IT. I have been making strides to be a part of the women in IT movement. I was able to be a judge for math, education, science and academic competitions for K-12 STEM programs in Arizona. I was also able to volunteer for Black Hat, DEFCON and CactusCon."
Crystal W.
They've Got the Skills
"An IT goal I have accomplished this year is starting up my mentorship program. By volunteering my free time, I helped people get a head start in the IT industry. I have reduced my organization's downtime with a server migration of over 1,000 thin client desktops within a two-week period. I have accomplished getting started on my cybersecurity career with getting involved with groups, professionals and hacking labs such as TryHackMe and HackTheBox. I am currently working on studying for the CompTIA Security+ exam."
Cassandra W.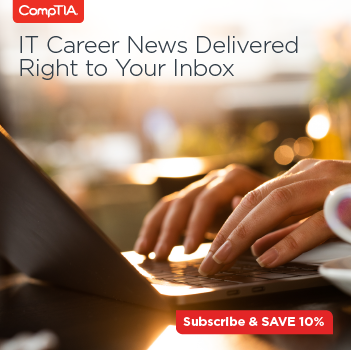 "I'm a French guy who followed his wife to the United States because she got transferred by her company. I got my employment authorization card in February 2020 then COVID hit. I've always been interested in computer and IT stuff, so I started to watch YouTube videos and I discovered a bunch of great YouTubers like Network Chuck, along with people who gave advice and taught classes. It was so great, I decided to turn my career to another direction to step into the great IT universe! So far, I've studied Python, Linux, setup my home network, how to create and use GitHub, and other little things here and there. Thank you for everything you do!"
Steve N.
"[After leaving my job], I formed a new company. I had been studying for a few CompTIA certifications and really wanted to pass them and improve my marketability. This new adventure required me to stretch my experience and knowledge to the limits. I had knowledge from working in construction years back as an estimator and have studied for several certifications in cybersecurity, such as the CompTIA Advanced Security Practitioner (CASP+) and CompTIA CySA+ and had a unique approach to getting in the door with companies.

I began estimating for technology work on large commercial projects and reached out to a few of my old co-workers to recruit people. I got software developers, hardware techs, repair techs, installers, network engineers, etc. Now they get to stretch their wings every day like I do.

We have our first provisional patent on new technology and a prototype in the works. Because I wanted to learn to be a cybersecurity professional, I learned that the experience and skills I have are just as useful when applied where needed. Eventually, I will get back to my certifications. Until then, I've got a business to grow, and so far, it's looking pretty good."
David K.
"I configured an old [small office home office (SOHO)] router as a [wireless access point (WAP)] to extend the wireless signal of our home network to the backyard. My goal was to facilitate wireless access while doing yardwork and to fix poor connectivity to a security camera. I tested three old SOHO routers to see which allowed the most data through per second.

I also configured the household's main desktop as a print server so I could print wirelessly from my laptop. I also edited settings on both machines to allow for access of each file from the other.

I went through a dozen cell phones and around four old computers to back up old photos from the last decade. I organized 17,000 photos topically, backed up the images and my families' personal docs to a public cloud provider, as well as on two 3.5" [Serial Advanced Technology Attachment (SATA)] drives removed from old desktops.

I also made system images of the two main systems used in the household and backed them up on their own partitions on the SATA drives. I then recycled a trunk's worth of electronics at a nonprofit.

I opened up a desktop and a mobile device for the first time, and I learned how to use a multimeter.

I also passed both tests for CompTIA A+ on the same day in February. I passed after studying since October using a book from the local library.
I later passed the test for CompTIA Security+ in July. I took the test on a Saturday to avoid work conflicts and drove two hours from my home to test. I again passed predominantly by reading a book three times.

I'm not sure of the exact niche to transition from law to IT, but I learned a lot that I actually remember and enjoyed learning. It helps me not just professionally, but day to day. I think if I had to start in entry-level IT, I'd be fit to do it now."
Andrew H.
IT Pros Can Fix Anything
"With COVID changing the education sector, our district elected to go 1:1 for student devices and staff members. On top of my usual summer tech refresh and renovation campus responsibilities, I've been instrumental in moving us to a 1:1 district, moving our team to a new office, upgrading our systems to a cloud-based automated system, upgrading a broadcast studio, and so much more than I have ever had on my plate before. Although I have my CompTIA Project+ certification and PMP already, education is constantly evolving."
Rachel D.
"I currently work for a 420-bed hospital with several outlying clinics, and within the last year we have accomplished the monumental task of switching our Electronic Health Record (EHR) system to Epic. We were the first to get certified and built the entire system from the ground up.
In the middle of the global COVID-19 pandemic, we were also able to achieve the first mass vaccination clinic in Alabama. We went live a full two weeks ahead of our scheduled go-live for the EHR system. I'm proud to have played a critical role in these accomplishments and to work at an organization that values their employees enough to pay for training and certification.
I have been able to acquire all of the infrastructure path certifications from CompTIA on my five-year journey at the organization. I began as third-shift help desk and have been able to work my way up to a senior systems administrator position. Gaining that much traction in that short of time wouldn't have been possible without the knowledge and respect I have gained through certification."
Chris P.
"I was awarded Employee of the Year 2020. It was my first full year in the IT Industry. I accomplished the following:
Highest first-call resolution rate at 85%
Processed 11K issues/requests with 1 error
Highest daily volume with averaging 50 per day
Obtained IT certifications CompTIA A+, Network+ and Security+
Self-taught PowerShell scripting and creating scripts
Promotion to specialist II
Received other numerous awards throughout the year"
Cassidy G.
CompTIA appreciates the efforts IT pros put in day after day and are proud to give them the recognition they deserve. There is so much you can accomplish in a year, even if there are obstacles along the way. It's all about getting out there, trying things and doing what makes you happy.
What are your 2022 goals? Use our Study Worksheet and let CompTIA help you achieve your goals.