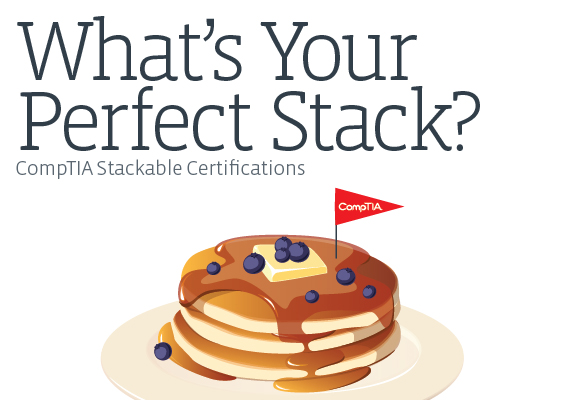 It's the interview question we've all likely been asked: Where do you see yourself in 1 year, 5 years or even 10 years? But, it's the question for which most of us don't have a definitive answer. I mean, sure, we'd like to have been promoted, be making more money and have more responsibility – but how do we get there? Our mentors will tell us to set small goals along the way and take the necessary steps to achieve them. But even then, how do we know we're on the right path? CompTIA Stackable Certifications are here to help.
CompTIA Stackable Certifications create a sequence of credentials over time to build up your qualifications. The program not only offers guidance in skills acquisition, but also acknowledgement that not all career journeys follow the same path.
Our career pathways are divided into three categories:
Specialist: Early-career IT pros with 0 to 2 years of experience
Professional: Mid-level IT pros with 2 to 5 years of experience
Expert: Established IT pros with more than 5 years of experience
The certification you first earn and the one you choose to pursue next depends on the experience you bring to the table and your career goals. Now we have a question for you: What's your perfect stack?
If You Have an Interest in Infrastructure…
When taken together as the CompTIA Infrastructure Career Pathway, CompTIA A+, CompTIA Network+, CompTIA Security+, CompTIA Server+, CompTIA Linux+ and CompTIA Cloud+ validate the skill sets needed across IT operations, deepening your mastery of skills and broadening the number of IT infrastructure roles in which you can contribute. What route will you take?
CompTIA IT Operations Specialist (CIOS)
Stack CompTIA A+ and CompTIA Network+
An IT operations specialist manages the flow of a workplace and optimizes day-to-day activities. In this role, you will analyze business operations and identify customer needs.
CompTIA Systems Support Specialist (CSSS)
Stack CompTIA A+ and CompTIA Linux+
A systems support specialist is responsible for all aspects of help desk support and technical assistance, addressing a variety of user issues, including troubleshooting software, hardware and networks.
CompTIA Cloud Admin Professional (CCAP)
Stack CompTIA Network+ and CompTIA Cloud+
A cloud admin professional will help an organization maximize the business opportunities that the cloud creates.
CompTIA Network Infrastructure Professional (CNIP)
Stack CompTIA Network+ and CompTIA Server+
A network infrastructure professional delivers complex infrastructure design projects from inception through development and delivery.
CompTIA Linux Network Professional (CLNP)
Stack CompTIA Network+ and CompTIA Linux+
A Linux network professional provides hands-on support and monitoring of critical internal and client systems.
If You're Seeking a Role in Cybersecurity…
With CompTIA A+, CompTIA Network+, CompTIA Security+, CompTIA Cybersecurity Analyst (CySA+), the forthcoming CompTIA PenTest+ and CompTIA Advanced Security Practitioner (CASP), the CompTIA Cybersecurity Career Pathway helps technical specialists achieve cybersecurity mastery, from beginning to end. Where will you start?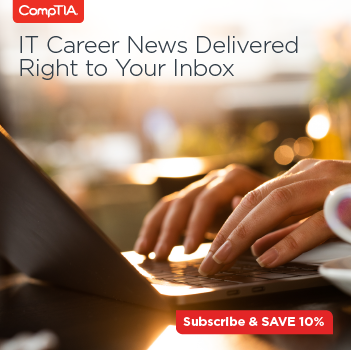 CompTIA Secure Infrastructure Specialist (CSIS)
Stack CompTIA A+, CompTIA Network+ and CompTIA Security+
As a secure infrastructure specialist, you'll not only be able to support hardware and software systems, but will also be able to protect your organization's assets from internal and external threats.
CompTIA Secure Cloud Professional (CSCP)
Stack CompTIA Security+ and CompTIA Cloud+
As a secure cloud professional, you'll be ready to address the business and technical security challenges in an enterprise's cloud computing environment.
CompTIA Security Analytics Professional (CSAP)
Stack CompTIA Security+ and CompTIA CySA+
A security analytics professional plans and carries out security measures to protect an organization's computer networks and systems.
CompTIA Network Vulnerability Assessment Professional (CNVP)
Stack CompTIA Security+ and CompTIA PenTest+
A network vulnerability assessment professional scans applications and systems to identify vulnerabilities that can be used as a blueprint for improvements.
CompTIA Network Security Professional (CNSP)
Stack CompTIA Security+, CompTIA PenTest+ and CompTIA CySA+
As a network security professional, you will monitor networks for threats or unauthorized users as well as analyze security risks and develop response procedures.
CompTIA Security Analytics Expert (CSAE)
Stack CompTIA Security+, CompTIA CySA+ and CASP
A security analytics expert engineers security solutions and generates research results for security based on data analytics.
CompTIA Security Infrastructure Expert (CISE)
Stack CompTIA Security+, CompTIA CySA+, CompTIA PenTest+ and CASP
As a security infrastructure expert, you'll be responsible for managing and leading the information security infrastructure and projects in a global organization.
I'm Already Stacked!
If you already hold the certifications that make up a CompTIA Stackable Certification, congratulations! Make sure you add your newfound accomplishment to your resume and LinkedIn profile. You can also log in to your certification account to download a certification to display in your workspace.
I Found My Perfect Stack!
If you already hold a CompTIA certification, you may be on your way to your perfect stack. Now's the time to take a look at other certifications that make the most sense for your career and make a plan to cross those certifications off your list.
Not sure which pathway to follow? Take our quiz, What's Your Certification Pathway?