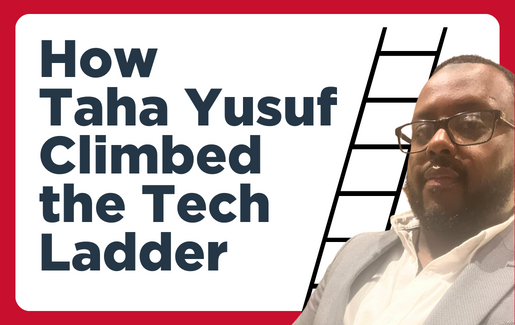 Last year, we had the pleasure of speaking with Taha Yusuf to discuss his preparation process when studying to pass four CompTIA exams in just three days. At the time, Yusuf was working as an infrastructure engineer for a private college and since then, his career has taken some pretty exciting turns.
We recently had the opportunity to catch up with Yusuf to talk about what he's been up to since our last conversation, how CompTIA played a role in his success and the advice he has for aspiring IT pros.
The Journey to Becoming a Network Architect
Although Yusuf enjoyed being an infrastructure engineer, he knew he wanted to specialize in network engineering and automation. So, while working full-time, he decided to earn a few more certifications. Juggling his studies, work and family obligations was difficult, but he knew that it would pay off in helping him get to the next level of his career.
Yusuf first completed the Terraform Associate certification in December 2022, followed by the Google Cloud DevOps Engineer Professional Certificate – which he completed in just a month and a half. Finally, he started studying for the Cisco Certified DevNet Specialist certification, which is widely known to be an extremely difficult certification to pass. In fact, it's not recommended (and even advised against) to attempt the specialist or professional level certifications without first passing associate level certifications – but Yusuf knew how much he wanted it. And with his knowledge, confidence and dedicated nature, he passed.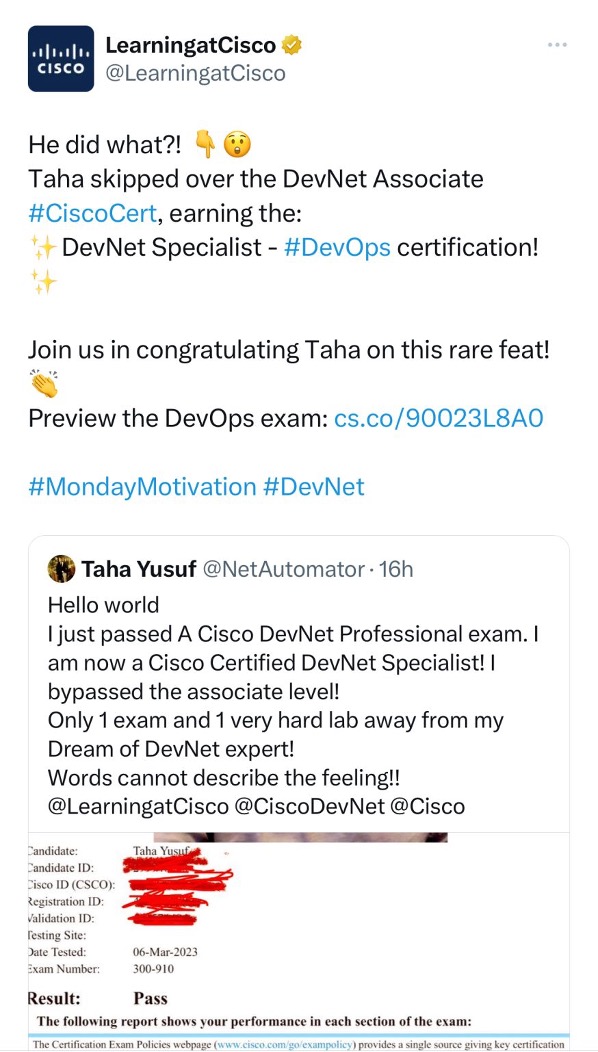 From that moment on, his life quickly changed for the better. With Cisco being a well-known provider, companies saw the response above and Yusuf was receiving interview and job offers left and right.
One company in particular, Capgemini, a leading strategic partner to companies around the world, invited Yusuf to interview for a network engineer role. Yusuf knew how tough the multi-round interview process was going to be, so he immediately dove back into his CompTIA Network+ materials to prepare for his technical interview. A few days after his interview, he received a job offer from Capgemini for an infrastructure network architect role, marking a significant milestone in his career journey. But it wasn't just his technical know-how that helped him land his current job – it was also his innate passion for tech.
"Look, I'm not the smartest per person in the world, but [the interviewer] could see that I was very passionate and dedicated." Yusuf said. "I would do anything to have my dream – and that was to work with networks; that would be my ultimate goal."
How Tech Has Changed Yusuf's Life
Technology has impacted Yusuf's life in ways he could only imagine. Working in tech has brought him financial stability and work-life balance, allowing him to work remotely and enjoy a lifestyle that allows him to pursue his interests outside of work.
Aside from financial and lifestyle rewards, working in tech has made Yusuf happier, more fulfilled and given him a sense of purpose. It has allowed him to exercise his passion and use his skills to make a difference in the companies he works for, as well as the people that he meets. His journey has also given him a sense of social mobility, opening doors to opportunities that were previously out of reach – and for Yusuf, that's the true power of technology.
The Importance and Transformative Power of Certifications
Despite some common misconceptions and arguments that Yusuf has heard, the importance of certifications can't be overstated. While it's true that you might not need certifications, they provide a comprehensive curriculum and structured pathway that validates your skills to employers in ways that self-learning can't. Plus, being certified can significantly speed up your transition time when moving into a new role or industry.
This is why organizations like CompTIA have certification pathways. They lay out the blueprints for learning, which saves you time and ensures you don't have any gaps in necessary knowledge.
"You have two options. One is self-learning, and the other is through a certification program. But the end result is still the same. You're still going to learn. Whether you choose a certification or choose to go ahead and learn it yourself, you still have to go through a learning process." Yusuf explained. "Now, my argument on all the boards – and I get into a lot of arguments (and I try not to) with a lot of people – is: Why not just take the certification route? Learning will be much more structured."
And Yusuf is absolutely correct. Certifications offer a structured, validated pathway to knowledge that can accelerate your career progression.
"[Certifications] will open doors for you, especially through HR. [Having certifications] really does get you through the screening process, and it shows prospective employers that you're someone who's passionate; someone that wants to learn." Yusuf added. "I've always said that if two people have the same level of expertise and experience, the person who has the certifications will probably get the job over the person who doesn't."
So, whether you're just starting your tech career or looking to advance your career, don't underestimate the power of certifications – they could be the key to unlocking your next big opportunity.
The Need for Recertification
The pace of technological advancement is dynamic and fast-paced, and what was once emerging tech can become the norm in a matter of years—sometimes even months. This is a reality that many IT pros, like Yusuf, have come to realize. The knowledge you acquire during post-secondary education can quickly become outdated, and what once served as a passport to tech may not be enough in today's modern tech landscape.
Certifying bodies like CompTIA understand that technology doesn't stand still, and neither should certification. That's why recertification requirements are in place and the reason why certification versions expire. It's an essential (and often overlooked) practice to ensure that certified professionals keep their knowledge and skills up to date with technological evolution.
Recertification serves as a commitment to continuous learning and keeping up with the latest developments and standards in the industry. It's the key to staying relevant, competitive and ready for whatever the tech industry throws your way.
The Role of CompTIA in Yusuf's Successes
While preparing for his technical interview at Capgemini, Yusuf turned to CompTIA's certification materials to prepare and help him excel in the interview. CompTIA Network+ and CompTIA Server+, in particular, played an instrumental role and served as the building blocks of his career. These certifications are more than just credentials on a resume; they validated Yusuf's expertise and dedication to continuous growth, making them a valuable asset that will always hold significance in his career.
"I will tell you right now, hand on my heart, that the Network+ and Server+ certifications have really, really ingrained a foundation for me that I will never, ever be able to forget. That will always be valuable to me." Yusuf said.
CompTIA has been a guiding light in Yusuf's career, providing him with the tools, resources and knowledge needed to succeed in the tech industry. The certifications and learning materials offered by CompTIA have not only helped him land a job at a prestigious company like Capgemini but also continue to power his professional growth.
Giving Back to the IT Community
Yusuf's success in the tech industry has fueled his desire to give back to the IT community and help others navigate their own paths. He is actively involved in online communities, such as Reddit and Twitter, where he is always ready to assist those who reach out to him, answering their questions and providing guidance.
"I've helped numerous people that have reached out to me since I managed to pass those exams. There was a particular guy who wanted to get into network engineering. He reached out to me on Reddit saying that he failed Network+ twice and asked for help." Yusuf said. "Funny enough, he's actually based in the UK as well. We're good friends now. But he passed Network+ and is now in a network admin role. And because of him earning Network+, he's learned so many things."
Yusuf's efforts are a testament to his belief in the power of community and the importance of giving back.
Current Role and Future Plans
His current role as an infrastructure network architect for Capgemini is project-based, focusing on software-defined networking and designing computer networks. He assesses how current designs might impact the business and works through a meticulous project process, which includes the following phases:
Step 1: Information gathering and feasibility
Step 2: Design
Step 3: Implementation in a testing environment
Step 4: Migration or build out of the network
Step 5: Maintenance
Yusuf also recently passed the Fortinet NSE7 Network Security Architect certification, which is a huge accomplishment and a complement to his current architect role, especially due to the extreme difficulty of passing certifications at the architect level.
Looking ahead, Yusuf plans to write a book, aiming to share his wealth of knowledge and experience with a wider audience. This project is another demonstration of his commitment to contribute to the broader tech community. With his expertise and passion for tech, there's no doubt that his book will serve as a valuable resource for many.
Advice for Aspiring IT Professionals
Yusuf's journey has been proof of the transformative power of working in tech. From his initial steps with CompTIA Network+ and CompTIA Server+ to his current role, his career is a story of devoted learning, adaptation and growth.
For those embarking on a career in the tech industry, Yusuf emphasizes the importance of pursuing certifications, embracing continuous (and hands-on) learning—and most importantly—staying curious. In an industry that's constantly evolving, staying updated with the latest trends and technologies is not just beneficial – it's essential. He encourages aspiring IT professionals to cultivate a love for learning and to view it as a lifelong journey rather than a destination.
Get more success stories like Taha Yusuf's, IT career advice and tech tips sent straight to your inbox with CompTIA's IT Career News. Sign up today and get 10% off your next CompTIA purchase.