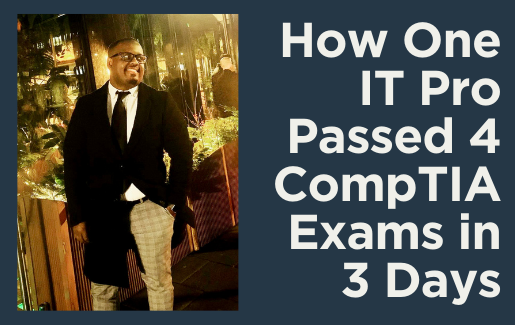 Taha Yusuf is a passionate and dedicated IT pro who recently passed four CompTIA exams in less than 72 hours – CompTIA A+ (two exams), CompTIA Network+ and CompTIA Server+ – definitely an accomplishment to be proud of. Read on to learn about what Yusuf is up to now, why he set out to earn three certifications in quick succession, his study tips and how his life has changed since earning his CompTIA certifications.
Meet Taha Yusuf
Taha Yusuf holds a Bachelor of Science in computer science and a Higher National Diploma in computing from University of Greenwich in London.
Yusuf is currently an infrastructure engineer and the only IT pro for a five-floor higher education building. He manages the network side of infrastructure as well as server admin and end-point user support.
Prior to working as an infrastructure engineer, Yusuf worked as a contractor, freelance consultant and developer and previously worked in systems administration/IT support for Fujitsu IT services and Juniper Network.
How Yusuf's Passion for IT Started
IT has been a huge part of Yusuf's life for as long as he can remember. At the age of 11, his dad found an old computer, and upon dissecting it, he was immediately fascinated. At 13, he built his very first PC and later went on to write his first software at the age of 14.
To Yusuf, his work is more than just a job.
"IT is beyond a job for me. It's a deep passion of mine," he said. However, Yusuf makes a point that you do not have to be passionate to succeed, and passion can grow over time.
A year ago today, Yusuf didn't know the basics of networks. Early in his career, he focused on general tech support.
"What I thought of network – to me, it was just connecting computers and servers, but it was much deeper than that," he said. "CompTIA Network+ really opened my eyes and sparked an interest in me. "
Why Choose Certification and What Made Him Decide to Take Four Exams in Three Days?
To put it simply, it was a personal vendetta. At university, Yusuf felt he wasn't being challenged. After he graduated, he had several corporate jobs but had to step away to deal with a personal matter.
After contracting and consulting for some time, he was ready to come back to the corporate world and wanted to do so with certifications. He learned that CompTIA certifications are the industry standard and one of the most recognized by employers.
"CompTIA certifications opened the floodgates," he said. "It ignited the passion I had. It really has changed my life – I can't think of words to describe it."
In the end, the vendor-neutral aspect of CompTIA certifications is what attracted him due to the ability to perform a job role, no matter the specific tools or programs used, in addition to having previous experience being enrolled in a course that taught CompTIA certifications.
As he reviewed the exam objectives and began studying, Yusuf noticed areas of overlap between CompTIA A+, CompTIA Network+ and CompTIA Server+. He decided it made sense to study all three together, combining the related topics, rather than studying for one exam at a time. You're not just studying for an exam; you're studying to learn a new skill that you will use on the job.
"CompTIA certifications opened the floodgates. It ignited the passion I had. It really has changed my life – I can't think of words to describe it," he said.
How Yusuf Studied
The most asked question Yusuf received after completing his exams was, "How did you study for four exams in three days?"
Yusuf's answer? Overlapping concepts. By studying for one certification, you are indirectly studying for another due to a common denominator. The common link between CompTIA A+, CompTIA Server+ and CompTIA Network+ is network fundamentals.
Yusuf outlined the steps he took to prepare for his CompTIA exams:

1. Read and reflect on the theory.
Preparing for the CompTIA A+ certification exam requires focus and dedication, but how long it takes depends entirely on where you are starting from.
We recommend you start your certification journey by downloading the exam objectives. This gives you an opportunity to take inventory of your competency on each topic and determine where to focus your energy. Then you can dive into studying what you don't know and reviewing what you do.
2. Work on physical implementation.
At this point, most people take practice exams, but physical implementation is the way to go. To get hands-on practice, Yusuf bought an old switch from eBay for about £10.
"Physical implementation provides you with a different level of knowledge because now you know how to implement it and what it looks like," he said. "It enhances what you read. It also provides you with the dynamic overview of the technology you are looking at and gives you the moving parts to help close those knowledge gaps."
3. Cement the information.
Lastly, you need to cement all the information that you learned. Once you implement it, if you move on too quickly, you forget, which you do not want to do on exam day. Yusuf writes about what he learns in his blog. He creates analogies and most importantly – he teaches someone.
"When I teach someone what I've learned, it has this magical effect where it cements itself in my memory," he added. If you can do all of that, then you have cemented the information. Even if you do forget later, it's not totally forgotten. When the subject comes up, you will recall what you learned.
CompTIA CertMaster
CompTIA's CertMaster products help you learn the skills you need to succeed and follow Yusuf's plan: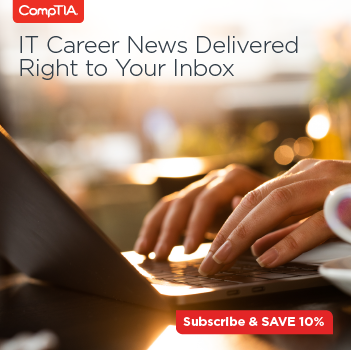 CompTIA CertMaster Learn is a comprehensive, self-paced eLearning environment that uses videos, assessment and performance-based questions to prepare candidates for their certification exam.
CompTIA CertMaster Labs helps learners gain hands-on experience configuring a wide range of technologies in a self-paced, pre-configured browser-based environment in order to prepare for practical aspects of the exams.
CompTIA CertMaster Practice is an adaptive knowledge assessment tool that determines what a learner has already mastered and what they still need to learn to improve confidence and increase retention before the exam.
How Does Yusuf Describe His Exam Experience?
Yusuf explained that the second CompTIA A+ exam was brutal and one of the hardest he's taken. On the other hand, he felt confident during the CompTIA Network+ exam because he enjoyed the material the most.
Yusef was unsure about CompTIA Server+, and even thought that he had failed. When he found out that he passed, he broke down crying. He stated that those three days were difficult mentally and physically and he couldn't sleep because he was nervous for the next day, but it was something he wanted to accomplish.
Earning his certifications has made Yusuf more attractive to employers, with job offers ranging from network engineer to DevOps and cloud roles. Ultimately, he chose his current role as an infrastructure engineer due to the sheer responsibility of the job. Yusuf thrives on challenges.
"When I was told I will be the only person to look after the entire IT infrastructure of a five-floor building, I smiled and said to myself, 'Bring it on.' It's the level of responsibility that I enjoy," he said. "There is never a moment I am bored!"
Get more success stories like Taha Yusuf's, IT career advice and tech tips sent straight to your inbox with CompTIA's IT Career News. Sign up today and get 10% off your next CompTIA purchase.