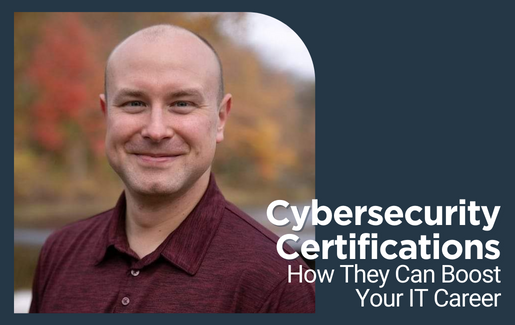 Cybersecurity professionals earn certifications from trusted organizations like CompTIA for a variety of reasons. Some certifications are theory-based, where learners focus on developing deep understanding of knowledge areas like risk management, system design, legal compliance, security architecture or auditing.
Other certifications are practice-based, where learners focus on acquiring hands-on skills for operational processes like network security monitoring or performing tasks with specific technologies such as operating systems, computer networking devices, cloud computing platforms/services or specialized software applications.
Finally, some certifications blend theory with practice to ensure balanced preparation for common job roles like security analysts, managers, engineers or architects.
Cybersecurity certifications are important (and valuable) contributors to a career in cybersecurity because they provide independently verifiable proof of your skills and knowledge to hiring managers. Reputable organizations like CompTIA encourages candidates to invest the time and effort needed to pass rigorous exams that prove specialized job knowledge, ability to perform operational tasks or experience working with job-related technologies.
Why Are Cybersecurity Certifications Important?
Certifications are viewed by many to be a great investment. They help learners build confidence in their specialized knowledge, skills, and abilities and can be used to get a leg up on competitors seeking desirable, high-paying security jobs. There are often many ways to learn, such as flexible self-paced online courses, in-person intensive bootcamps or instructor-taught paced classes that last a few weeks or months. This helps learners pick what works best for them, helping to get around some of the traditional blockers associated with higher education.
Hiring managers value certifications because they provide an easy, repeatable and reliable means of verifying candidate capabilities. In some industries (like government or defense contracting), certifications are required by regulation to ensure that all security practitioners are prepared to meet the difficult challenges they are sure to encounter on the job. Simply put, there are almost no downsides to building a resume that includes one or more professional certifications.
Earning a Degree in Cybersecurity
Another key component of a solid cybersecurity career plan is earning a degree in an industry-relevant program. A degree in cybersecurity provides ample opportunities to learn fundamental security principles, correspond with faculty who are industry experts, network with other students, practice with technologies in authentic scenarios and develop the mindset needed to succeed in a challenging field.
The combination of a degree and specialized certifications is a good strategy for futureproofing a career and becoming an adaptable life-long learner.
Get a Career Boost at Every Level
Career starters often enter the cybersecurity field after earning a cybersecurity degree and one or more trusted foundational certifications (like CompTIA Security+ or CompTIA Network+) that many organizations require to qualify for entry-level jobs.
Career advancers tend to use certifications to specialize in an aspect of cybersecurity trade that most aligns with their professional ambitions. For example, an entry-level security analyst may acquire a more difficult or specialized certification (like CompTIA CySA+ or CompTIA Advanced Security Practitioner (CASP+)) to help build the case for moving up into a higher-level position on their team or in a different part of their organization.
Finally, career changers may pursue certifications to help chart a course into an entirely different cybersecurity domain. An example of this is earning a niche certification (like CompTIA Linux+ or CompTIA Cloud+) to move from a generalist job role, like a security analyst, into a specialized job role like cloud security engineer or Linux security administrator.
Cybersecurity Careers Are In-demand
There are more than 1.1 million cybersecurity professionals in the United States and another 663,434 annual job postings for openings in the field, according to CyberSeek.org, an organization that maintains detailed information about supply and demand in the cybersecurity job market.
The site lists several broad areas of the industry, such as software development, systems engineering and security intelligence, as well as possible cybersecurity career pathways and how certifications relate to each. For instance, a CompTIA Security+ certification can boost your resume as a cybersecurity engineer, analyst, consultant, incident and instruction analyst, and more.
Common Cybersecurity Roles
There are dozens of different job roles and career tracks that cyber professionals can choose from. Some of the most common include:
With different paths to choose from and the high demand for cybersecurity professionals, you can rest assured that a career in cybersecurity is within reach.
Ready to get started? Download the exam objectives for free to see what's covered.
Jonathan Kamyck is a Certified Information Systems Security Professional (CISSP) with master's degrees in both organizational leadership and information assurance. He is an experienced cybersecurity professional who currently serves as the associate dean for Southern New Hampshire University's online cybersecurity degree programs. SNHU does not endorse or sponsor any commercial product, service, or activity offered on this website.