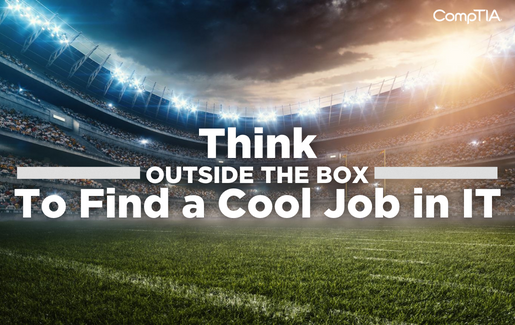 Tech can be a really cool space to work in. IT is incredibly versatile, and technicians can work in virtually any industry that interests them. IT jobs are everywhere, even in places you may never think of. For example, the National Football League employs IT professionals of all kinds. What could be cooler than working for the NFL?
NFL IT Job Openings for 2022
How many IT jobs would you guess were posted by the National Football League this year? To date, the NFL has posted a total of 90 tech jobs. Here are all the positions the NFL hired for, along with the number of jobs that were available:
IT support specialist (15)
Software developer (14)
Business intelligence analyst (11)
Web developer (9)
Video game designer (8)
IT project manager (7)
Information security engineer (7)
Document management specialist (3)
Database administrator (3)
Search marketing strategist (2)
Network and systems administrator (2)
Computer and information research scientist (2)
Systems analyst (2)
Software quality assurance engineer and tester (1)
Computer and information systems manager (1)
Systems engineer/architect (1)
Computer programmer (1)
Network architect (1)
Curious about which leagues/teams the IT pros who were hired by the NFL got to work with? Here they are, along with the number of jobs each league or team had open:
Imagine working for your favorite NFL team, doing something you love. With IT, it's possible.
IT Careers Are Everywhere
IT jobs aren't just offered by the NFL as virtually every organization needs IT professionals. Organizations across all sectors require general IT support, cybersecurity, IT analysis, software and web development, computer programming, network administration, IT research and so much more.
Those just starting an IT career or considering getting into IT do themselves a disservice when they think inside the box or stereotype what an IT career must look like. The truth is an IT career is what you make it. If you want to work in a traditional tech setting, that's fantastic. But keep in mind that there can be more to an IT career than what you may think.
So, how do you think out-of-the-box when it comes to your IT career? Start with making a list of the things that are most enjoyable to you, then see where IT fits into those areas of interest.
Do you love to travel and want to make travel possible for others? Various cruise lines are currently hiring for IT financial analysts, IT officers, computer system specialists, technical support analysts and more. Are you a bookworm? Public and university libraries consistently hire for positions like IT support and information services manager. Are you a true crime aficionado? There are many criminal justice IT jobs out there, such as lead threat intelligence analyst, data scientist and cybercrime specialist.
See what we mean? IT jobs are everywhere you look.

Pro Tip: Keep in mind that you don't have to work an "unusual" tech job to live your IT dream. You also don't have to move out of state since many IT jobs are remote. Sometimes the biggest adventure of all is having flexibility and getting to work from the comfort of your home. It's up to you.


The IT Job Market Is a Safe Bet
Not only can you find an IT job in pretty much any industry, but the stability of the IT field is also in your favor. There were 342,907 employer job postings for IT careers in August 2022, and while this number was reduced to 302,370 in September, employment in IT is still solid. In the article, "How many jobs are available in technology in the US?," Senior Reporter Lucas Mearian wrote,
"IT job growth has continued each month for over a year, and in the last 12 months 202,800 jobs have been added, according to the latest U.S. Bureau of Labor data, which was analyzed by IT consultancy Janco Associates."
While every industry hires tech professionals, there are a few sectors that post the most IT job openings. They include professional, scientific, and technical services (46,263), finance and insurance (39,619) and manufacturing (38,386).
Get Started or Advance Your IT Career With CompTIA
CompTIA can help you begin an IT career or advance your current one. It offers the certifications you need to land the job of your dreams – and in an industry you would thrive in.
Just getting started in IT? You'll want to lay the foundation for a successful IT career by pursuing CompTIA A+. This certification is all you need to get an entry-level IT job, and it also gives you essential knowledge you'll need before pursuing other IT certifications.
Check out this article to discover what you should do after getting CompTIA A+.
Already have a career in IT? Further your tech education and position yourself for any IT job of your choice with CompTIA certifications. CompTIA makes it easy for you to establish a specialty in IT with CompTIA Career Pathways. CompTIA offers the following career path plans:
By earning the certifications in one of these pathways, you'll prove to employers that you are dedicated to advancing your IT career and can confidently do the job you are applying for.
Ready to get started? Download the exam objectives for free to see what's covered.