What role do you play when the script changes? That is the question now facing IT professionals and channel firms as enterprise technology goes through a revolution. In last year's 5th Annual Trends in Cloud Computing study, we noted that the early phase of cloud computing had ended and a new phase of advanced maturity was beginning. It's clear that this phase is going to create a different type of company—digital organizations that utilize technology in unique ways to optimize their business and drive new results. Cloud and mobility are ushering in a new era of IT, following the timeframes defined by mainframes and PC/Internet. CompTIA's newest study, Building Digital Organizations, examines the new behaviors inside businesses as they enter this new era.
The definition of a digital organization will be refined over time, but at a high level these are companies that embrace a strategic view of technology and have transformed their internal operations. Business transformation is a familiar topic within the IT industry, but a digital organization transformation goes beyond a shift to a recurring revenue model. Roles and responsibilities are changing, especially with regard to technology decisions and implementation.
In the decision process, the overwhelming impression is one of more voices contributing. Thanks to heightened awareness of available solutions, business units have more say in which applications will meet their needs, and they are also gaining more individual purchasing power. Only 19% of companies report that the IT function still owns the entire technology budget, with business units typically having some amount of discretionary funds or splitting the budget evenly with IT.
However, this is not necessarily a signal that rogue IT will continue its early momentum, eventually leading to business units driving the majority of technology decisions. Instead, the early problems encountered in security and integration have driven other departments to seek a tight partnership with the IT function. Business units recognize that IT can ensure continued success beyond a quick application launch, and they want a strong partnership to combine the speed they desire with the safety a business needs. In 7 out of 10 cases, companies are still looking to IT to play the primary role in technology decisions.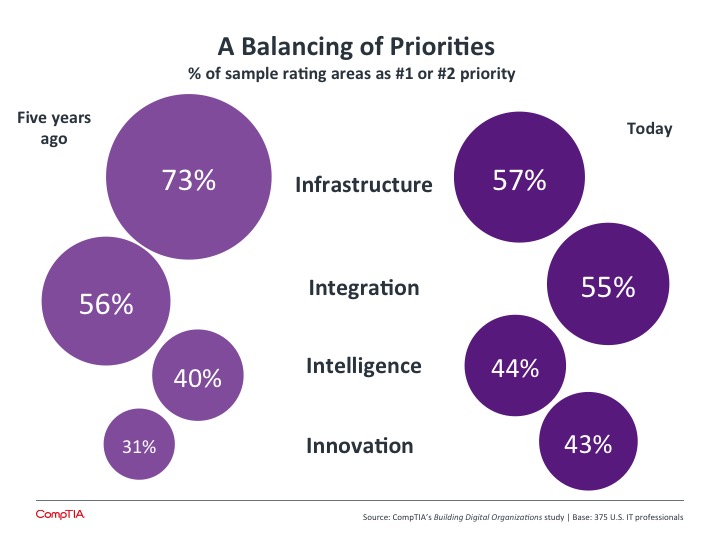 Adopting a collaborative nature in technology discussions is only the first change for the IT function, though. Companies expect IT to be more strategic alongside the operational role they have traditionally filled. Constellation Research has defined four areas that IT must now own: Infrastructure, Integration, Intelligence, and Innovation. CompTIA's research found that IT teams definitely see a need to balance these four priorities, and new skills are needed to provide a complete solution.
Cloud and mobility are more than new options for infrastructure and device deployment. Yes, they are new forms of technology, but more importantly they are driving new behaviors. As businesses become digital organizations and expect more out of their technology, they will look to their IT professionals and solution providers to lead the charge. By building a deeper understanding of business objectives and understanding the complexity of the new landscape, the IT function can establish a valuable position in technology's third act.

Seth Robinson is CompTIA's senior director of technology analysis.