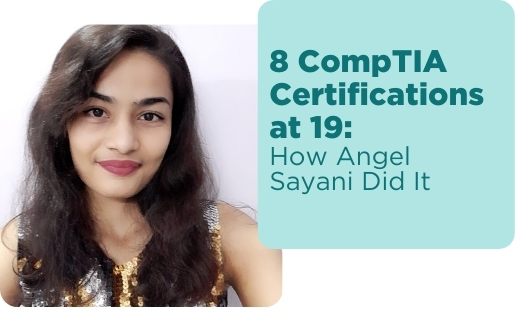 To be 19 years old and to hold 8 CompTIA certifications. Well, that's pretty amazing. And that's exactly how we would describe Angel Sayani, a business owner, app developer and computer science student with plans to graduate in 2023.
Why CompTIA?
Sayani said that she was first inspired to pursue CompTIA certifications after reading How 12-Year Old Mark Botros Became CompTIA A+'s Youngest Certificant and Meet Chase Lucas: CompTIA Security+ Certified and Cybersecurity Bound at Age 17.
Already immersed in her computer science studies, Sayani was both impressed and motivated. She said CompTIA's vendor-neutrality convinced her to go after CompTIA certifications to further validate her skills.
"I started my certification journey with CompTIA Security+," Sayani said. "I then went on to earn CompTIA PenTest+, CompTIA Cloud Essentials+, CompTIA Cybersecurity Analyst (CySA)+, CompTIA Cloud+, CompTIA Advanced Security Practitioner (CASP+), CompTIA Server+ and most recently CompTIA Network+. I'm so proud to have completed the Cybersecurity Career Pathway!"
Additionally, Sayani is an Associate of ISC2 and has completed the Certificate of Cloud Security Knowledge (CCSK). She also recently earned Amazon Web Services (AWS) Certified Cloud Practitioner and Linux Professional Institute (LPI) Linux Essentials. If you're counting, that's 12 professional technical certifications.
And she's not even finished. In fact, at the age of 19, she's just getting started. Sayani has plans to complete the CompTIA Infrastructure Career Pathway by earning CompTIA Linux+.
Sayani's Study Tips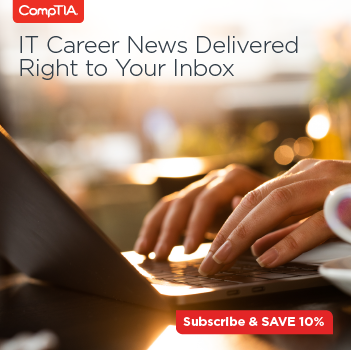 Just how did she manage to learn so much material in such a short amount of time? Sayani said she took it one step at a time.
"I studied for each certification one at a time. I knew I wanted CASP+, so I started with Security+ and moved on from there. By the time I got to CASP+ I had enough knowledge, and I was ready for it," Sayani said.
Studying meant putting in lots of time and participating in different types of training, including joining boot camps and study groups. She took courses and utilized CompTIA CertMaster Labs and CompTIA study guides. She also took practice tests and even set up a home lab environment to further practice her hands-on skills.
"My advice to those studying for their first certification exam is to use as many study resources as you can afford so that you can learn comprehensively," Sayani said.
While using the right training tools is advisable, it's not the only thing you'll need to get yourself over the finish line. Sayani has proved that it requires plenty of dedication and hard work.
What's Next for Sayani?
As the founder of IntellChromatics, Inc., a company offering cybersecurity, artificial intelligence (AI), machine learning (ML) and deep learning technologies, Sayani knows a thing or two about making the most of her time.
"I effectively balance my professional and educational life – and have been good at time management since I was a child," she said. "I work approximately 4 to 5 hours on my company (devising automation software and strategies), about 5 to 6 hours on my bachelor's degree studies and another 4 to 5 hours on my certification training. I've been working very hard to achieve everything I have so far."
Her hard work is paying off, but she still has dreams to conquer.
Eager to turn her ideas into reality, Sayani didn't want to wait until she was done with her degree to establish her company. Upon graduation, she wants to pursue a master's degree and then a doctorate.
Her goal is to expand her business worldwide – and when you have big goals, you must have a big plan backed by a big work ethic to make it happen. Sayani said that CompTIA certifications have always been part of her plan.
"CompTIA certifications are reputable and very marketable," she said. "And because these certifications assess hands-on experience and practice by way of performance-based questions, they simulate real-world scenarios. I proudly mention my CompTIA certifications in my resume and on my social media profiles."
Get more success stories like Angel Sayani's, IT career advice and tech tips sent straight to your inbox with CompTIA's IT Career News. Sign up today and get 10% off your next CompTIA purchase.